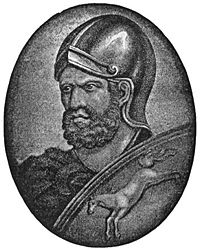 During a week when university podcasts received widespread attention (thanks to a very popular article in the NY Times), we've kept a close eye on the high-ranking podcasts on iTunesU. Quite consistently, one podcast -- How Did Hannibal Cross the Alps? -- has ranked at the top. It currently sits in the #2 position, right behind What is Existentialism?.
The Hannibal lecture was presented at Stanford by Patrick Hunt, an archaeologist who recently wrote Ten Discoveries That Rewrote History (see related post) and whose long term project is to figure out how the great military leader crossed the Alps in 218 BCE with his large army, which included dozens of war elephants. I had a chance to catch up with Patrick and ask him why, over 2,000 years later, the adventures of Hannibal still manage to capture our imagination. Here is what he had to say:
"Here are some reasons I think the Hannibal topic is mesmerizing. First, the logistics of moving a large army - at least 25,000 surviving soldiers - over sometimes terrifying mountain barriers is very daunting and immensely challenging. Second, this is exponentially compounded by the fact that even with able scouts the increasingly steep terrain and bad weather en route to the summit were threateningly unfamiliar to the vast majority of Hannibal's army in this early winter of 218 BCE. Even in summer, the weather can be harsh and wildly unpredictable. In winter, it can be that much worse. Third, there were Celtic tribes to contend with, who would roll boulders down on troops and ambush them from ravines. Fourth, we don't know the exact passage that Hannibal took, and the mystery is like a detective story waiting to be solved once and for all. Fifth, the fact that Hannibal never lost a battle in Italy against larger Roman armies and overwhelming odds adds to his image of being a genius strategist. Last but not least, the 37 or so elephants certainly add an exotic touch: what in the world were large cumbersome tropical animals doing on these tiny trails and how did their handlers persuade them to go on, step by step, over worse and worse rocks slick with icy snow for days on end? The historian Polybius tells us that when the exhausted and depleted army finally descended into Italy, they were utterly worn down, having lost half their soldiers and animals to enemies and the elements. Polybius says they were now more like savage beasts than men. Having conquered the Alps, the remnant, tattered army must have been incredibly tough. How much of a challenge could the Romans present after this terrible experience? Taken together, this is why people find this Hannibal story so compelling. I'm currently finishing a new book on this, and I'm thankful that the National Geographic Society sponsors this Hannibal research."