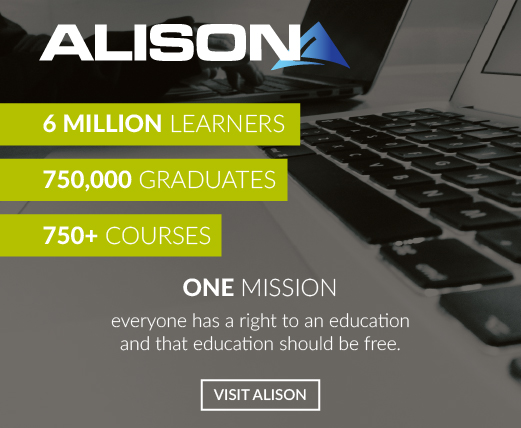 How many of us have taken an online course to learn a new language? My guess is, a lot. How many have used the web to find a recipe? Even more. But as handy as those skills are, will they help anybody land a job?
While unemployment figures hover at just above 5 percent, analysts say that the numbers are much higher for low-skilled workers. Skill-sets are out of sync with the demands of today's job market and fewer companies than ever offer on-the-job-training for rudimentary workplace skills, like how to use a computer or work in an office environment.
ALISON—provides free online certified courses in job-friendly skills. Some are basic but essential—Fundamentals of Google Docs or Touch Type Training. Others are more specialized (HTML5) or (Learn How to Use a 3D Printer) and many could be useful for anybody, job seeking or not (Human Nutrition), (Digital Photography) and (Psychology).
ALISON focuses on the practical, culling free courses from a range of publishers that will upgrade anyone's employment skills. The site has over 6 million registered users across the globe and is adding 250,000 new learners every month. Un- or under-employed people can get help planning their career path with a course that takes from 1-2 hours. The course includes an assessment and a discussion forum. ALISON also offers courses for those interested in starting their own business--for example, Business Management & Entrepreneurship and 21 Days to Building a Web Business.
While many sites offer academic instruction, relatively few offer free workplace skill instruction and ALISON selects courses for their quality and interactivity. The site is so robust and straight-forward that government workplace centers in 22 states use it as a tool to help clients beef up their resume skills.
Of the 750+ available courses, some of the most popular include ABC IT, a 15-20 hour comprehensive introduction to IT literacy, Project Management, Human Resource Management, Hospitality Management as well as many language courses including Conversation English and Introduction to the French Language.
The site itself serves as an example of computing as a tool for social change. "We believe that all certifiable or standards-based learning for every subject can be made available for free online," ALISON founders write on the site. "We also believe that Article 26 of the United Nations Universal Declaration of Human Rights which states 'Everyone has the right to education. Education shall be free . . .' will, through ALISON, become a reality."
As always, when you're done visiting ALISON's catalogue, don't forget to spend time with our big collection of 1,150 Free Online Courses from great universities, and our specialized list of Free Online Business Courses.
Via the New York Times.
Kate Rix is an Oakland based freelance writer. See more of her work at