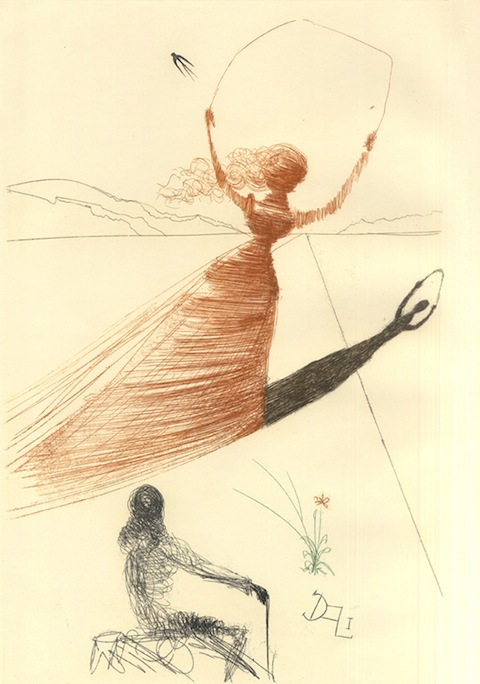 It's 1969. Psychedelia gets weirder, the Age of Aquarius dawns, Grace Slick falls down the rabbit hole at Woodstock. Unrest and revolution break out all over the topsy-turvy world. What better time to release a new edition of Lewis Carroll's never-out-of-style surrealist fable? And who better to provide the illustrations than Salvador Dali? The flamboyant Spanish artist made the four-color frontispiece above and one full-color image for each chapter. (See the illustrations for "Down the Rabbit Hole" and "Advice from a Caterpillar" below.)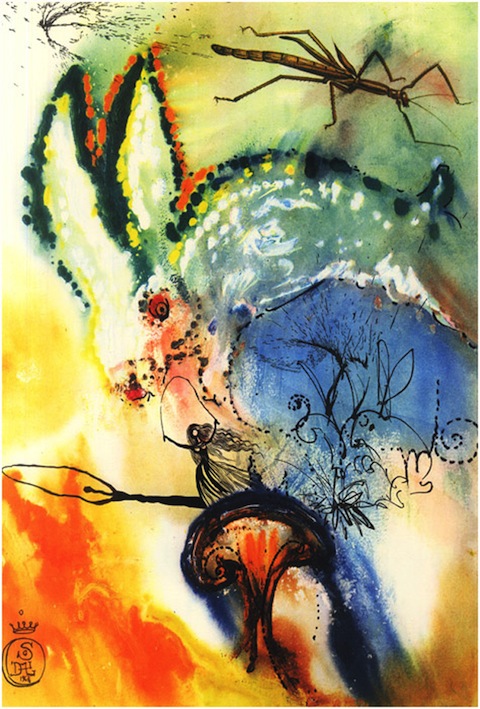 Since its 1865 publication, Alice's Adventures in Wonderland has seen publication in several dozen illustrated editions (and at least twenty films). Most people associate the initial publication of Alice with the John Tenniel illustrations that appeared in the first edition, and rightly so, but Carroll himself provided his own drawings in the manuscript of the book. Alice has always had a visual complement. The best editions adapt the story's look to the contemporary zeitgeist. Arthur Rackham's 1907 illustrations beautifully contain Edwardian-era elegance and foreboding. Leonard Weisgard's 1949 illustrations certainly capture the post-war optimism and Technicolor designs of the period.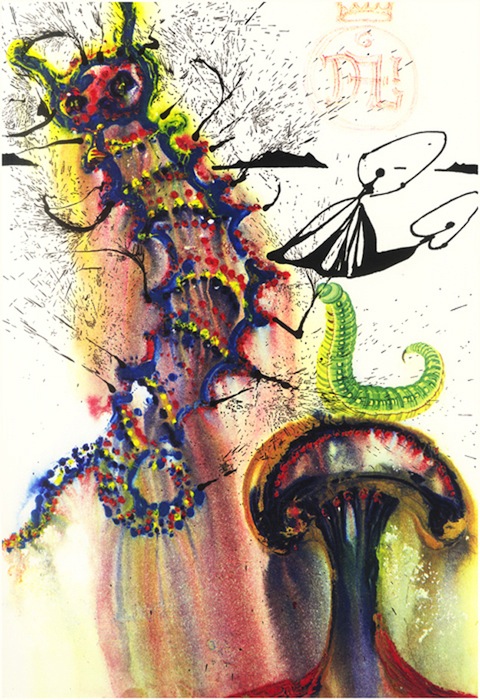 And Dali? As you can see above, his vision updates mid-century abstract expressionism as an LSD-fueled daydream (or nightmare). Dali used an old photographic reproduction technique called heliogravure to produce these trippy, hyper-saturated pieces. You can see all of Dali's illustrations here. Find the full text of Alice's Adventures in Wonderland, its sequel, Through the Looking Glass, and other Carroll goodies here.
via Retronaut and @matthiasrascher
Related Content:
Salvador Dalí's 100 Illustrations of Dante's The Divine Comedy
Meryl Streep Shrooms Her Way Through Modern Alice in Wonderland
The Real Alice in Wonderland Circa 1862, and Our Favorite Culture Links on the Web
Salvador Dalí Creates a Dream Sequence for Spellbound, Hitchcock's Psychoanalytic Thriller
Josh Jones is a writer and musician based in Washington, DC. Follow him at @jdmagness