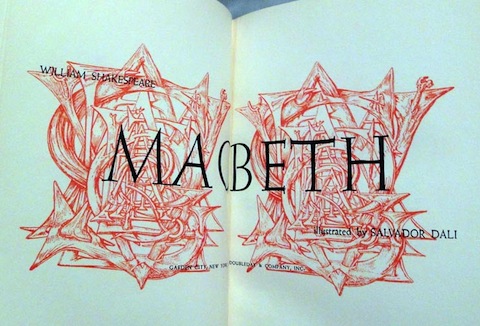 Click the images for larger versions
The visual artist, photographer, filmmaker, and sculptor Salvador Dalí, possessed of a commercial instinct perhaps surprising in a surrealist, made sure that his fans could always buy artifacts of his work. This goes well beyond the posters of melting clocks you've seen adorning dorm room walls. Though I have to name Chupa Chups lollipops as my own favorite easily purchasable Dalí creation — he designed their label — I certainly wouldn't mind owning the edition he illustrated of Michel de Montaigne's Essays. Those with a literary bent and a bigger budget than mine might consider looking for copies of all the books to which Dalí, at one time or another, contributed imagery: Dante's Divine Comedy, Maurice Sandoz's The House Without Windows, Lewis Carroll's Alice's Adventures in Wonderland. And, above, you'll find his title-page spread for Shakespeare's Macbeth.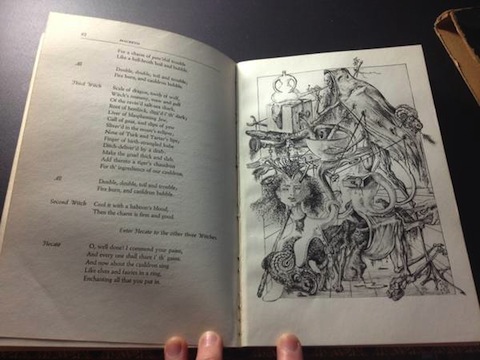 The Scottish Play has received an enormous variety of visual interpretations onstage, but something about Dalí's artistic sensibility serves its distinctively visceral nature. Though not itself surreal, Macbeth still delivers a psychological impact perhaps best represented by reality gone frighteningly but fascinatingly askew. This now-rare 1946 Doubleday edition features twelve particularly elaborate black-and-white illustrations, a couple of which we've included just above and below. For more information, see also this post from Salvador Dalí Book Collector, who finds copies going for between $75 and $150. You can see other high-resolution images on this auction site, which estimates a sale price of $150-$250. But one of the images here comes from this Portland, Oregon Craigslist post, which offers a first edition for $50. Whether or not you've entered the market for a copy, you can read much more about the book, and about Dalí's illustration career, at the sites of The Salvador Dalí Society's site and The Dalí Museum.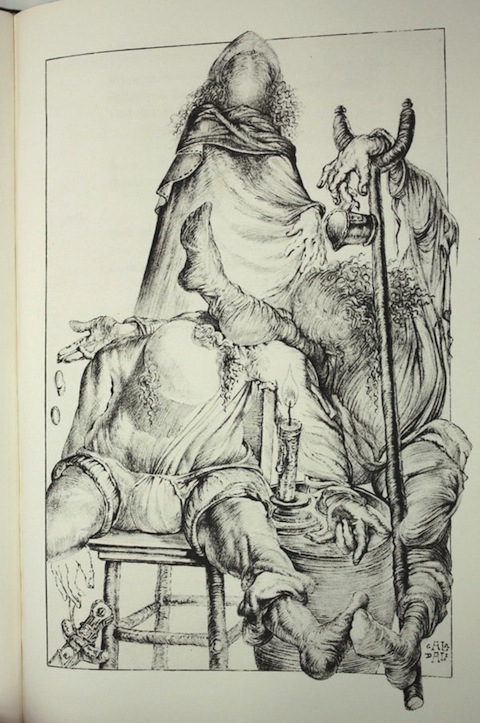 Related Content:
See Salvador Dali's Illustrations for the 1969 Edition of Alice's Adventures in Wonderland
Salvador Dalí's 100 Illustrations of Dante's The Divine Comedy
Salvador Dalí Creates a Dream Sequence for Spellbound, Hitchcock's Psychoanalytic Thriller
Colin Marshall hosts and produces Notebook on Cities and Culture and writes essays on literature, film, cities, Asia, and aesthetics. He's at work on a book about Los Angeles, A Los Angeles Primer. Follow him on Twitter at @colinmarshall.