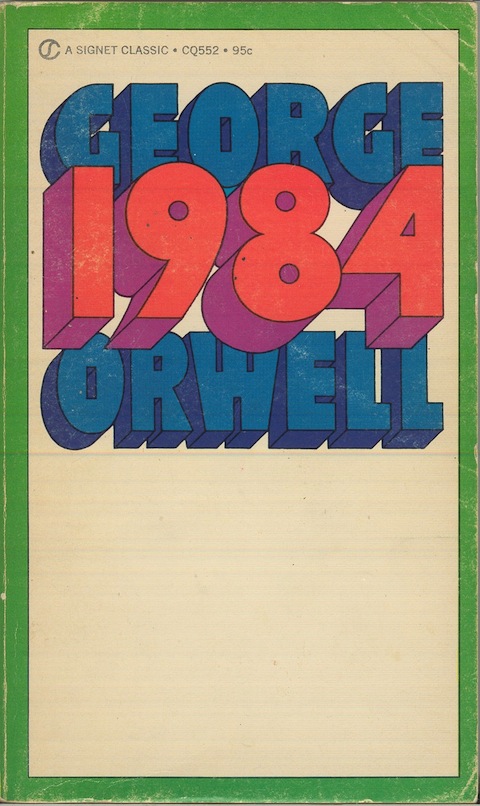 This post is the first in a new feature in which we'll focus exclusively on some of the most widely read works of literature. In each guide, we aim to compile resources for students and average readers of some famous, and sometimes famously difficult, books. We would love to hear feedback from you, our readers, on how we might refine or improve this feature (and what books we should cover). Also, please feel free to leave your favorite online resources in the comments if we fail to include them in our guide. There is no way to include everything, but we will attempt to select some of the best free online resources available.
Written between 1947 and 1948 on the Scottish island of Jura while its author recovered from tuberculosis, George Orwell's 1984 is perhaps the most persuasive and terrifying dystopian novel ever published. It's also perhaps the most culturally relevant, contributing terms like doublethink, thoughtcrime, historical revisionism, memory hole, and Big Brother to our everyday language as signifiers for the behaviors of totalitarian states. In the novel, the world has been carved up by three such perpetually warring superstates. Ruled by the very Stalinist-like ideology of "Ingsoc" (English Socialism), the state of Oceana is home to everyman protagonist Winston Smith, who briefly battles to assert his individual will against the inexorable mechanism of total state control.
Although Orwell identified himself explicitly as a democratic socialist, when he wrote the novel, he feared that British democracy would fall to some form of fascism or to the highly repressive Soviet-style communism of Stalin's Russia. Though he turned out to be wrong in his specific predictions—and perhaps about the individual's power to resist—his unimaginable future projections feel as baleful as ever. After the recent revelations about the scope of the NSA's data mining and surveillance programs, sales of 1984 have shot through the roof (in June, Amazon reported a 5,000 percent increase). This is not especially surprising, but one would hope that all those people buying the book are actually reading it. And if most of them aren't, thousands of high school and college students are, since it's a book English teachers routinely assign. With all of these new and current readers of Orwell's classic, we thought it would be timely to focus our first Book Guide on the novel. Please feel free to suggest additional resources in the comments (though we prefer not to include Spark Notes and other summaries).
Primary Sources:
First, the book itself is available free online in several formats, including Kindle, ePub, and PDF at the Internet Archive. (Also see another version hosted by the University of Adelaide in Australia.) The Internet Archive also hosts the novel as an Audio Book.
Read Orwell's letter on why he wrote the book, or rather, why he would write it. The letter was written in 1944, three years before Orwell actually wrote the novel, and five years before it was first published.
You might also be interested in Aldous Huxley's 1949 letter to Orwell, in which Huxley compares 1984 to his own earlier futurist dystopia Brave New World, concluding, of course, that his book is the truer.
Background, Reviews, and Criticism:
The original 1949 New York Times review of the novel—"a work of pure horror."
The original 1949 Guardian review.
Margaret Atwood, contemporary author of widely read dystopian fiction, writes about the influence of Orwell on her work.
Thomas Pynchon's essay "The Road to 1984" (originally published as the foreward to the 2003 Centennial edition of the book).
Charles' George Orwell Links, "the Orwell web source since 1995," has a wealth of information about the author and the novel.
BBC Radio 4 has several essays and other resources at their "Real George Orwell" page.
A "Visual History" of 1984 book covers.
Adaptations:
The first adaptation of Orwell's novel: a 1949 radio drama starring David Niven.
An online comic book adaptation (no substitute for the book!)
Related Media:
Orwell Rolls in His Grave, a documentary by Robert Kane Pappas exploring the Orwellian character of contemporary American media and featuring, among many others, Charles Lewis, director of the Center for Public Integrity, Vincent Bugliosi, former L.A. prosecutor and legal scholar, film director and author Michael Moore, Rep. Bernie Sanders, Danny Schecter, author and former producer for ABC and CNN, and Tony Benn, former member of the British Parliament.
Again, this is a very partial list of those resources available for free online. Please feel free suggest additional online resources for the novel in the comments.
Josh Jones is a writer and musician based in Durham, NC. Follow him at @jdmagness