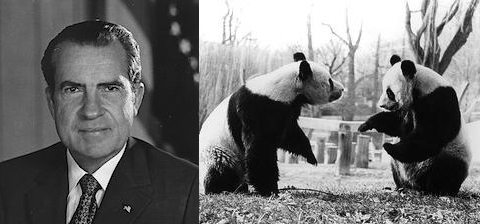 Have you heard? Richard Nixon is back in the news. For one thing, John Dean, former Nixon legal counsel, has been making the rounds, promoting his third Watergate book The Nixon Defense: What He Knew and When He Knew It. Just this morning on NPR's Diane Rehm show, Dean discussed the surprising new evidence that's come to light in thousands of hours of tape-recorded conversations, all of which Dean has personally surveyed. This month will also see the release of Douglas Brinkley and Luke A. Nichter's The Nixon Tapes 1971-1972.
Nixon recorded everything, which proved to be his undoing. But he also granted posterity such odd moments as the audio above, in which the president discusses the curious customs of panda bear mating. The conversation concerns Ling Ling and Hsing Hsing, the two pandas given to the National Zoo by Premier Zhou Enlai during Nixon's famous trip to China. (As a young child in Washington, DC in the 70s and 80s, I remember seeing the pair on almost a monthly basis.) The attempts to mate the pandas made for national drama each year, though sadly none of the cubs Ling-Ling conceived survived. This was a difficulty Nixon anticipated. In the phone call above to Crosby Noyes, then foreign editor of The Washington Star, Nixon described the issue thusly:
Nixon: The problem with, uh—The problem, however, with pandas is that they don't know how to mate. The only way they learn how is to watch other pandas mate. You see?

Noyes: [laughs]

Nixon: And, so they're keeping them there a little while—these are younger ones—

Noyes: I see.

Nixon: —to sort of learn, you know, how it's done.

Noyes: Sure, learn the ropes—

Nixon: Now, if they don't learn it they'll get over here and nothing will happen, so I just thought you should just have your best reporter out there to see whether these pandas—

Noyes: Well, we certainly will—

Nixon: —have learned. So, now that I've given you the story of pandas let me let you get back to your more serious questions. [laughter]
Read the full transcript of that conversation at "Post Everything," and learn more about the long, eventful lives of Ling-Ling and Hsing-Hsing at the Smithsonian's The Bigger Picture.
via DCist
Related Content:
The Moon Disaster That Wasn't: Nixon's Speech In Case Apollo 11 Failed to Return
Nixon and Kissinger: Best of Allies and Rivals
Josh Jones is a writer and musician based in Durham, NC. Follow him at @jdmagness