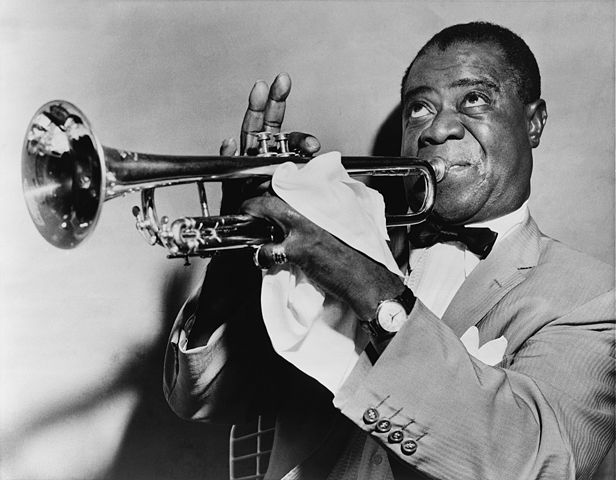 Image from Library of Congress, via Wikimedia Commons
David W. Niven spent his life amassing a vast record collection, all dedicated to the sounds of Early Jazz. As a kid during the 1920s, he started buying jazz records with money earned from his paper route. By World War II, Niven, now a college student, had thousands of LPs. "All the big names of jazz, along with lesser legends, were included," Niven later said, and "I found myself with a first class treasure of early jazz music." Louis Armstrong, Bix Beiderbecke, Duke Ellington, and much, much more.
For the sake of his children, Niven started transferring his record collection to cassette tapes during the 1980s and prefacing them with audio commentaries that offer background information on each recording. In 2013, years after his death (1991), his collection of "Early Jazz Legends" made its way to the web, thanks to archivist Kevin J. Powers. If you head over to Archive.org, you can stream digitized versions of 650 cassette tapes, featuring over 1,000 hours of early jazz music. There's also scans of liner cards for each recording.
According to the archivist, this extraordinary collection "represents the very finest American music of the twentieth century, and because Mr. Niven took the time and care to record these commentaries, he has produced a library that is accessible to everyone from jazz aficionados to jazz novices."
via T-Mobile's Electronic Beats blog
Follow Open Culture on Facebook and Twitter and share intelligent media with your friends. Or better yet, sign up for our daily email and get a daily dose of Open Culture in your inbox. 
If you'd like to support Open Culture and our mission, please consider making a donation to our site. It's hard to rely 100% on ads, and your contributions will help us provide the best free cultural and educational materials.
Related Content:
Jazz on the Tube: An Archive of 2,000 Classic Jazz Videos (and Much More)
Jean-Paul Sartre on How American Jazz Lets You Experience Existentialist Freedom & Transcendence
Jazz 'Hot': The Rare 1938 Short Film With Jazz Legend Django Reinhardt