A museum which contains only works of art that nobody can find sounds like something Jorge Luis Borges would've dreamed up, but it has twice become a reality in the 21st century — or twice become a virtual reality, anyway. "The Concert by Johannes Vermeer. Poppy Flowers by Vincent van Gogh. Rembrandt's The Storm on the Sea of Galilee. These are some of the world's most famous and expensive paintings ever stolen," writes Fast Company's Mark Wilson. And though their whereabouts remain unknown, you can see them at The Museum of Stolen Art, "a virtual reality exhibition created by Ziv Schneider, a graduate student at Tisch ITP, that puts stolen works back on display."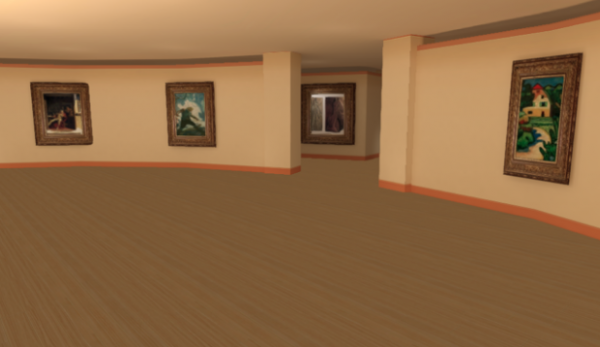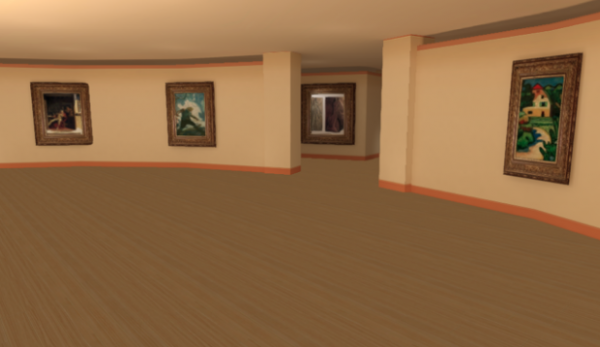 At the moment, Schneider's project exists on Google's virtual reality platform Cardboard, and you can download it as a smartphone app for iOS or Android. Its current exhibits include "a collection of photographs listed as stolen in the FBI's art crime database"; the private collection of Ferdinand and Imelda Marcos, former president and first lady of the Philippines, now "being searched for by the PCGG – a Philippine government office in charge of seizing the Marcos' ill gotten wealth and bringing it back"; and "a large collection of paintings stolen in some of the world's most famous art heists, including the Stewart and Isabella Gardner Museum in Boston."
But even before Schneider's institution opened its virtual-reality doors, writes The Creators Project's Becky Chung, "halfway across the world another institution — also called the Museum of Stolen Art — was debuting its gallery exhibition of works currently reported stolen or missing." This Museum of Stolen Art, in the Netherlands, presents the Poppy Flowers and Waterloo Bridges of the art world in not virtual but augmented reality: its visitors raise their phones or tablets up to its meaningfully empty walls, and on their screens see the purloined works restored to their rightful frames. William Gibson, in some sense the Borgesian visionary of our tech-saturated time, has described augmented reality as the natural evolution of virtual reality. It's made virtual art recovery possible; can virtual art theft be far behind?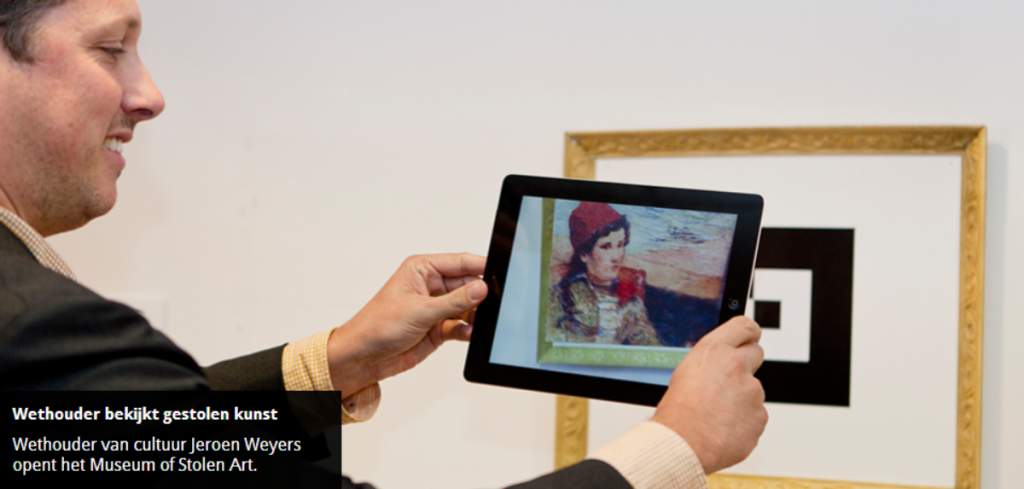 Reminder: You can download The Museum of Stolen Art smartphone app on iOS and Android. The app is ideally designed for those with a Google cardboard viewer.
Related Content:
1.8 Million Free Works of Art from World-Class Museums: A Meta List of Great Art Available Online
Visit The Museum of Online Museums (MoOM): A Mega Collection of 220 Online Exhibitions
The British Museum Is Now Open To Everyone: Take a Virtual Tour and See 4,634 Artifacts, Including the Rosetta Stone
Take a Virtual Tour of the 1913 Exhibition That Introduced Avant-Garde Art to America
Take a 3D Virtual Tour of the Sistine Chapel, St. Peter's Basilica and Other Art-Adorned Vatican Spaces
Take a Virtual Tour of Hieronymus Bosch's Bewildering Masterpiece The Garden of Earthly Delights
What Are the Most Stolen Books? Bookstore Lists Feature Works by Murakami, Bukowski, Burroughs, Vonnegut, Kerouac & Palahniuk
Based in Seoul, Colin Marshall writes and broadcasts on cities and culture. He's at work on a book about Los Angeles, A Los Angeles Primer, the video series The City in Cinema, the crowdfunded journalism project Where Is the City of the Future?, and the Los Angeles Review of Books' Korea Blog. Follow him on Twitter at @colinmarshall or on Facebook.