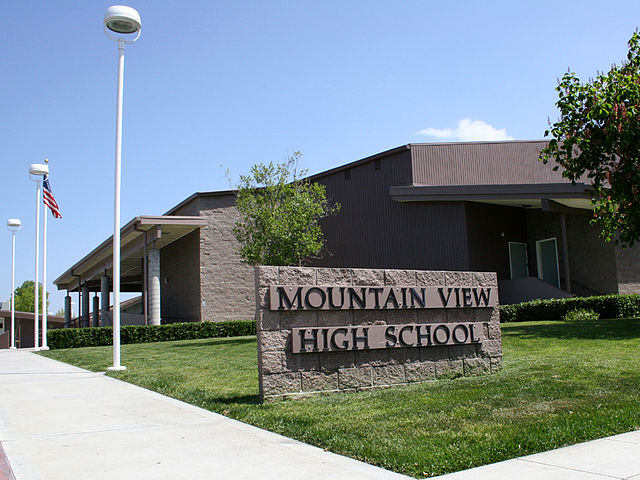 Image by Bahn Mi, via Wikimedia Commons
Frank Navarro has taught history at Mountain View High School for 40 years. He's an expert on the Holocaust, having been named a Mandel Fellow for the U.S. Holocaust Memorial Museum in 1997, and studied at the International Center for the Study of the Holocaust in Jerusalem. Until last week, Navarro was co-teaching a "World Studies" course built around this lesson plan:
The purpose of this course is to develop an understanding of the historical, geographical, political, economic and cultural contexts that together create the modern world.... [Students will] focus on the major turning points and dynamics that shaped global history from the late eighteenth century to the outbreak of WWII. We will follow the State Curriculum Standards for World Studies for our subject matter including: Foundations of Global Civilizations, Enlightenment Revolutions, the Industrial Revolutions, New Imperialism, WWI, and the Rise of Totalitarianism through the Holocaust...
It was in this context that Navarro drew parallels between Adolf Hitler and Donald Trump, citing how both political figures, as candidates, promised to expel foreigners and make their countries "great again." What Hitler said about Jews has "remarkable parallels" to Trump's comments on Latinos, Blacks and Muslims, Navarro told The San Jose Mercury News.
He's also very quick to add one important caveat: He's not saying Trump is the same as--or equivalent to--Hitler. Or that he'd govern like Hitler and commit the same atrocities. That would be "sloppy historical thinking," says Navarro. But there are parallels in the racist political rhetoric, which is worrisome and worth comment alone.
Apparently nuance doesn't go very far in Navarro's school. When a parent emailed a complaint to Associate Superintendent Eric Goddard, he and David Grissom (the school's principal) reportedly met with Navarro and decided to place him on paid administrative leave. In a letter to parents, Grissom apparently wrote: "Regardless of their political affiliation, many of our students show signs of emotional stress," and the school has a responsibility to provide an "emotionally safe environment." We're not sure if coloring books and companion dogs were provided too.
Kids in my neighborhood will attend this high school. And I'm left wondering, what does Mountain View High School value? Indulging students and appeasing parents? Or giving students a facts-based education and grappling, when necessary, with uncomfortable questions? (History and elections aren't always pretty. But they're important to consider. Those who fail to learn from history, as they say, are doomed to repeat it.) And how about a commitment to academic freedom and a teacher who has given his entire career to the school? If Navarro feels thrown under the bus, you could hardly blame him.
In case there's any doubt, Navarro is working in the world of facts. He sees the same parallels between Trump's and Hitler's political rhetoric as does Robert Paxton, America's leading scholar on fascism. Although Paxton (like Navarro) takes pains not to establish an equivalence between Trump and Hitler, he does see parallels, or what he calls "echoes" of Hitler and other fascist leaders in Trump. Paxton told Slate earlier this year:
The echoes you can deal with on two levels. First of all, there are the kinds of themes Trump uses. The use of ethnic stereotypes and exploitation of fear of foreigners is directly out of a fascist's recipe book. "Making the country great again" sounds exactly like the fascist movements. Concern about national decline, that was one of the most prominent emotional states evoked in fascist discourse, and Trump is using that full-blast, quite illegitimately, because the country isn't in serious decline, but he's able to persuade them that it is. That is a fascist stroke. An aggressive foreign policy to arrest the supposed decline. That's another one. Then, there's a second level, which is a level of style and technique. He even looks like Mussolini in the way he sticks his lower jaw out, and also the bluster, the skill at sensing the mood of the crowd, the skillful use of media.

I read an absolutely astonishing account of Trump arriving for a political speech, somewhere out West I think, and his audience was gathered in an airplane hangar, and he landed his plane at the field and taxied up to the hangar and got out. That is exactly what they did in 1932 for Hitler's first election victory. No one had ever seen a candidate arrive by plane before; it was absolutely dazzling, the impression given, the decisiveness of power, of authority, of modernity. I suppose it was accidental, but wow, that is an almost letter-perfect replay of a Hitler election tactic. And the capacity of Trump to enlist working-class voters against the left is exactly what Hitler and Mussolini were able to do. There are definitely echoes.
Paxton has been teaching European history at Columbia University since 1969--a little longer than Navarro has been teaching at Mountain View High School. Presumably, Columbia's administrators have given Paxton the freedom to write and teach history without regard for whether he's drawing "emotionally safe" conclusions. And there's no reason a high school history teacher shouldn't enjoy the same privilege.
If the administrators at Mountain View High School think that we have the facts wrong, they can tell us in the comments below, and we will update this post accordingly. If the facts are essentially right, then Goddard, Grissom and the Mountain View Whisman School District owe Navarro an apology and immediate reinstatement. And they owe their students the chance to consider historical conclusions seconded by our nation's leading historians.
Update:  Navarro was originally suspended from teaching on Thursday and told that he couldn't return to the classroom until Wednesday, November 16th. According to reports we're now reading, he was allowed to resume teaching this morning (11/14).
Dan Colman, founder/editor of Open Culture, has a Ph.D. in European History from Stanford University. He's currently the director of Stanford's Continuing Studies program.
Related Content:
Noam Chomsky on Whether the Rise of Trump Resembles the Rise of Fascism in 1930s Germany
How Did Hitler Rise to Power? : New TED-ED Animation Provides a Case Study in How Fascists Get Democratically Elected
Watch "Don't Be a Sucker!," the 1947 US Government Anti-Hatred Film That's Relevant Again in 2016