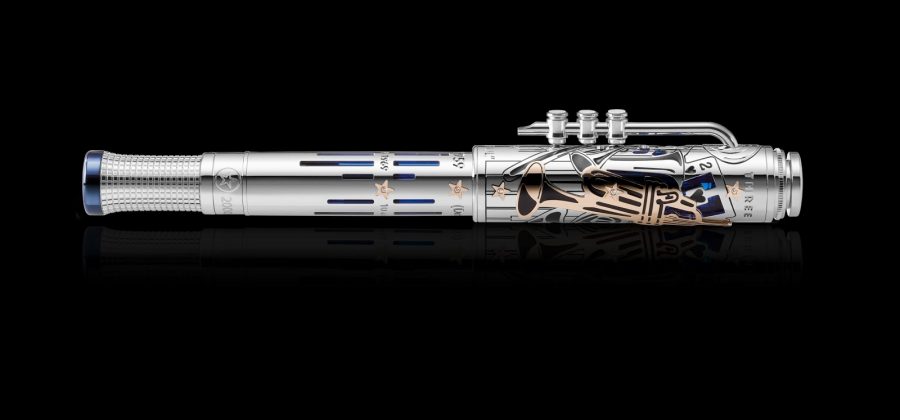 Got spare cash burning a hole in your pocket? An urge to commodify your favorite jazz artist? The need for an admittedly beautiful writing instrument? All of the above, you say? Good, because Montblanc recently unveiled a new line of Miles Davis pens. They've got the Miles Davis ballpoint pen, fountain pen, and roller pen. But surely the pièce de résistance is the Miles Davis Limited Edition 1926 Fountain Pen, which "tells the story of one of the greatest jazz personalities." "The surface of the cap and barrel is engraved with symbolic motifs that refer to the five major jazz periods he helped to create." What's more, "a star, set with a diamond, is engraved on the barrel, and Miles Davis's famous album Kind of Blue is reflected in the blue color on the cone." Swank.
And what's a pen without ink? It's blue, of course. Get a close up view of that here.
Follow Open Culture on Facebook and Twitter and share intelligent media with your friends. Or better yet, sign up for our daily email and get a daily dose of Open Culture in your inbox. 
If you'd like to support Open Culture and our mission, please consider making a donation to our site. It's hard to rely 100% on ads, and your contributions will help us provide the best free cultural and educational materials.
Related Content:
The Night When Miles Davis Opened for the Grateful Dead in 1970: Hear the Complete Recordings
Watch Miles Davis Improvise Music for Elevator to the Gallows, Louis Malle's New Wave Thriller (1958)