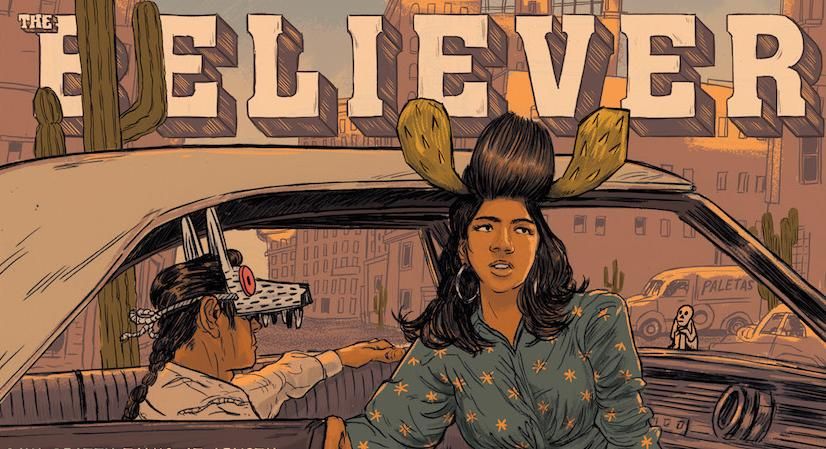 Founded in 2003, The Believer magazine gained a reputation for being an off-beat literary magazine with a commitment "to journalism and essays that are frequently very long, book reviews that are not necessarily timely, and interviews that are intimate, frank and also very long." Founded by authors Vendela Vida, Ed Park and Heidi Julavits, and originally published Dave Eggers' McSweeney's, The Believer has featured contributions by Nick Hornby, Anne Carson, William T. Vollmann; columns by Amy Sedaris and Greil Marcus; and also interviews--like this one where director Errol Morris talks with filmmaker Werner Herzog.
Now published by the Black Mountain Institute at the University of Nevada, Las Vegas, The Believer has entered a new era. It has launched a brand new web site and made its 15-year archive freely available online. It's a first for the publication. Enter the archive of the "highbrow but delightfully bizarre" magazine here.
Follow Open Culture on Facebook and Twitter and share intelligent media with your friends. Or better yet, sign up for our daily email and get a daily dose of Open Culture in your inbox. 
If you'd like to support Open Culture and our mission, please consider making a donation to our site. It's hard to rely 100% on ads, and your contributions will help us provide the best free cultural and educational materials.
Related Content:
Enter "The Magazine Rack," the Internet Archive's Collection of 34,000 Digitized Magazines
A Digital Archive of Heavy Metal, the Influential "Adult Fantasy Magazine" That Featured the Art of Moebius, H.R. Giger & More
Read 1,000 Editions of The Village Voice: A Digital Archive of the Iconic New York City Paper
A Complete Digitization of Eros Magazine: The Controversial 1960s Magazine on the Sexual Revolution