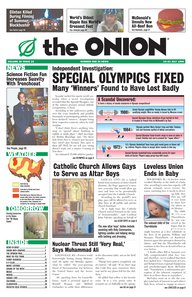 The Onion, the 23-year-old satirical newspaper that has contributed so much to making the past few decades a little less unbearable, has just anounced the launching of the Onion Archive Project.
The Editors plan to archive new issues weekly, ultimately making all the print issues published between 1988-96 available online. In the meantime, they've posted four issues from 1996, where you can revisit some of The Onion's early journalistic achievements, like its hard-hitting expose of event-fixing at the Special Olympics, breaking coverage of Colorado's ban on same-sex friendship, and trenchant opinion pieces bemoaning the lack of valor in today's youth.
Once complete, the archive will prove an invaluable resource for journalists, politicians, and students of world history. As the Editors explain in their announcement, "No historical moment can be truly called great until those who remember it are no longer quite sure what they saw."
via Laughing Squid
Sheerly Avni is a San Francisco-based arts and culture writer. Her work has appeared in Salon, LA Weekly, Mother Jones, and many other publications. You can follow her on twitter at @sheerly.