"I feel like every sin­gle frame of the film is burned into my reti­na," said Oscar-win­ning actress Cate Blanchett about the movie Stalk­er (1979). "I had­n't seen any­thing like it before and I haven't real­ly seen any­thing like it since.
Andrei Tarkovsky's final film in the USSR seems like an unlike­ly movie to have a devot­ed, almost cultish, fol­low­ing. It is a dense, mul­ti­va­lent, mad­den­ing­ly elu­sive work that has lit­tle of the nar­ra­tive pay-offs of a Hol­ly­wood movie. Yet the film is so slip­pery and so seem­ing­ly pli­able to an end­less num­ber of inter­pre­ta­tions that it requires mul­ti­ple view­ing. "I've seen Stalk­er more times than any film except The Great Escape," wrote nov­el­ist and crit­ic Geoff Dyer," and it's nev­er quite as I remem­ber. Like the Zone, it's always chang­ing."
The movie's sto­ry is sim­ple: a guide, called here a Stalk­er, takes a cel­e­brat­ed writer and a sci­en­tist from a rot­ting indus­tri­al cityscape into a ver­dant area called The Zone, the site of some unde­fined calami­ty which has been cor­doned off by rings of razor wire and armed guards. There, one sup­pos­ed­ly can have their deep­est, dark­est desires ful­filled. Yet even if you man­age to give the guards a slip, there are still count­less sub­tle traps laid by what­ev­er sen­tient intel­li­gence that con­trols the Zone. Ratio­nal­i­ty is of no help here. One can only progress along a mean­der­ing path that can only be fol­lowed by intu­ition.
The Stalk­er, with his shaved head and a per­pet­u­al­ly haunt­ed expres­sion on his face, is a sort of holy fool; a man who is both addict­ed to the strange ener­gy of the Zone and bound to help his fel­low man. His clients' motives, how­ev­er, are far less altru­is­tic. Once deep in the room, the three engage in a series of philo­soph­i­cal argu­ments that quick­ly turns per­son­al.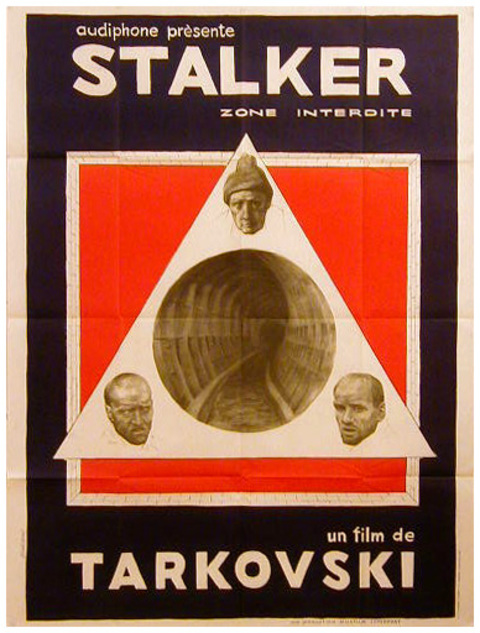 The movie's pow­er, how­ev­er, is not found in tra­di­tion­al dra­mat­ics. Instead it's a cumu­la­tive effect of Tarkovsky's hyp­not­ic pace, his philo­soph­i­cal com­men­tary and per­haps most of all his imagery. Shot with smudgy, almost com­plete­ly desat­u­rat­ed col­ors, the world out­side the Zone seems to be a grim, dis­mal place – as if Tarkovsky were try­ing to evoke the indus­tri­al hellscape of Eraser­head by way of Samuel Beck­ett. (Stalk­er was in fact shot in an indus­tri­al waste­land out­side of Tallinn, Esto­nia, down riv­er from a chem­i­cal plant. Expo­sure to that plant's runoff might very well have caused the filmmaker's death.) Inside the Zone, how­ev­er, the sur­round­ings are lush and col­or­ful, filled with glimpses of inex­plic­a­ble won­der and beau­ty.
Stalk­er screen­writer Arkady Stru­gatsky once said that the movie was not "a sci­ence fic­tion screen­play but a para­ble." The ques­tion is, a para­ble of what? Reli­gious faith? Art? The cin­e­ma itself? Reams of paper have been devot­ed to this ques­tion and I'm not offer­ing any the­o­ries. Tarkovsky him­self, in his book Sculpt­ing Time, wrote "Peo­ple have often asked me what The Zone is, and what it symbolizes…The Zone does­n't sym­bol­ize any­thing, any more than any­thing else does in my films: the zone is a zone, it's life."
Of course, that expla­na­tion does lit­tle to explain the film's star­tling, utter­ly cryp­tic final min­utes.
Above, you can watch a trail­er for the film. As men­tioned, you can also watch the film online, with Eng­lish sub­ti­tles on Youtube here.
Find more Tarkovsky films by vis­it­ing our col­lec­tion Major Tarkovsky Films Free Online.
Relat­ed Con­tent:
The Mas­ter­ful Polaroid Pic­tures Tak­en by Film­mak­er Andrei Tarkovsky
Tarkovsky's Advice to Young Film­mak­ers: Sac­ri­fice Your­self for Cin­e­ma
A Poet in Cin­e­ma: Andrei Tarkovsky Reveals the Director's Deep Thoughts on Film­mak­ing and Life
Jonathan Crow is a Los Ange­les-based writer and film­mak­er whose work has appeared in Yahoo!, The Hol­ly­wood Reporter, and oth­er pub­li­ca­tions. You can fol­low him at @jonccrow. And check out his blog Veep­to­pus, fea­tur­ing lots of pic­tures of vice pres­i­dents with octo­pus­es on their heads. The Veep­to­pus store is here.