Last May, during the contentious presidential primaries, Noam Chomsky spoke about the mounting resentments in America, the opening they've created for a figure like Donald Trump, and the parallels to 1930s Germany. Six months later, Trump has apparently won the election. So what does Chomsky, one of America's leading public intellectuals, make of it all now?
The MIT professor presciently warned back in 2010 that a Trump-like figure was coming. (See his comments pasted below.) But he couldn't tell you how Trump will actually govern once he takes office. That's because "The most predictable aspect of Trump is unpredictability. It's dangerous, very dangerous." He also adds, "It's certainly extremely hazardous to have an ignorant, thin-skinned megalomaniac who sends off [tweets] at 3am if somebody angered him."
If there's room for some optimism, it's because Trump might actually make good on his promise to deescalate tensions with the Russians.
We don't know what's in [Trump's] mind. I suspect he doesn't know what's in his mind… But anything that would reduce the growing and dangerous and severe threat of nuclear war is to be welcomed. It would be a nice thing if humanity could survive.
A textbook definition of what's called damning with faint praise.
But don't worry Republicans, Chomsky doesn't go easy on Democrats either. Continuing the line of thought above, Chomsky added "One of the presidents who worried me most was Kennedy. In fact Kennedy brought us closer to nuclear destruction than anybody."
And asked about Democrat suspicions that the Russians possibly hacked the election, he retorts: "It's a kind of a strange complaint in the United States. The U.S. has been interfering with and undermining elections all over the world for decades and is proud of it. So yes maybe they're doing it here too."
Around the 18:15 mark, Chomsky gets to chiding progressives who refused to stop Trump, and voted for Stein or Johnson instead. They simply made "a bad mistake," he adds.
For me, the best part comes when the al Jazeera interviewer asks Chomsky how we should address the rise of fake news and the "post truth" climate we're now living in, as some claim: "You combat it by being an educator, by trying to educate, organize, and bring people to understand that they should use their critical intelligence, to evaluate what they're reading, whether it's in the mainstream media or on some other site they are looking up."
For more on that, see this item in our archive:
Noam Chomsky Defines What It Means to Be a Truly Educated Person
Daniel Dennett Presents Seven Tools For Critical Thinking
How to Spot Bullshit: A Primer by Princeton Philosopher Harry Frankfurt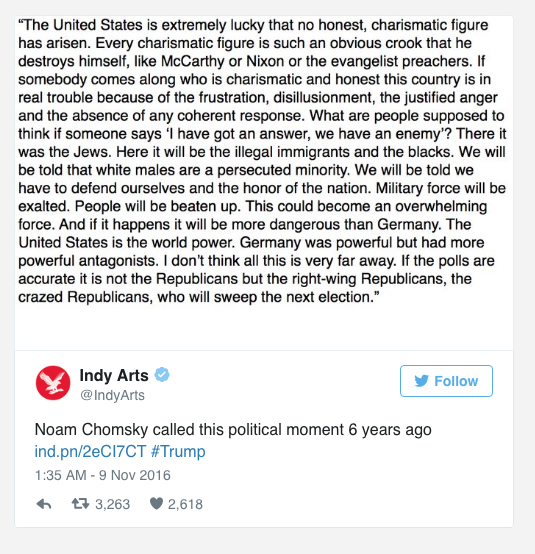 Related Content:
Noam Chomsky on Whether the Rise of Trump Resembles the Rise of Fascism in 1930s Germany
Free: Hear 24 Hours of Noam Chomsky's Lectures & Talks on the Powers That Subvert Our Democracies
Philosopher Richard Rorty Chillingly Predicts the Results of the 2016 Election … Back in 1998
How Did Hitler Rise to Power? : New TED-ED Animation Provides a Case Study in How Fascists Get Democratically Elected