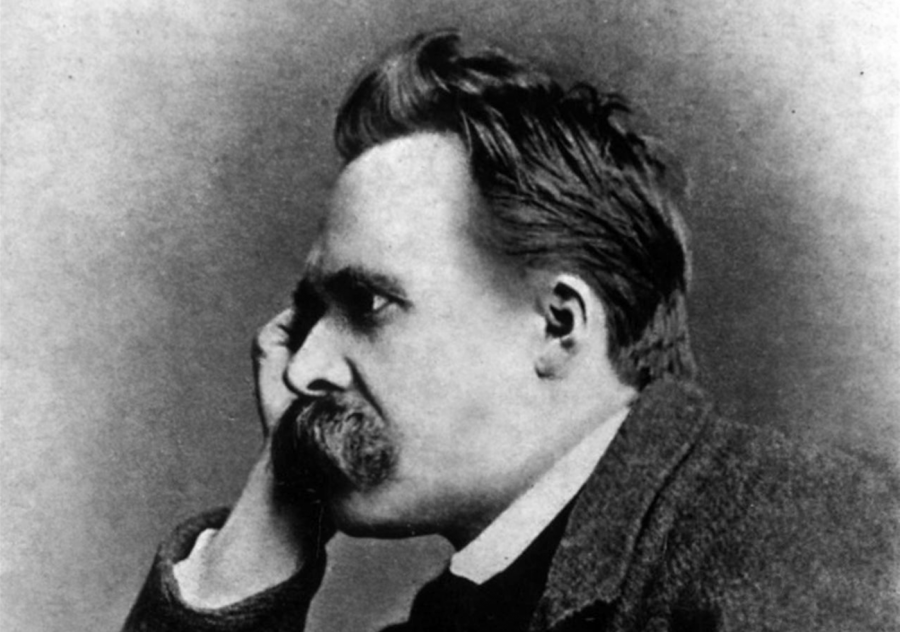 The life of Russ­ian-born poet, nov­el­ist, crit­ic, and first female psy­chol­o­gist Lou Andreas-Salomé has pro­vid­ed fod­der for both sala­cious spec­u­la­tion and intel­lec­tu­al dra­ma in film and on the page for the amount of roman­tic atten­tion she attract­ed from Euro­pean intel­lec­tu­als like philoso­pher Paul Rée, poet Rain­er Maria Rilke, and Friedrich Niet­zsche. Emo­tion­al­ly intense Niet­zsche became infat­u­at­ed with Salomé, pro­posed mar­riage, and, when she declined, broke off their rela­tion­ship in abrupt Niet­zschean fash­ion.
For her part, Salomé so val­ued these friend­ships she made a pro­pos­al of her own: that she, Niet­zsche and Rée, writes D.A. Bar­ry at 3:AM Mag­a­zine, "live togeth­er in a celi­bate house­hold where they might dis­cuss phi­los­o­phy, lit­er­a­ture and art." The idea scan­dal­ized Nietzsche's sis­ter and his social cir­cle and may have con­tributed to the "pas­sion­ate crit­i­cism" Salomé's 1894 bio­graph­i­cal study, Friedrich Niet­zsche: The Man and His Works, received. The "much maligned" work deserves a reap­praisal, Bar­ry argues, as "a psy­cho­log­i­cal por­trait."
In Niet­zsche, Salomé wrote, we see "sor­row­ful ail­ing and tri­umphal recov­ery, incan­des­cent intox­i­ca­tion and cool con­scious­ness. One sens­es here the close entwin­ing of mutu­al con­tra­dic­tions; one sens­es the over­flow­ing and vol­un­tary plunge of over-stim­u­lat­ed and tensed ener­gies into chaos, dark­ness and ter­ror, and then an ascend­ing urge toward the light and most ten­der moments." We might see this pas­sage as charged by the remem­brance of a friend, with whom she once "climbed Monte Sacro," she claimed, in 1882, "where he told her of the con­cept of the Eter­nal Recur­rence 'in a qui­et voice with all the signs of deep­est hor­ror.'"
We should also, per­haps pri­mar­i­ly, see Salomé's impres­sions as an effect of Nietzsche's tur­bu­lent prose, reach­ing its apoth­e­o­sis in his exper­i­men­tal­ly philo­soph­i­cal nov­el, Thus Spake Zarathus­tra. As a the­o­rist of the embod­i­ment of ideas, of their inex­tri­ca­ble rela­tion to the phys­i­cal and the social, Niet­zsche had some very spe­cif­ic ideas about lit­er­ary style, which he com­mu­ni­cat­ed to Salomé in an 1882 note titled "Toward the Teach­ing of Style." Well before writ­ers began issu­ing "sim­i­lar sets of com­mand­ments," writes Maria Popo­va at Brain Pick­ings, Niet­zsche "set down ten styl­is­tic rules of writ­ing," which you can find, in their orig­i­nal list form, below.
1. Of prime neces­si­ty is life: a style should live.

2. Style should be suit­ed to the spe­cif­ic per­son with whom you wish to com­mu­ni­cate. (The law of mutu­al rela­tion.)

3. First, one must deter­mine pre­cise­ly "what-and-what do I wish to say and present," before you may write. Writ­ing must be mim­ic­ry.

4. Since the writer lacks many of the speaker's means, he must in gen­er­al have for his mod­el a very expres­sive kind of pre­sen­ta­tion of neces­si­ty, the writ­ten copy will appear much paler.

5. The rich­ness of life reveals itself through a rich­ness of ges­tures. One must learn to feel every­thing — the length and retard­ing of sen­tences, inter­punc­tu­a­tions, the choice of words, the paus­ing, the sequence of argu­ments — like ges­tures.

6. Be care­ful with peri­ods! Only those peo­ple who also have long dura­tion of breath while speak­ing are enti­tled to peri­ods. With most peo­ple, the peri­od is a mat­ter of affec­ta­tion.

7. Style ought to prove that one believes in an idea; not only that one thinks it but also feels it.

8. The more abstract a truth which one wish­es to teach, the more one must first entice the sens­es.

9. Strat­e­gy on the part of the good writer of prose con­sists of choos­ing his means for step­ping close to poet­ry but nev­er step­ping into it.

10. It is not good man­ners or clever to deprive one's read­er of the most obvi­ous objec­tions. It is very good man­ners and very clever to leave it to one's read­er alone to pro­nounce the ulti­mate quin­tes­sence of our wis­dom.
As with all such pre­scrip­tions, we are free to take or leave these rules as we see fit. But we should not ignore them. While Nietzsche's per­spec­tivism has been (mis)interpreted as wan­ton sub­jec­tiv­i­ty, his ven­er­a­tion for antiq­ui­ty places a high val­ue on for­mal con­straints. His prose, we might say, resides in that ten­sion between Dionysian aban­don and Apol­lon­ian cool, and his rules address what lib­er­al arts pro­fes­sors once called the Triv­i­um: gram­mar, rhetoric, and log­ic: the three sup­ports of mov­ing, expres­sive, per­sua­sive writ­ing.
Salomé was so impressed with these apho­ris­tic rules that she includ­ed them in her biog­ra­phy, remark­ing, "to exam­ine Nietzsche's style for caus­es and con­di­tions means far more than exam­in­ing the mere form in which his ideas are expressed; rather, it means that we can lis­ten to his inner sound­ings." Isn't this what great writ­ing should feel like?
Salomé wrote in her study that "Niet­zsche not only mas­tered lan­guage but also tran­scend­ed its inad­e­qua­cies." (As Niet­zsche him­self com­ment­ed in 1886, notes Hugo Dro­chon, he need­ed to invent "a lan­guage of my very own.") Nietzsche's bold-yet-dis­ci­plined writ­ing found a com­ple­ment in Salomé's bold­ly keen analy­sis. From her we can also per­haps glean anoth­er prin­ci­ple: "No mat­ter how calum­nious the pub­lic attacks on her," writes Bar­ry, "par­tic­u­lar­ly from [his sis­ter] Elis­a­beth Förster-Niet­zsche dur­ing the Nazi peri­od in Ger­many, Salomé did not respond to them."
Relat­ed Con­tent:
The Dai­ly Habits of High­ly Pro­duc­tive Philoso­phers: Niet­zsche, Marx & Immanuel Kant
Wal­ter Kaufmann's Clas­sic Lec­tures on Niet­zsche, Kierkegaard and Sartre (1960)
Writ­ing Tips by Hen­ry Miller, Elmore Leonard, Mar­garet Atwood, Neil Gaiman & George Orwell
Josh Jones is a writer and musi­cian based in Durham, NC. Fol­low him at @jdmagness