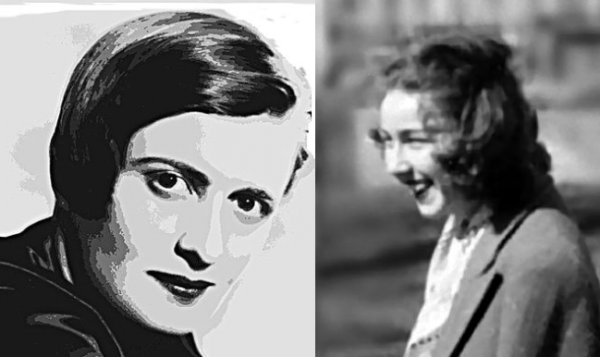 In a letter dated May 31, 1960, Flannery O'Connor, the author best known for her classic story, "A Good Man is Hard to Find" (listen to her read the story here) penned a letter to her friend, the playwright Maryat Lee. It begins rather abruptly, likely because it's responding to something Maryat said in a previous letter:
I hope you don't have friends who recommend Ayn Rand to you. The fiction of Ayn Rand is as low as you can get re fiction. I hope you picked it up off the floor of the subway and threw it in the nearest garbage pail. She makes Mickey Spillane look like Dostoevsky.
The letter, which you can read online or find in the book The Habit of Being, then turns to other matters.
O'Connor's critical appraisal of Ayn Rand's books is pretty straightforward. But here's one factoid worth knowing. Mickey Spillane (referenced in O'Connor's letter) was a hugely popular mystery writer, who sold some 225 million books during his lifetime. According to his Washington Post obit, "his specialty was tight-fisted, sadistic revenge stories, often featuring his alcoholic gumshoe Mike Hammer and a cast of evildoers." Critics, appalled by the sex and violence in his books, dismissed his writing. But Ayn Rand defended him. In public, she said that Spillane was underrated. In her book The Romantic Manifesto, Rand put Spillane in some unexpected company when she wrote: "[Victor] Hugo gives me the feeling of entering a cathedral–Dostoevsky gives me the feeling of entering a chamber of horrors, but with a powerful guide–Spillane gives me the feeling of listening to a military band in a public park–Tolstoy gives me the feeling of an unsanitary backyard which I do not care to enter." All of which goes to show that Ayn Rand's literary taste was no better than her literature.
Note: An earlier version of this post appeared on our site in June, 2014.
If you would like to sign up for Open Culture's free email newsletter, please find it here.
If you would like to support the mission of Open Culture, consider making a donation to our site. It's hard to rely 100% on ads, and your contributions will help us continue providing the best free cultural and educational materials to learners everywhere. You can contribute through PayPal, Patreon, and Venmo (@openculture). Thanks!
Related Content:
When Ayn Rand Collected Social Security & Medicare, After Years of Opposing Benefit Programs
Christopher Hitchens Dismisses the Cult of Ayn Rand: There's No "Need to Have Essays Advocating Selfishness Among Human Beings; It Requires No Reinforcement"
Ayn Rand Helped the FBI Identify It's A Wonderful Life as Communist Propaganda
Rare 1959 Audio: Flannery O'Connor Reads 'A Good Man is Hard to Find'
Flannery O'Connor Reads 'Some Aspects of the Grotesque in Southern Fiction' (c. 1960)