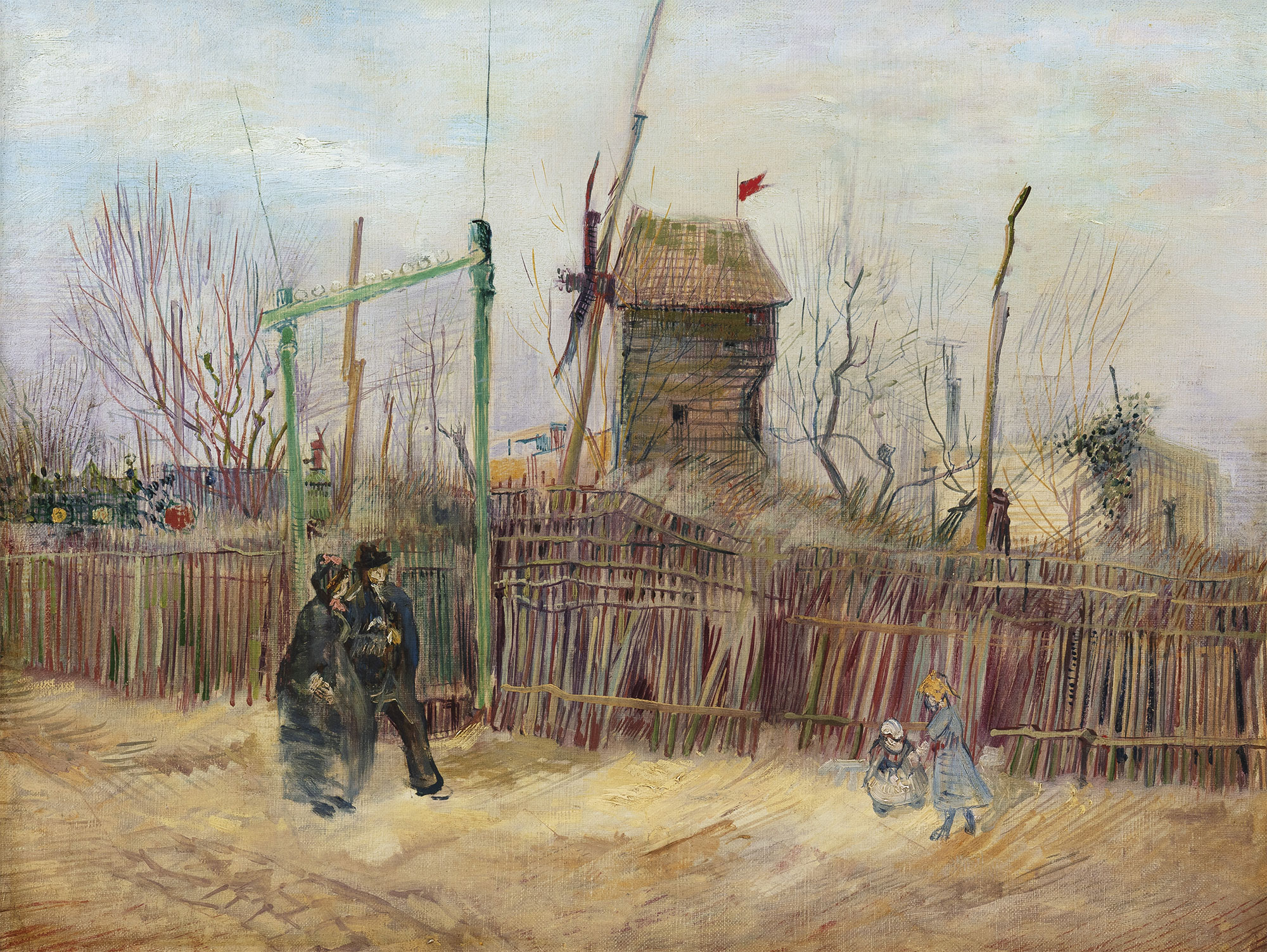 Images cour­tesy of Sothe­bys
Not every Vin­cent van Gogh paint­ing hangs at the Van Gogh Muse­um, or indeed in a muse­um at all. Though many pri­vate col­lec­tors loan their Van Goghs to art insti­tu­tions that make them avail­able for pub­lic view­ing, some have nev­er let such prized pos­ses­sions out of their sight. Such, until recent­ly, was the case with Scène de rue à Mont­martre (Impasse des Deux Frères et le Moulin à Poivre), paint­ed in 1887 but not shown to the world until this year — in prepa­ra­tion for its auc­tion on March 25. Dur­ing its cen­tu­ry of pos­ses­sion by a sin­gle French fam­i­ly, the paint­ing count­ed as one of the few pri­vate­ly-held entries in Van Gogh's Mont­martre series, which he paint­ed in the epony­mous neigh­bor­hood dur­ing the two years spent in Paris with his broth­er Theo.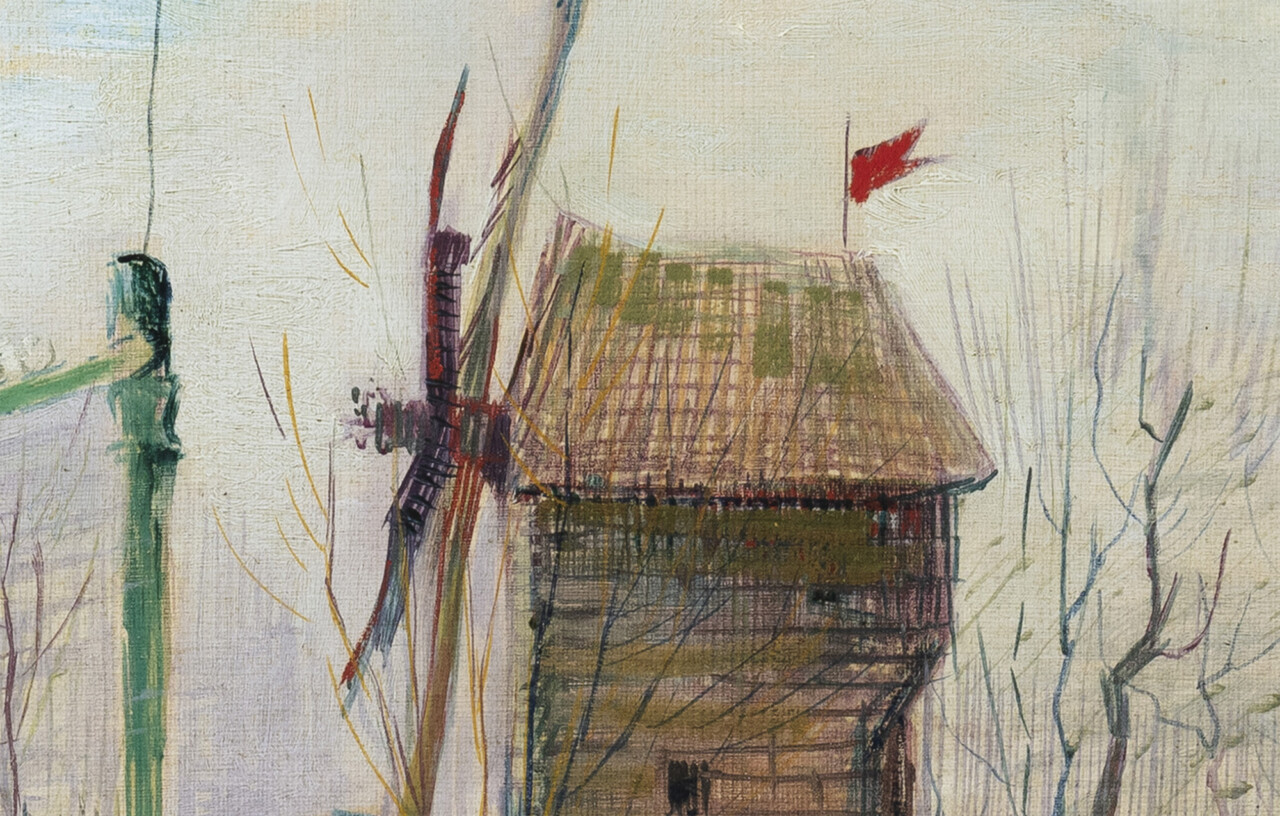 "Unlike oth­er artists of his era, like Toulouse-Lautrec, Van Gogh was attract­ed to the pas­toral side of Mont­martre and would tran­scribe this ambi­ence rather than its balls and cabarets." So says Aurélie Van­de­vo­orde, head of the Impres­sion­ist and Mod­ern Art depart­ment at Sotheby's Paris to The Art News­pa­per's Anna San­son.
The land­scape "marks van Gogh's turn to his dis­tinc­tive Impres­sion­ist style," writes Colos­sal's Grace Ebert, and its "live­ly street is thought to be the same as that in Impasse des Deux Frères, which cur­rent­ly hangs at the Van Gogh Muse­um in Ams­ter­dam, and sim­i­lar­ly depicts a mill and flags pro­mot­ing the cabaret and bar through the gates."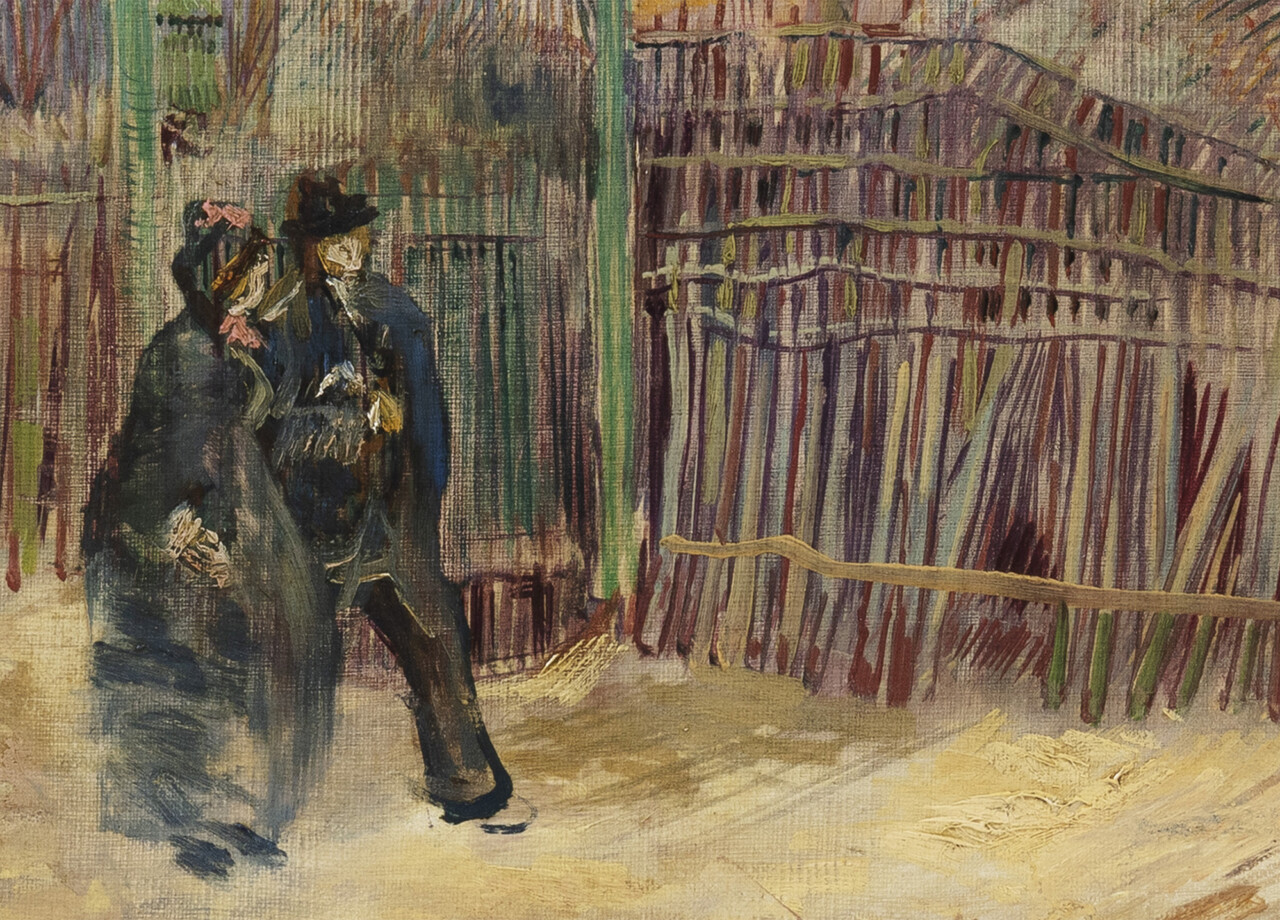 As depict­ed by Van Gogh more than 130 years ago, Mont­martre looks near­ly rur­al — quite unlike it does now, as any­one who's fre­quent­ed the neigh­bor­hood in liv­ing mem­o­ry can attest. But the sta­tus of the paint­ing has changed even more than the sta­tus of the place: Scène de rue à Mont­martre "is expect­ed to sell for between $6 mil­lion and $9.7 mil­lion (€5 mil­lion to €8 mil­lion)," writes Smithsonian.com's Isis Davis-Marks. Still, like most of Van Gogh's Paris paint­ings, its val­ue does­n't touch that of the work he did in his sub­se­quent Provençal sojourn (under the influ­ence of Japan­ese ukiyo‑e). "One such paint­ing, Laboureur dans un champ (1889)," adds Davis-Marks, "sold at Christie's in 2017 for $81.3 mil­lion." Well-heeled read­ers should thus keep an eye on Sothe­by's site: this could be your chance to keep a (rel­a­tive­ly) afford­able Van Gogh in your own fam­i­ly for the next cen­tu­ry.
via Colos­sal
Relat­ed Con­tent:
Near­ly 1,000 Paint­ings & Draw­ings by Vin­cent van Gogh Now Dig­i­tized and Put Online: View/Download the Col­lec­tion
Down­load Vin­cent van Gogh's Col­lec­tion of 500 Japan­ese Prints, Which Inspired Him to Cre­ate "the Art of the Future"
Van Gogh's Ugli­est Mas­ter­piece: A Break Down of His Late, Great Paint­ing, The Night Café (1888)
13 Van Gogh's Paint­ings Painstak­ing­ly Brought to Life with 3D Ani­ma­tion & Visu­al Map­ping
Expe­ri­ence the Van Gogh Muse­um in 4K Res­o­lu­tion: A Video Tour in Sev­en Parts
In a Bril­liant Light: Van Gogh in Arles – A Free Doc­u­men­tary
Based in Seoul, Col­in Mar­shall writes and broad­casts on cities, lan­guage, and cul­ture. His projects include the Sub­stack newslet­ter Books on Cities, the book The State­less City: a Walk through 21st-Cen­tu­ry Los Ange­les and the video series The City in Cin­e­ma. Fol­low him on Twit­ter at @colinmarshall or on Face­book.