In 79 AD, 17-year-old Gaius Plin­ius Cae­cil­ius Secun­dus, known as Pliny the Younger, gazed across the Bay of Naples from his vaca­tion home in Mis­enum and watched Mount Vesu­vius erupt. "Dark­ness fell, not the dark of a moon­less or cloudy night," Pliny wrote in his eye­wit­ness account — the only sur­viv­ing such doc­u­ment — "but as if the lamp had been put out in a dark room." Unbe­knownst to Pliny and his famous uncle, Pliny the Elder, admi­ral of the Roman navy and revered nat­u­ral­ist, hun­dreds of lives were also snuffed out by lava, clouds of smoke and ash, and tem­per­a­tures in the hun­dreds of degrees Fahren­heit. The Elder Pliny launched ships to attempt an evac­u­a­tion. In the morn­ing, he was found dead, like­ly from asphyx­i­a­tion, along with over two thou­sand res­i­dents of Pom­peii and Her­cu­la­neum.
When the buried town was first unearthed, a new cycle of wit­ness, death, and res­ur­rec­tion began. "Since its redis­cov­ery in the mid-18th cen­tu­ry," writes Nation­al Geo­graph­ic, "the site has host­ed a tire­less suc­ces­sion of trea­sure hunters and arche­ol­o­gists," not to men­tion tourists — start­ing with aris­to­crat­ic gen­tle­men on their Grand Tour of Europe. In 1787, Goethe climbed Vesu­vius and gazed into its crater. "He record­ed with dis­ap­point­ment that the fresh­est lava was already five days old, and that the vol­cano nei­ther belched flame nor pelt­ed him with stones," writes Amelia Soth in an arti­cle about "Pom­peii Mania" among the Roman­tics, a pas­sion that cul­mi­nat­ed in Edward Bul­w­er-Lyt­ton's 1834 pot­boil­er, The Last Days of Pom­peii, "hands-down the most pop­u­lar nov­el of the age."
Bulwer-Lytton's book "had such a dra­mat­ic impact on how we think about Pom­peii," the Get­ty writes, that the muse­um named an exhi­bi­tion after it that fea­tures — unlike so many oth­er his­to­ries — Pom­pei­i's 20th cen­tu­ry "apoc­a­lypse": an Allied bomb­ing raid in the autumn of 1943 that dam­aged near­ly every part of the site, includ­ing "some of Pom­pei­i's most famous mon­u­ments, as well as its muse­um." As Nigel Pol­lard shows in his book Bomb­ing Pom­peii, over 160 Allied bombs hit Pom­peii in August and Sep­tem­ber. Few tourists who now flock to the site know how much of the ruins have been rebuilt since then. "Only recent­ly have the lit­er­a­ture and the sci­en­tif­ic com­mu­ni­ty paid due atten­tion to these dra­mat­ic events, which con­sti­tute a fun­da­men­tal water­shed in the mod­ern his­to­ry of the site," writes arche­ol­o­gist Sil­via Berte­sa­go.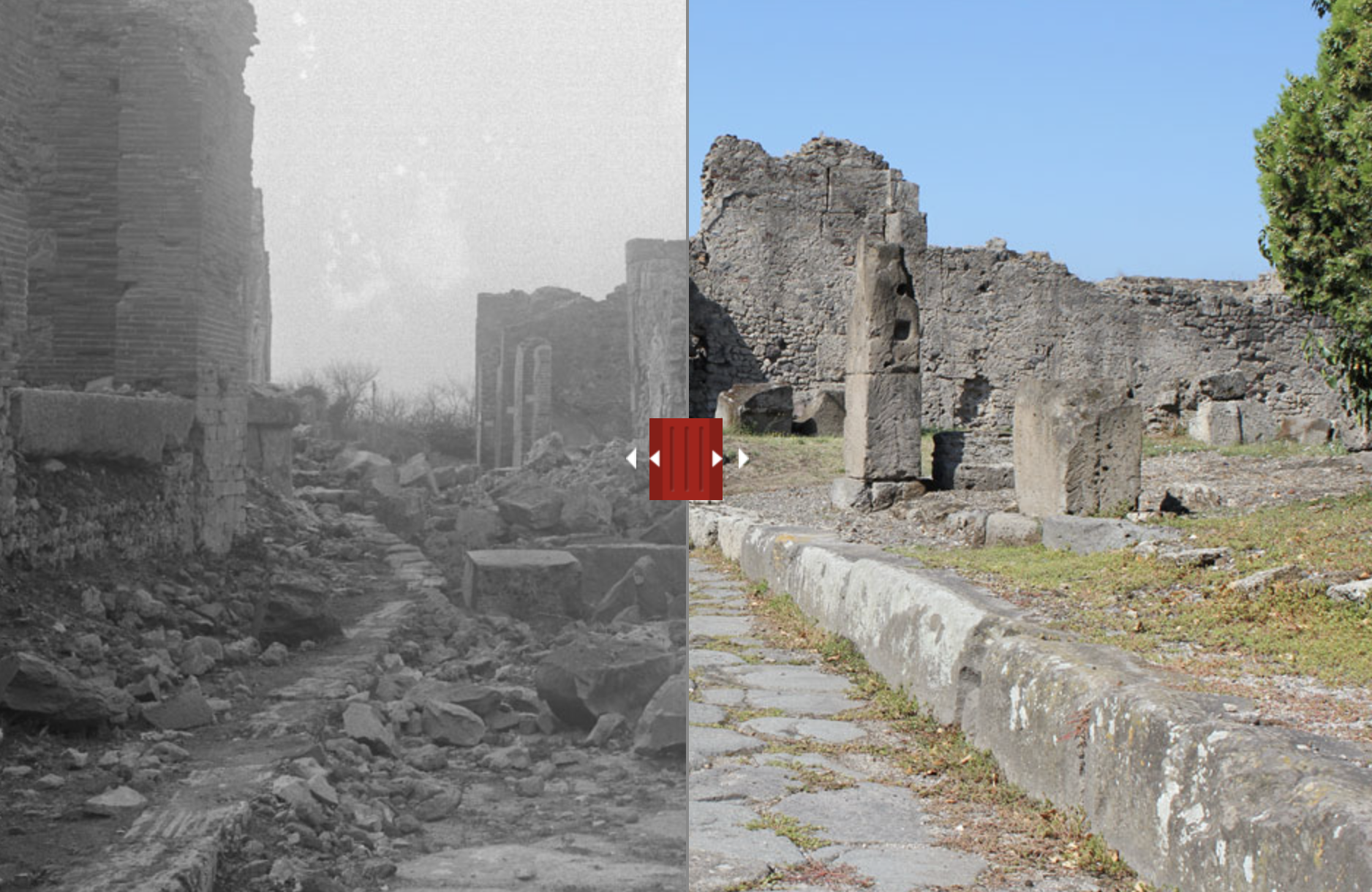 A Pliny of his time (an Elder, giv­en his decades of sci­en­tif­ic accom­plish­ment), Pom­pei­i's super­in­ten­dent, arche­ol­o­gist Amedeo Maiuri, "accel­er­at­ed the pro­tec­tion of build­ings and move­able items" in advance of the bomb­ing raids. But "who will save mon­u­ments, hous­es and paint­ings from the fury of the bom­bard­ments?" he wrote. Maiuri had warned of the com­ing destruc­tion, and when false infor­ma­tion iden­ti­fied the slopes of Vesu­vius as a Ger­man hide­out, the longest-run­ning arche­o­log­i­cal exca­va­tion in the world became "a real tar­get of war.… The first bomb­ing of Pom­peii took place on the night of August 24 1943.… Between August 30 and the end of Sep­tem­ber, sev­er­al oth­er raids fol­lowed by both day and night.… No part of the exca­va­tions was com­plete­ly spared."
Maiuri chron­i­cled the destruc­tion, writ­ing:
It was thus that from 13 to 26 Sep­tem­ber Pom­peii suf­fered its sec­ond and more seri­ous ordeal, bat­tered by one or more dai­ly attacks: dur­ing the day fly­ing low with­out fear of anti-air­craft retal­i­a­tion; at night with all the smoke and bright­ness of flares […]. Dur­ing those days no few­er than 150 bombs fell with­in the exca­va­tion area, scat­tered across the site and con­cen­trat­ed where mil­i­tary tar­gets were thought to be.
Him­self wound­ed in his left foot by a bomb, Maiuri helped draw up a list of 1378 destroyed items and over 100 dam­aged build­ings. Hasty, emer­gency rebuild­ing in the years to fol­low would lead to the use of "exper­i­men­tal mate­ri­als" like rein­forced con­crete, which "would lat­er prove incom­pat­i­ble with the orig­i­nal mate­ri­als" and itself require restora­tion and repair. The ruins of Pom­peii were rebuilt and res­ur­rect­ed after they were near­ly destroyed a sec­ond time by fire from the sky — this time entire­ly an act of humankind. But the necrop­o­lis would have its revenge. The fol­low­ing year, Vesu­vius erupt­ed, destroy­ing near­ly all of the 80 B‑25 bombers and the Allied air­field at the foot of the moun­tain.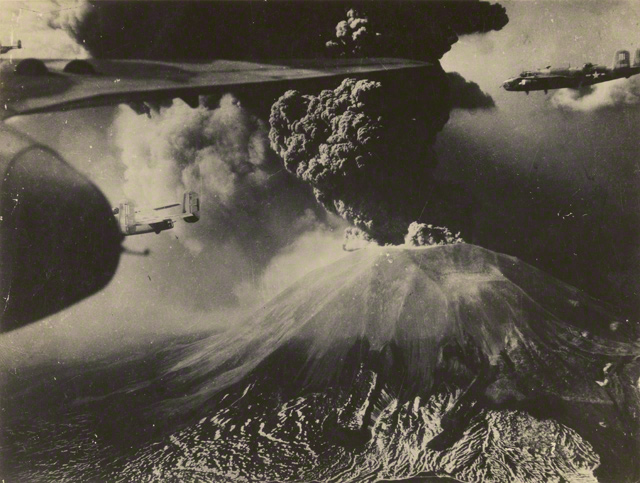 In the video above, you can learn more about the bomb­ing of Pom­peii. See pho­tographs of the destruc­tion at Pom­peii Com­mit­ment and at the Get­ty Muse­um, which fea­tures pho­tos of Pom­pei­ian sites destroyed by bomb­ing side-by-side with col­or images of the rebuilt sites today. These images are dra­mat­ic, enough to make us pay atten­tion to the seams and joints if we have the chance to vis­it, or revis­it, the famous arche­o­log­i­cal site in the future. And we might want to ask our guide if we can see not only the ruins of the nat­ur­al dis­as­ter, but also the mul­ti­ple undet­o­nat­ed bombs from the "apoc­a­lypse" of World War II.
Relat­ed Con­tent
Watch the Destruc­tion of Pom­peii by Mount Vesu­vius, Re-Cre­at­ed with Com­put­er Ani­ma­tion (79 AD)
Pom­peii Rebuilt: A Tour of the Ancient City Before It Was Entombed by Mount Vesu­vius
A Drone's Eye View of the Ruins of Pom­peii
Josh Jones is a writer and musi­cian based in Durham, NC. Fol­low him at @jdmagness