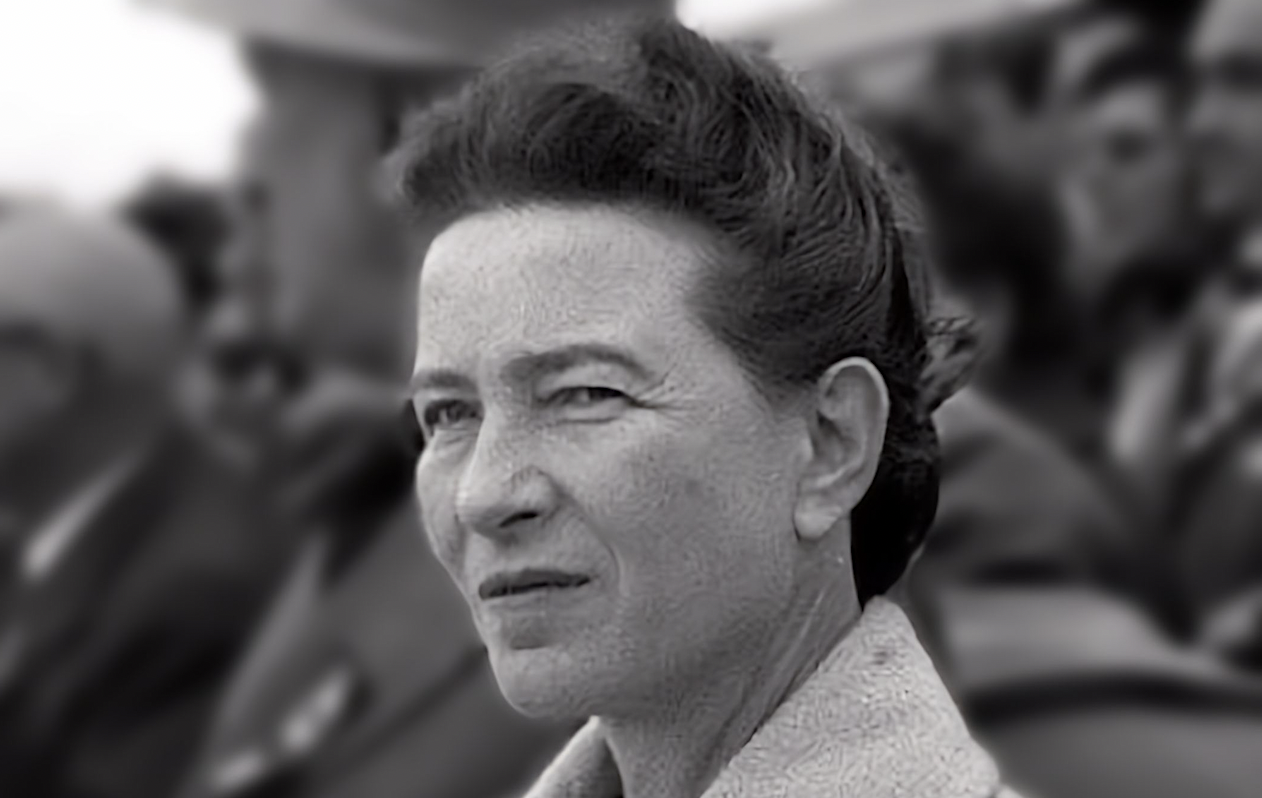 Image via Wiki­me­dia Com­mons
In the leg­end of the Bud­dha, prince Sid­dhartha encoun­ters the poor souls out­side his palace walls and sees, for the first time, the human con­di­tion: debil­i­tat­ing ill­ness, aging, death. He is shocked. As Simone de Beau­voir para­phras­es in The Com­ing of Age, her ground­break­ing study of the depre­da­tions of grow­ing old, Sid­dhartha won­ders, "What is the use of plea­sures and delights, since I myself am the future dwelling-place of old age?"
Rather than deny his knowl­edge of suf­fer­ing, the Bud­dha fol­lowed its log­ic to the end. "In this," de Beau­voir writes iron­i­cal­ly, "he dif­fered from the rest of mankind… being born to save human­i­ty." We are most­ly out to save our­selves – or our stub­born ideas of who we should be. The more wealth and pow­er we have, the eas­i­er it may be to fight the trans­for­ma­tions of age…. Until we can­not, since "grow­ing, ripen­ing, aging, dying – the pass­ing of time is pre­des­tined."
When she began to write about her own aging, de Beau­voir was besieged, she says, by "great num­bers of peo­ple, par­tic­u­lar­ly old peo­ple [who] told me, kind­ly or angri­ly but always at great length and again and again, that old age sim­ply did not exist!" The hun­dreds and thou­sands of dol­lars spent to fight nature's effect on our appear­ance only serves to "pro­long," she writes, our "dying youth."
Obses­sions with cos­met­ics and cos­met­ic surgery come from an ageism imposed from with­out by what schol­ar Kath­leen Wood­ward calls "the youth­ful struc­ture of the look" — a harsh gaze that turns the old into "The Oth­er." The aged are sub­ject to a "stig­ma­tiz­ing social judg­ment, made worse by our inter­nal­iza­tion of it." Ram Dass sum­ma­rized the con­di­tion in 2019 by say­ing we live in "a very cru­el cul­ture" — an "aging soci­ety… with a youth mythol­o­gy."
The con­tra­dic­tions can be stark. Many of Ram Dass' gen­er­a­tion have become valu­able fod­der in mar­ket­ing and pol­i­tics for their reli­a­bil­i­ty as vot­ers or con­sumers, a major shift since 1972. But, for all the focus on baby boomers as a hat­ed or a use­ful demo­graph­ic, they are large­ly invis­i­ble out­side of a cer­tain wealthy class. Old age in the West is no less fraught with eco­nom­ic and social pre­car­i­ty than when de Beau­voir wrote.
De Beau­voir mov­ing­ly describes con­di­tions that were briefly evi­dent in the media dur­ing the worst of the pan­dem­ic – the iso­la­tion, fear, and mar­gin­al­iza­tion that old­er peo­ple face, espe­cial­ly those with­out means. "The pres­ence of mon­ey can­not always alle­vi­ate" the pains of aging, wrote Eliz­a­beth Hard­wick in her 1972 review of de Beauvoir's book in trans­la­tion. "Its absence is a cer­tain cat­a­stro­phe."
The prob­lem, de Beau­voir point­ed out, is that old age is almost syn­ony­mous with pover­ty. The elder­ly are deemed unpro­duc­tive, unprof­itable, a bur­den on the state and fam­i­ly. She quotes a Cam­bridge anthro­pol­o­gist, Dr. Leach, who stat­ed at a con­fer­ence, "in effect, 'In a chang­ing world, where machines have a very short run of life, men must not be used too long. Every­one over fifty-five should be scrapped.'"
The sen­ti­ment, expressed in 1968, sounds not unlike a phrase bandied around by busi­ness ana­lysts thanks to Erik Brynjolkfsson's call for human beings to "race with the machines." It is, even­tu­al­ly, a race every­one los­es. And the push for prof­itabil­i­ty over human flour­ish­ing comes back to haunt us all.
We car­ry this ostracism so far that we even reach the point of turn­ing it against our­selves: for in the old per­son that we must become, we refuse to rec­og­nize our­selves."
De Beauvoir's response to the wide­spread cul­tur­al denial of aging was to write the first full-length philo­soph­i­cal study of aging in exis­tence, "to break the con­spir­a­cy of silence," she pro­claimed. First pub­lished as La vieil­lesse in 1970, the book dared tread where no schol­ar or thinker had, as Wood­ward writes in a 2016 re-appraisal:
The Com­ing of Age is the inau­gur­al and inim­itable study of the scan­dalous treat­ment of aging and the elder­ly in today's cap­i­tal­ist soci­eties…. There was no estab­lished method or mod­el for the study of aging. Beau­voir had to invent a way to pur­sue this enor­mous sub­ject. What did she do? …. She sur­veyed and syn­the­sized what she had found in mul­ti­ple domains, includ­ing biol­o­gy, anthro­pol­o­gy, phi­los­o­phy, and the his­tor­i­cal and cul­tur­al record, draw­ing it all togeth­er to argue with no holds barred that the elder­ly are not only mar­gin­al­ized in con­tem­po­rary cap­i­tal­ist soci­eties, they are dehu­man­ized.
The book is just as rel­e­vant in its major points, argues pro­fes­sor of phi­los­o­phy Tove Pet­tersen, despite some sweep­ing gen­er­al­iza­tions that may not hold up now or didn't then. But the exclu­sions suf­fered by aging women in cap­i­tal­ist soci­eties are still espe­cial­ly cru­el, as the philoso­pher argued. Women are still stig­ma­tized for their desires after menopause and cease­less­ly judged on their appear­ance at all times.
De Beauvoir's study has been com­pared to the exhaus­tive work of Michel Fou­cault, who exca­vat­ed such human con­di­tions as mad­ness, sex­u­al­i­ty, and pun­ish­ment. And like his stud­ies, it can feel claus­tro­pho­bic. Is there any way out of being Oth­ered, pushed aside, and ignored by the next gen­er­a­tion as we age? "Beau­voir claims that the oppressed are not always just pas­sive vic­tims," says Pet­tersen, "and that not all oppres­sion is total."
We may be con­di­tioned to see aging peo­ple as no longer use­ful or desir­able, and to see our­selves that way as we age. But to whol­ly accept the log­ic of this judg­ment is to allow old age to become a "par­o­dy" of youth, writes de Beau­voir, as we chase after the past in mis­guid­ed efforts to reclaim lost social sta­tus. We must resist the back­ward look that a youth-obsessed cul­ture encour­ages by allow­ing our­selves to become some­thing else, with a focus turned out­ward toward a future we won't see.
As an old Zen mas­ter once point­ed out, the leaves don't go back on the tree. The leaves in fall and the tree in win­ter, how­ev­er, are things of beau­ty and promise:
There is only one solu­tion if old age is not to be an absurd par­o­dy of our for­mer life, and that is to go on pur­su­ing ends that give our exis­tence a mean­ing — devo­tion to indi­vid­u­als, to groups or to caus­es, social, polit­i­cal, intel­lec­tu­al or cre­ative work… In old age we should wish still to have pas­sions strong enough to pre­vent us turn­ing in on our­selves. One's life has val­ue so long as one attrib­ut­es val­ue to the life of oth­ers, by means of love, friend­ship, indig­na­tion, com­pas­sion.
Bor­row de Beauvoir's The Com­ing of Age from the Inter­net Archive and read it online for free. Or pur­chase a copy of your own.
Relat­ed Con­tent:
Ram Dass (RIP) Offers Wis­dom on Con­fronting Aging and Dying
Bertrand Russell's Advice For How (Not) to Grow Old: "Make Your Inter­ests Grad­u­al­ly Wider and More Imper­son­al"
Life Lessons From 100-Year-Olds: Time­less Advice in a Short Film
Josh Jones is a writer and musi­cian based in Durham, NC. Fol­low him at @jdmagness