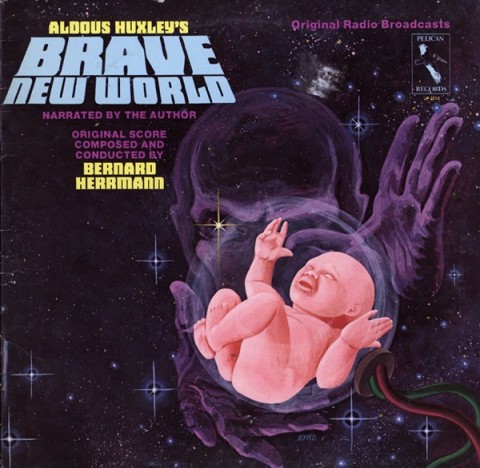 We post­ed this long ago, and we're doing it again because it's just too good — too good to col­lect dig­i­tal dust.
The CBS Radio Work­shop was an "exper­i­men­tal dra­mat­ic radio anthol­o­gy series" that aired between 1956 and 1957. And it pre­miered with a two-part adap­ta­tion of Aldous Hux­ley's now clas­sic 1932 nov­el, Brave New World. Hux­ley him­self intro­duced and nar­rat­ed the pro­gram, and now this clas­sic radio dra­ma has resur­faced online. Have a lis­ten. The audio play­er below will play through the entire episode, which was divid­ed into two episodes:
Or find the mp3s housed in our col­lec­tion of Free Audio Books. For a lit­tle more vin­tage radio, don't miss this col­lec­tion of record­ings from Orson Welles' Mer­cury The­atre on the Air.
Note: You can down­load for free a pro­fes­sion­al­ly-read ver­sion of Brave New World if you take part in one of the free tri­als offered by our part­ners Audible.com and/or Audiobooks.com. Click on the respec­tive links to get more infor­ma­tion.
Relat­ed Con­tent:
Down­load George Orwell's 1984 for Free
Down­load George Orwell's Ani­mal Farm for Free
Aldous Hux­ley Warns Against Dic­ta­tor­ship in Amer­i­ca