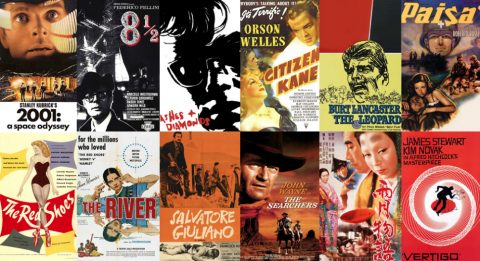 Cinema as we've almost always known it — "Edison, the Lumière brothers, Méliès, Porter, all the way through Griffith and on to Kubrick"  — has "really almost gone." So writes Martin Scorsese in his recent essay for the New York Review of Books, "The Persisting Vision: Reading the Language of Cinema." He argues that traditional film forms have "been overwhelmed by moving images coming at us all the time and absolutely everywhere, even faster than the visions coming at the astronaut" in Kubrick's 2001: A Space Odyssey. "We have no choice but to treat all these moving images coming at us as a language. We need to be able to understand what we're seeing and find the tools to sort it all out." Only natural that Scorsese, as one of the best-known, highest-profile auteurs alive, would reference Kubrick, his generational predecessor in the untiring furtherance of cinematic vision and craft.
We just yesterday featured a post about Kubrick's 1963 list of ten favorite films. Scorsese, for his part, has impressed many as one of the most enthusiastically cinephilic directors working in America today: his essays about and appearances on the DVDs of his favorite movies stand as evidence for the surprising breadth of his appreciation. Today, why not have a look at Scorsese's list, which he put together for Sight and Sound magazine, and which begins with the Kubrick selection you might expect:
In "The Persisting Vision," he champions comprehensive film preservation, citing the case of Hitchcock's Vertigo, the final entry on his list, now named the greatest film of all time by Sight and Sound's critics poll. "When the film came out some people liked it, some didn't, and then it just went away." When, after decades of obscurity, Vertigo came back into circulation,  the color was completely wrong," and "the elements — the original picture and sound negatives — needed serious attention." A restoration of the "decaying and severely damaged" film eventually happened, and "more and more people saw Vertigo and came to appreciate its hypnotic beauty and very strange, obsessive focus." I, personally, couldn't imagine the world of cinema without it — nor without any of the other pictures Scorsese calls his favorites.
Related Content:
Martin Scorsese Makes a List of 85 Films Every Aspiring Filmmaker Needs to See
Martin Scorsese Creates a List of 39 Essential Foreign Films for a Young Filmmaker
Revisit Martin Scorsese's Hand-Drawn Storyboards for Taxi Driver
Martin Scorsese's Very First Films: Three Imaginative Short Works
Martin Scorsese Brings "Lost" Hitchcock Film to Screen in Short Faux Documentary
Colin Marshall hosts and produces Notebook on Cities and Culture and writes essays on literature, film, cities, Asia, and aesthetics. He's at work on a book about Los Angeles, A Los Angeles Primer. Follow him on Twitter at @colinmarshall.