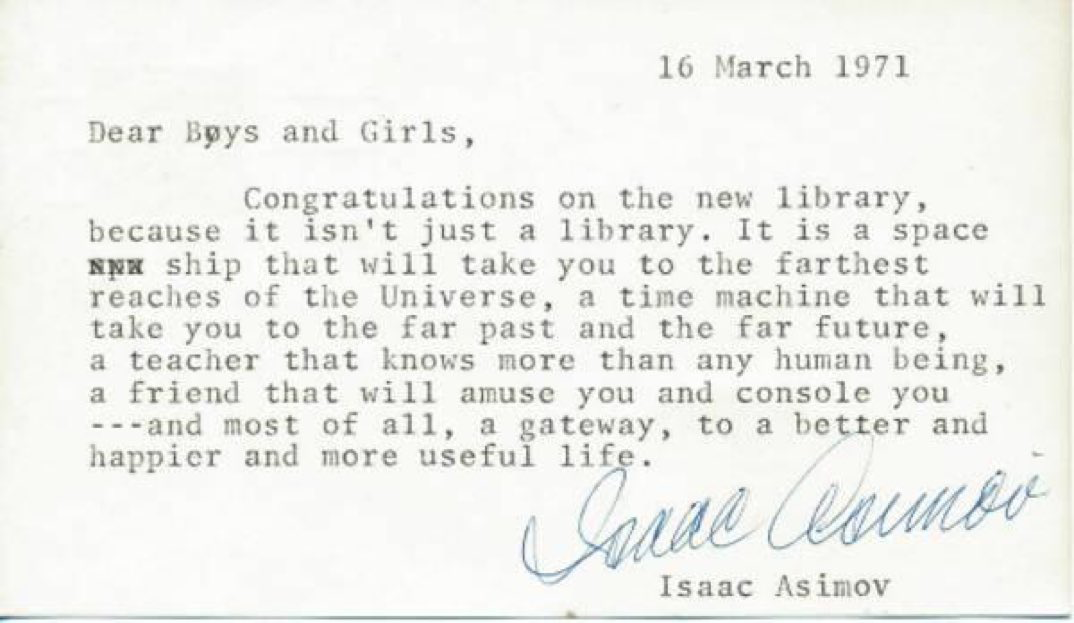 Back in 1971, Isaac Asi­mov sent a let­ter to cel­e­brate the open­ing of a new library in Troy, Michi­gan. Thought­ful as always, his let­ter addressed the chil­dren of the Troy com­mu­ni­ty as fol­lows: "Con­grat­u­la­tions on the new library, because it isn't just a library. It is a space ship that will take you to the far­thest reach­es of the Uni­verse, a time machine that will take you to the far past and the far future, a teacher that knows more than any human being, a friend that will amuse you and con­sole you—and most of all, a gate­way, to a bet­ter and hap­pi­er and more use­ful life."
In total, 97 writ­ers (includ­ing Dr. Spock, Dr. Seuss and E.B. White) sent let­ters to mark the occa­sion. You can read through them in the Troy Library Flickr stream here.
If you would like to sign up for Open Culture's free email newslet­ter, please find it here.
If you would like to sup­port the mis­sion of Open Cul­ture, con­sid­er mak­ing a dona­tion to our site. It's hard to rely 100% on ads, and your con­tri­bu­tions will help us con­tin­ue pro­vid­ing the best free cul­tur­al and edu­ca­tion­al mate­ri­als to learn­ers every­where. You can con­tribute through Pay­Pal, Patre­on, and Ven­mo (@openculture). Thanks!
Relat­ed Con­tent
Isaac Asi­mov Laments the "Cult of Igno­rance" in the Unit­ed States (1980)
Isaac Asimov's Guide to the Bible: A Wit­ty, Eru­dite Atheist's Guide to the World's Most Famous Book
Isaac Asi­mov Pre­dicts the Future of Civilization–and Rec­om­mends Ways to Ensure That It Sur­vives (1978)
How Isaac Asi­mov Went from Star Trek Crit­ic to Star Trek Fan & Advi­sor