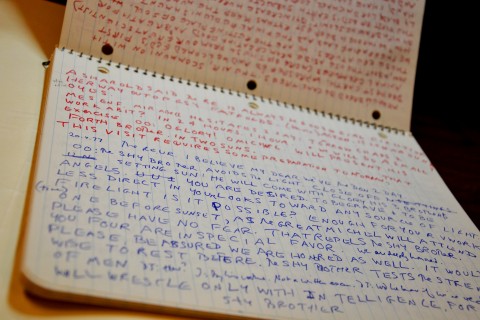 The Ouija-inspired poetry of Pulitzer Prize-winning poet James Merrill (1926-1995) comes alive in a newly launched digital archive from Washington University in St. Louis. Visitors to the site can explore notebook after notebook bearing Merrill's handwritten notes in all caps—colorful transcripts from his "Thousand and One Evenings Spent/ With [partner] David Jackson at the Ouija Board/ In Touch with Ephraim Our Familiar Spirit." Merrill, the son of Charles E. Merrill, cofounder of the Merrill Lynch investment firm, was considered one of the most significant American poets of his generation.
The occult was central to all of Merrill's later work, including "The Book of Ephraim," which is the current focus of the James Merrill Digital Archive. Merrill's complex and highly unusual creative process is evident in the materials presented, all of them drawn from the extensive James Merrill Papers housed in the university's Special Collections.
In a description on the site, project collaborator and graduate student Annelise Duerden (pictured at center below) points out that "the opening to 'The Book of Ephraim' clamors for a medium 'that would reach / The widest public in the shortest time,' and we hope that digital archiving can provide such an entrance to Merrill's work, and to the richness of the process behind his finished poem."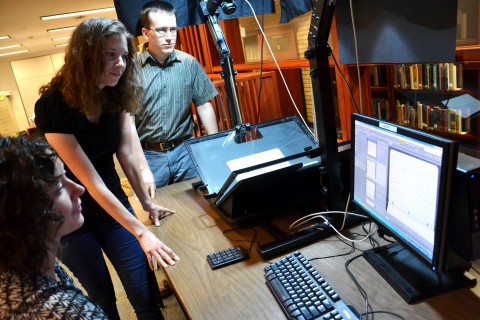 Duerden, herself an active poet, says she was impressed by Merrill's "imaginative force" and "relentless energy for revision" while helping build the archive this past summer along with staff from Washington University Libraries and the Humanities Digital Workshop.
"Merrill originally imagined constructing his story of Ephraim in the form of a novel," she says. "He planned to write it for some time, began work on it, then lost the pages in a taxi, and gave up on the idea of the novel of Ephraim, instead writing it in poetic form. In a Ouija session, Ephraim later claimed credit for losing the novel."
"The Book of Ephraim" was first published in Merrill's book Divine Comedies in 1976 and later as the first installment of his apocalyptic epic The Changing Light at Sandover, one of the longest poems in any language and featuring voices ranging from the then-recently deceased poet W. H. Auden to the Archangel Michael.
Evie Hemphill (@evhemphill) is a writer and photographer for Washington University Libraries in St. Louis.