I got hooked on Duolingo a few years ago. Since then, I've used it daily to practice languages like French, Spanish, Finnish, Chinese, and Japanese. But none of those courses is quite as popular with as many users as the one for English, which is widely spoken around the world — and, inevitably, almost as widely misspoken around the world. Even non-English-speaking countries tend to put up some English-language signage, sparse and strange though it can often be: a handwritten grocer's sign warning customers not to "finger the peaches"; a notice mounted just above a urinal that urges visitors to "please urinate with precision and elegance."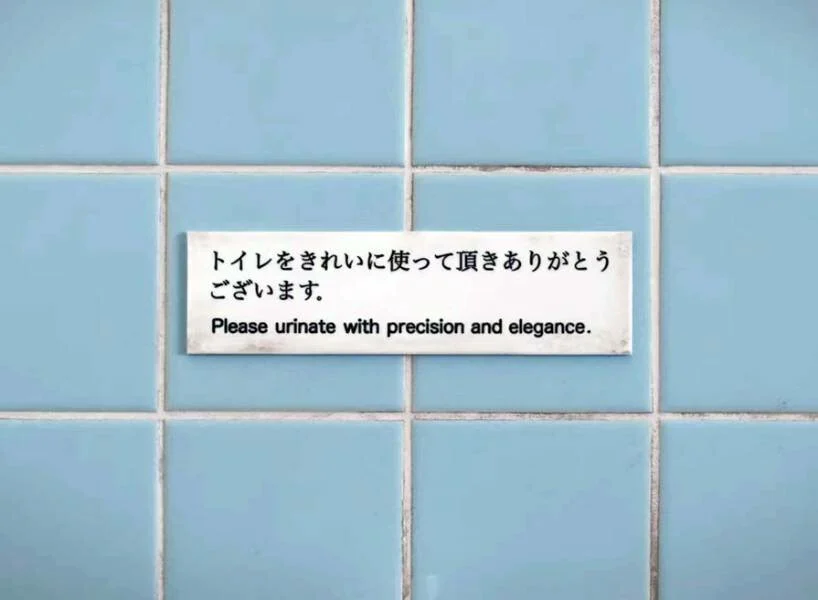 These examples come, unsurprisingly, from Japan, whose awkward but vividly memorable written English has long circulated in Western media. That made Tokyo the ideal location for the Museum of Wonky English, a pop-up collaboration between Duolingo Japan and creative agency UltraSuperNew that, as the latter's site describes it, exhibits "sixteen of the best examples of wonky English found all over Japan."
When "visitors look at the signs, menus, clothes, and other objects exhibited in the museum — objects that can make them chuckle, gasp, think, and reflect — they will notice there's more depth to wonky English than they initially thought and become more emboldened to learn a foreign language."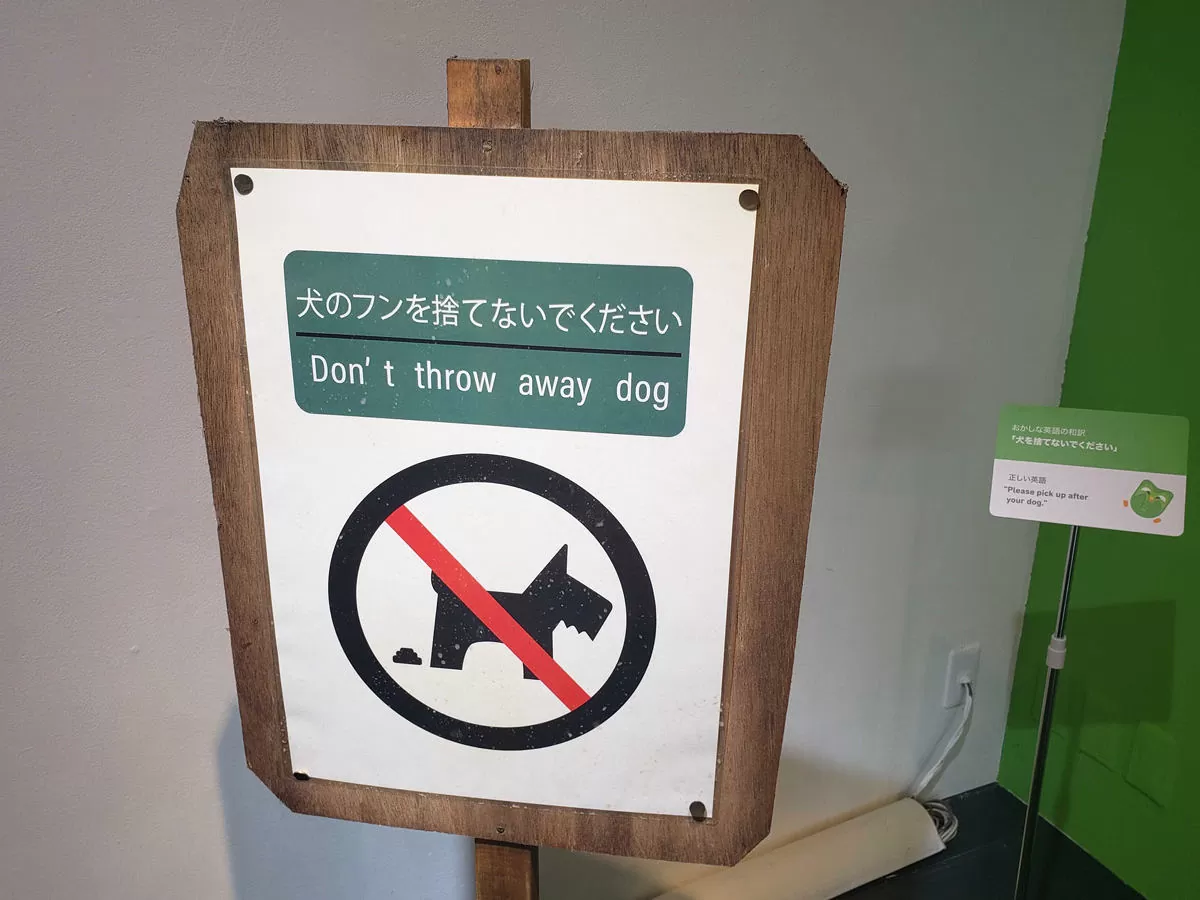 You can still see some of the Museum of Wonky English's prized linguistic artifacts in the promotional video above (which provides the original Japanese phrases from which these odd translations sprang), as well as in the pictures accompanying this Japanese-language article. "Please do not eat children and elderly." "When coffee is gone. It's over." "Crap your hands."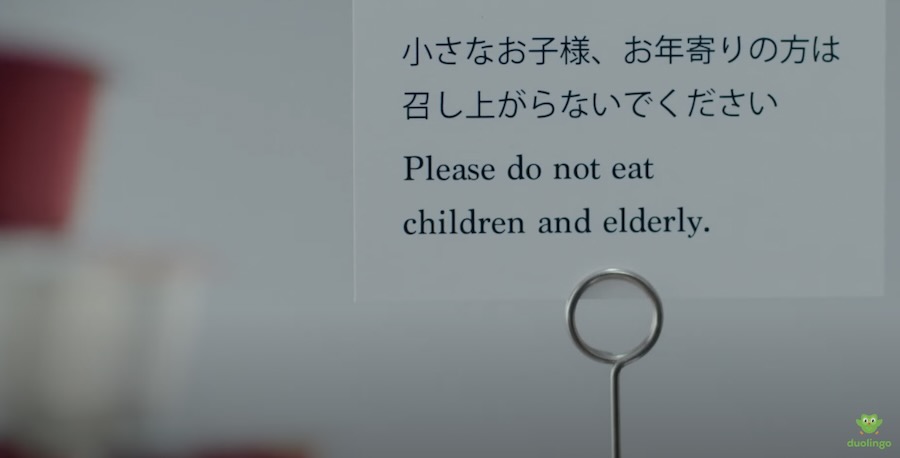 Though unidiomatic at best, these phrases and others exert a kind of power over the imagination. When closely scrutinized, they also illuminate the mechanics of the underlying Japanese language and its differences with English. And though the Museum of Wonky English was open for only a week, a run that ended last week, I can assure you — living, as I do, in Korea — that wonky English itself remains in rude health.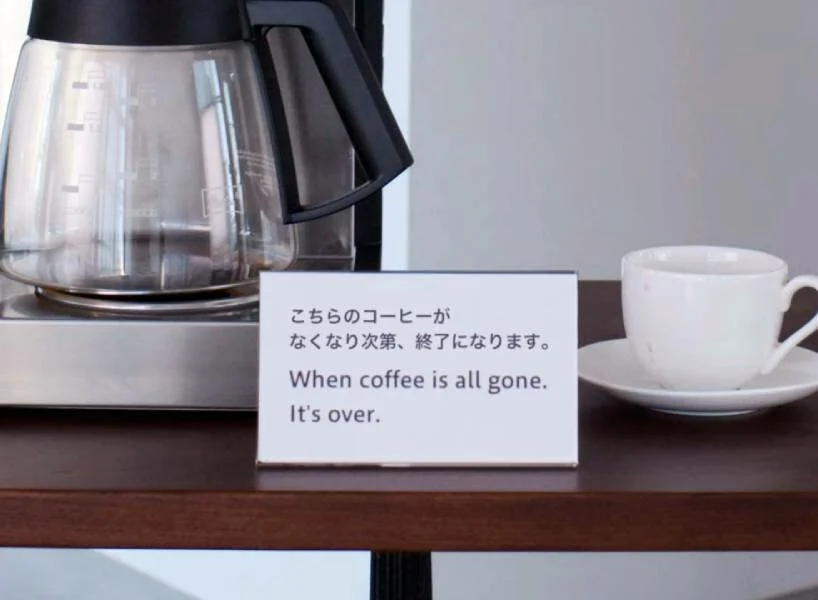 Related content:
Learn 48 Languages Online for Free: Spanish, Chinese, English & More
David Foster Wallace Breaks Down Five Common Word Usage Mistakes in English
"Weird Al" Yankovic Releases "Word Crimes," a Grammar Nerd Parody of "Blurred Lines"
Steven Pinker Identifies 10 Breakable Grammatical Rules: "Who" Vs. "Whom," Dangling Modifiers & More
What Are the Most Effective Strategies for Learning a Foreign Language?: Six TED Talks Provide the Answers
The Restaurant of Mistaken Orders: A Tokyo Restaurant Where All the Servers Are People Living with Dementia
Based in Seoul, Colin Marshall writes and broadcasts on cities, language, and culture. His projects include the Substack newsletter Books on Cities, the book The Stateless City: a Walk through 21st-Century Los Angeles and the video series The City in Cinema. Follow him on Twitter at @colinmarshall or on Facebook.