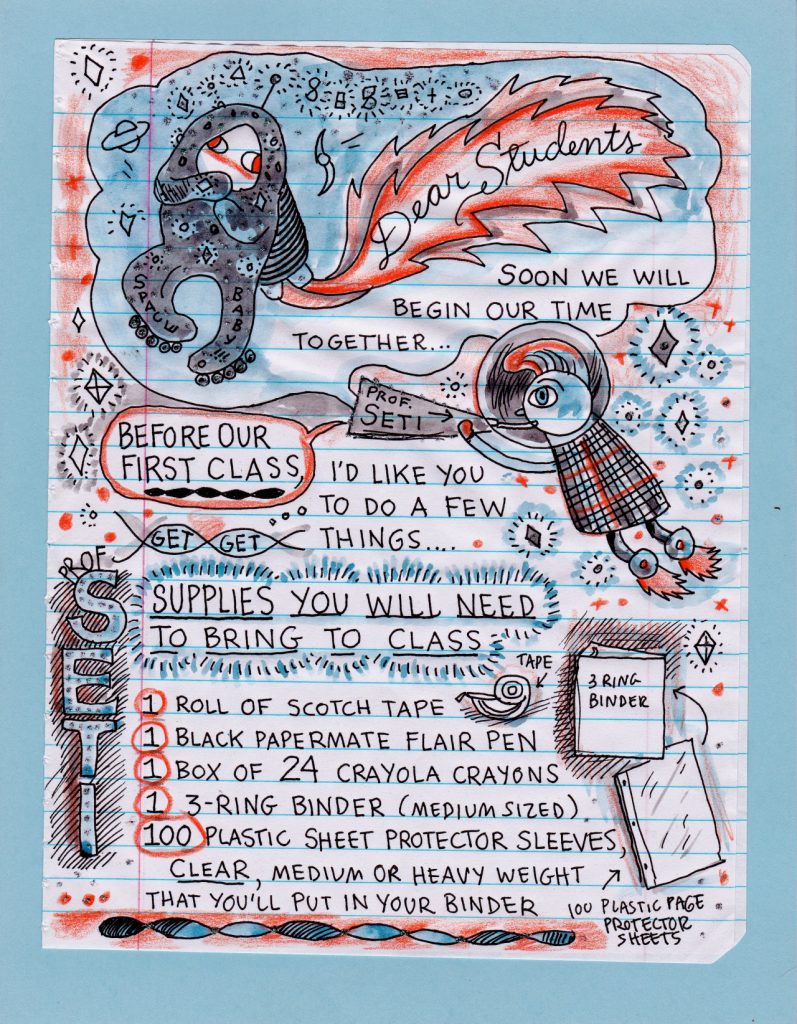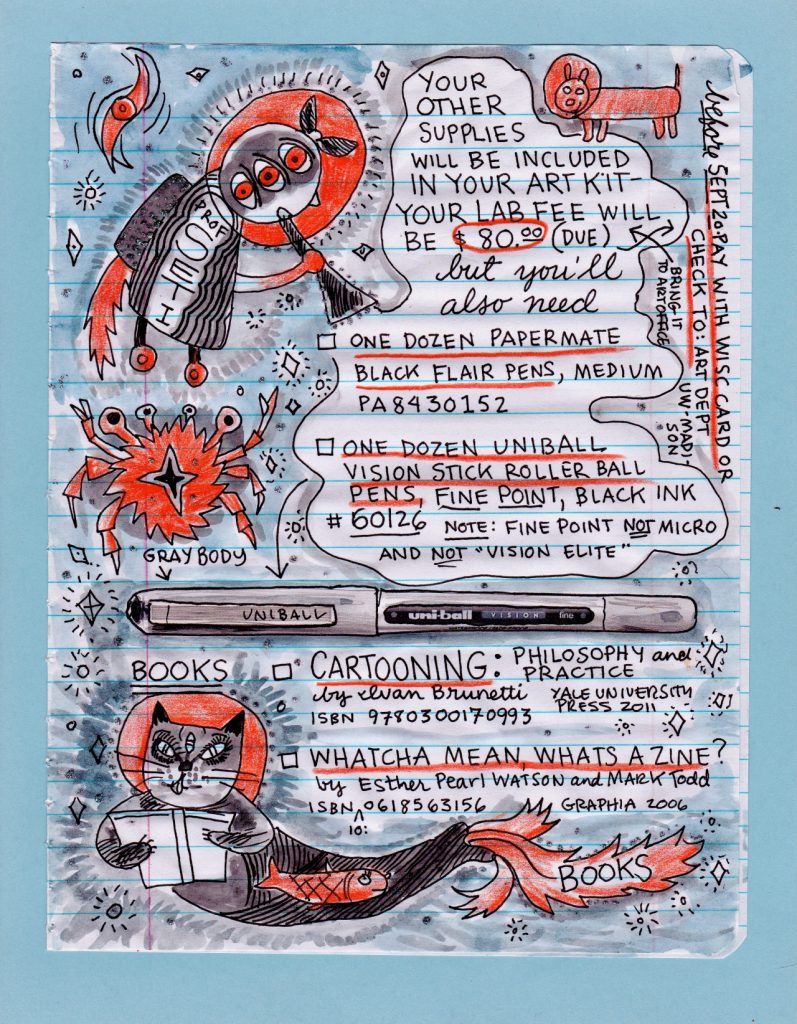 Car­toon­ist turned edu­ca­tor Lyn­da Bar­ry is again per­mit­ting the world at large to freely audit one of her fas­ci­nat­ing Uni­ver­si­ty of Wis­con­sin-Madi­son class­es via her Tum­blr. (To get to the start of the class, click here and then scroll down the page until you reach the syl­labus, then start work­ing your way back­wards.)
The top­ic this fall is "Graph­ic Vices, Graph­ic Virtues: Mak­ing Comics," a sub­ject with which Bar­ry is inti­mate­ly acquaint­ed. In the professor's own words, this class is "a(n aca­d­e­m­i­cal­ly rig­or­ous) blast!"
As in pre­vi­ous class­es, the syl­labus, above, spells out a high­ly spe­cial­ized set of required sup­plies, includ­ing a num­ber of items rarely called for at the col­lege lev­el.
It's become a time hon­ored tra­di­tion for Barry's stu­dents to adopt new names by which to refer to each oth­er in-class, some­thing they'll enjoy hear­ing spo­ken aloud. For "Mak­ing Comics," Bar­ry is fly­ing under the han­dle Pro­fes­sor SETI (as in "search for extrater­res­tri­al intel­li­gence"), telling the class that "images are the ETI in SETI."
The stu­dents have respond­ed with the fol­low­ing han­dles: Chef Boyardee, Gin­ger, Lois Lane, Rosie the Riv­et­er, Regi­na Pha­lange, Ara­bel­la, Snoopy, Skeeter, Tig­ger, Arya Stark, Nala, Nos­tal­gia, Aki­ra, Lapus Lazuli, The Buffalo,Mr. Novem­ber, The Short Giraffe, Nic­ki Minaj, Neko, Vin­cent Brooks, Reg­u­lar Sized Rudy, and Zef.
(Sounds like a rough and ready crew. What name would you choose, and why?)
As usu­al, Bar­ry draws inspi­ra­tion from the dizzy­ing boun­ty of images avail­able on the net, bom­bard­ing her pupils with find­ings such as the lobed teeth of the crab-eater seal, above.
Sci­ence and music remain pet sub­jects–Afro­fu­tur­ist band­leader Sun Ra serves as class ora­cle this go round.
Pro­fes­sor SETI keeps the "graph­ic vice" of the class' offi­cial title front and cen­ter with assign­ments per­tain­ing to the 7 dead­ly sins, ask­ing stu­dents to exam­ine mod­ern equiv­a­lents of the hor­rors depict­ed by Heron­imus Bosch above and 16th-cen­tu­ry engraver Pieter van der Hey­den, below.
What to do with all of these images? Draw them, of course! As Bar­ry tells her stu­dents:
Draw­ing is a lan­guage. It's hard to under­stand what that real­ly means until you've 'spo­ken' and 'lis­tened' to it enough in a reli­able reg­u­lar way like the reli­able reg­u­lar way we will have togeth­er this semes­ter.
That's an impor­tant def­i­n­i­tion for those lack­ing con­fi­dence in their draw­ing abil­i­ties to keep in mind. Bar­ry may revere the inky blacks of comics leg­end Jaime Her­nan­dez, but she's also a devo­tee of the wild, unbri­dled line that may be a beginner's truest expres­sion. (Stick fig­ures, how­ev­er, "don't cut it.") To her way of think­ing, every­one is capa­ble of com­mu­ni­cat­ing flu­ent­ly in visu­al lan­guage. The cur­rent crop of stu­dent work reveals a range of train­ing and nat­ur­al tal­ent, but all are wor­thy when viewed through Barry's lens.
The teacher's phi­los­o­phy is the bind­ing ele­ment here, but don't fret if you are unable to take the class in per­son:
We rarely speak direct­ly about the work we do in our class though we look at it togeth­er. We stare at it and some­times it makes us laugh or we silent­ly point out some part of it to the class­mate beside us. To be able to speak this unspo­ken lan­guage we need to prac­tice see­ing (hear­ing) the way it talks.
That ear­li­er-allud­ed-to rig­or is no joke. Dai­ly diary comics, 3 minute self por­traits on index cards, pages fold­ed to yield 16 frames in need of fill­ing, and found images copied while lis­ten­ing to pre­scribed music, lec­tures, and read­ings are a con­stant, non-nego­tiable expec­ta­tion of all par­tic­i­pants. Her method­ol­o­gy may sound goose‑y but it's far from loose‑y.
In oth­er words, if you want to play along, pre­pare to set aside a large chunk of time to com­plete her week­ly assign­ments with the vig­or demand­ed of non-vir­tu­al stu­dents.
Those who aren't able to com­mit to going the dis­tance at this time can recon­struct the class lat­er. Bar­ry leaves both the assign­ments and exam­ples of stu­dent work on her Tum­blr for per­pe­tu­ity. (You can see an exam­ple here.) For now, try com­plet­ing the 20 minute exer­cise using the assigned image above, or by choos­ing from one of her "extra cred­it" images, below:
Set timer for three min­utes and begin this draw­ing using a yel­low col­or pen­cil. Try to draw as much of the draw­ing as you can in three min­utes. You can draw fast, and in a messy way, The impor­tant thing is to get as much cov­ered as you can in three min­utes. You can col­or things in if you like. Look for the dark­est areas of the pho­to and col­or those in.

Set a timer for anoth­er three min­utes and using your non-dom­i­nant hand, draw with orange or col­or pen­cil to draw the entire draw­ing again, draw­ing right on top of the first draw­ing lay­er. The lines don't have to match or be right on top of each oth­er, you can change your mind as you add this lay­er. You can move a bit to the right rather than try to draw direct­ly onto the first set of lines.
Set a timer for anoth­er 3 min­utes and use a red pen­cil and draw it again, using you dom­i­nant hand, adding anoth­er lay­er to the draw­ing. Again, you don't have to fol­low your orig­i­nal lines. Just draw on top of them.
Set a timer for anoth­er 3 min­utes and use a dark green pen­cil to draw the entire draw­ing one more time on top of all the oth­ers.
Set a timer for 8 min­utes and use a dark blue pen­cil to draw it one more time.
Spend the last 8 min­utes ink­ing the image in with your uni­ball pen. Remem­ber that sol­id black is the very last thing you'd do giv­en your time lim­it. You want to make sure to draw all the parts of the pic­ture first.
Relat­ed Con­tent:
Car­toon­ist Lyn­da Bar­ry Shows You How to Draw Bat­man in Her UW-Madi­son Course, "Mak­ing Comics"
Lyn­da Barry's Won­der­ful­ly Illus­trat­ed Syl­labus & Home­work Assign­ments from Her UW-Madi­son Class, "The Unthink­able Mind"
Watch Lyn­da Barry's Grad­u­a­tion Speech; Give a Shout Out to the Teach­ers Who Changed Your Life
1,700 Free Online Cours­es from Top Uni­ver­si­ties
Ayun Hal­l­i­day is an author, illus­tra­tor, and Chief Pri­ma­tol­o­gist of the East Vil­lage Inky zine. Fol­low her @AyunHalliday