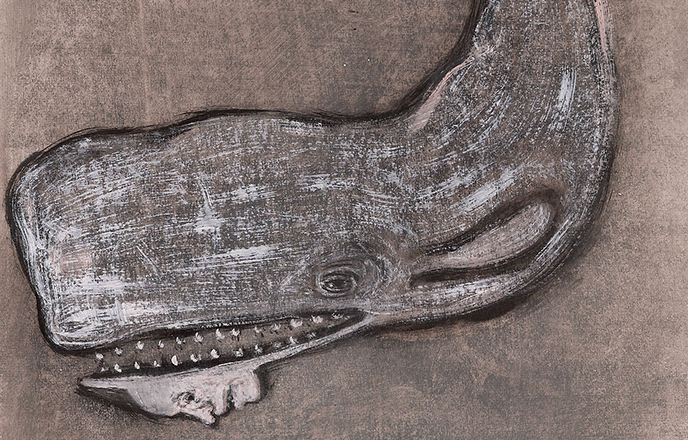 "Moby-Dick is the great American novel. But it is also the great unread American novel. Sprawling, magnificent, deliriously digressive, it stands over and above all other works of fiction, since it is barely a work of fiction itself. Rather, it is an explosive exposition of one man's investigation into the world of the whale, and the way humans have related to it. Yet it is so much more than that."
That's how Plymouth University introduces Herman Melville's classic tale from 1851. And it's what set the stage for their web project launched back in 2012. Called The Moby-Dick Big Read, the project featured celebrities and lesser known figures reading all 135 chapters from Moby-Dick — chapters that you can start downloading (as free audio files) on iTunes, Soundcloud, RSS Feed, or the Big Read web site itself.
The project started with the first chapters being read by Tilda Swinton (Chapter 1), Captain R.N. Hone (Chapter 2), Nigel Williams (Chapter 3), Caleb Crain (Chapter 4), Musa Okwonga (Chapter 5), and Mary Norris (Chapter 6). John Waters, Stephen Fry, Simon Callow, Mary Oliver and even Prime Minister David Cameron read later ones.
If you want to read the novel as you go along, find the text in our collection of Free eBooks. We also have versions read by one narrator in our Free Audio Books collection.
Tilda Swinton's narration of Chapter 1 appears right below:
An earlier version of this post appeared on our site in 2012.
If you would like to sign up for Open Culture's free email newsletter, please find it here.
If you would like to support the mission of Open Culture, consider making a donation to our site. It's hard to rely 100% on ads, and your contributions will help us continue providing the best free cultural and educational materials to learners everywhere. You can contribute through PayPal, Patreon, and Venmo (@openculture). Thanks!
Related Content:
An Illustration of Every Page of Herman Melville's Moby Dick
How Ray Bradbury Wrote the Script for John Huston's Moby Dick (1956)
Hear a Complete 24-Hour Reading of Moby-Dick, Recorded at the Southbank Centre in London (2015)