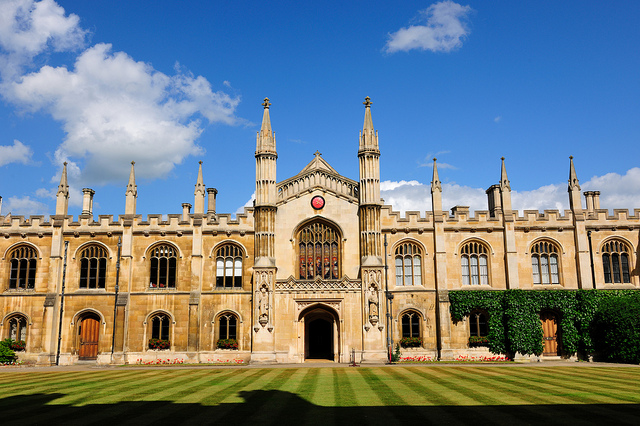 Image by llee wu, via Flickr Com­mons
When some­one devel­ops an inter­est in phi­los­o­phy, good luck try­ing to keep them away from it. They'll find the stuff any­where. These days, the inter­net makes pos­si­ble such wide and instan­ta­neous dis­sem­i­na­tion of philo­soph­i­cal mate­ri­als that you lit­er­al­ly can find it any­where. (Take for exam­ple our list of 140 Free Phi­los­o­phy Cours­es from Great Uni­ver­si­ties.) With devel­op­ments in inter­net media, even the biggest insti­tu­tion­al play­ers in phi­los­o­phy have joined in. The appear­ance of con­ve­nient­ly pod­cast lec­ture cours­es from the Uni­ver­si­ty of Oxford must count as an on-the-go phi­los­o­phy fan's dream real­ized. Writ­ing this very post while trav­el­ing through west­ern Japan, I plan to sound­track my jour­ney with the John Locke Lec­tures, which rank "among the world's most dis­tin­guished lec­ture series in phi­los­o­phy." (Then again, I do have a strong sense of incon­gruity.) The archive includes David Coop­er's "Ancient Greek Philoso­phies as a Way of Life," David Chalmers' "Con­struct­ing the World," and Thomas Scan­lon's "Being Real­is­tic About Rea­sons."
But maybe you'd pre­fer to start from the begin­ning. Oxford offers phi­los­o­phy pod­casts on all lev­els, allow­ing you to gain a foot­ing on the sub­ject and climb upward. First lis­ten to Mar­i­anne Tal­bot's "Phi­los­o­phy for Begin­ners," which "will test you on some famous thought exper­i­ments and intro­duce you to some cen­tral philo­soph­i­cal issues and to the thoughts of some key philoso­phers." Then try the same lec­tur­er's "Crit­i­cal Rea­son­ing for Begin­ners," fol­lowed by Peter Mil­li­can's "Gen­er­al Phi­los­o­phy," an eight-week course geared toward first-year phi­los­o­phy stu­dents. At that point, you're not far from the likes of "Niet­zsche on Mind and Nature," "Kan­t's Cri­tique of Pure Rea­son," and "Aes­thet­ics and the Phi­los­o­phy of Art," all of which you can absorb through head­phones no mat­ter where you're going or what you're doing. Whether or not you con­sid­er phi­los­o­phy to be the most inter­est­ing branch of cul­ture, it's cer­tain­ly the most open.
All cours­es men­tioned above appear in our col­lec­tion of 1100 Free Cours­es Online.
Relat­ed con­tent:
The Par­tial­ly Exam­ined Life: A Phi­los­o­phy Pod­cast
The His­to­ry of Phi­los­o­phy With­out Any Gaps – Peter Adamson's Pod­cast Still Going Strong
Phi­los­o­phy Bites: Pod­cast­ing Ideas From Pla­to to Sin­gu­lar­i­ty Since 2007
140 Free Phi­los­o­phy Cours­es
Col­in Mar­shall hosts and pro­duces Note­book on Cities and Cul­ture. Fol­low him on Twit­ter at @colinmarshall.