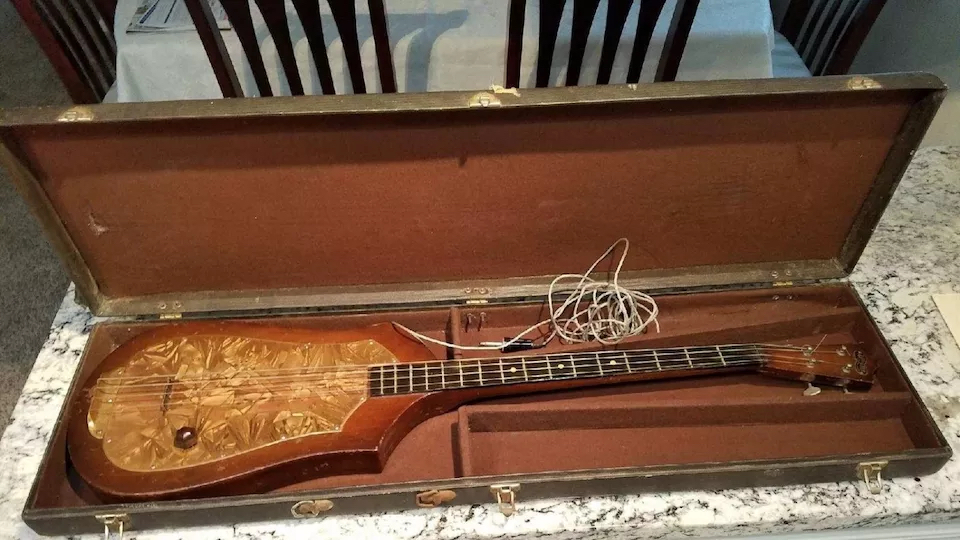 Image via Ebay
The big, stand-up double bass or "bull fiddle," as it's been called, dates to the 15th century. The design has evolved, but its four strings and EADG tuning have remained standard features of basses for several hundred years of classical and, later, jazz, country, and early rock and roll. Its booming tone and unwieldy size notwithstanding, the venerable instrument is a member of the violin family. So, when did the four-string bass become a bass guitar?
Leo Fender's 1951 Precision Bass is frequently cited as the first — "such a special instrument," writes the Fender company, that "if Clarence Leo Fender were to be remembered for nothing else, surely it would be the Precision — an instrument — indeed a whole new kind of instrument — that simply didn't exist before he invented it."
Prior to Fender's innovation, it was thought that the earliest examples of electric basses were stand-up models like Regal's Electrified Double Bass and Rickenbacker's Electro-Bass-Viol, both dating from 1936.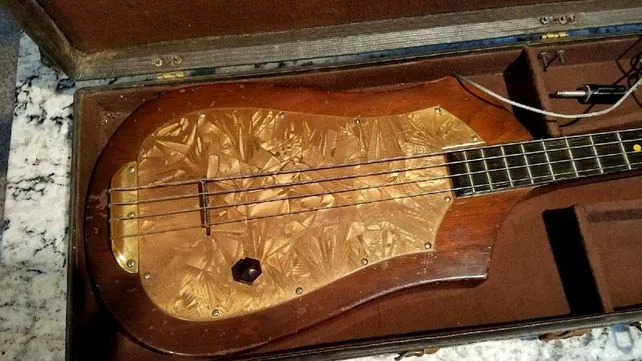 Image via Ebay
But as historian and writer Peter Blecha found out, the first electric bass guitar actually appeared that same year, invented in '36 by "musician/instructor/basement tinkerer" Paul H. Tutmarc, "a pioneer in electric pickup design who marketed a line of electric lapsteel guitars under the Audiovox brand out of the unlikely town of Seattle." Throughout the thirties and forties, notes Guitar World, Tutmarc "made a number of guitars and amplifiers under the Audiovox brand." In 1935, he invented a "New Type Bull Fiddle," an electric stand-up bass. The Seattle Post-Intelligencer announced it at the time as good news for the "poor bass-fiddler… who has to lug his big bull-fiddle home" at the end of the night.
The following year, Tutmarc combined his instrument-making skills into the world's first bass guitar, the Audiovox 736 Electric Bass Fiddle, a true original and a "radical design breakthrough," Blecha writes. Tutmarc's instrument solved the bassist's problems of being inaudible in a big band setting and being barely able to carry one's instrument to and from a gig. The 736 did not catch on outside Seattle, but it did get out a lot around the city.
Tutmarc "gave the bass to his wife Lorraine, who used it while performing with the Tutmarc family band. [He] also sold copies to various gospel, Hawaiian, and country players." (The bass cost around $65, or $1,150 today, with a separate amp that sold for $95.) Now, there are only three known Audiovox 736s in existence: one held by a private collector, another at Seattle's Museum of Pop Culture, and a third auctioned a few years ago on Ebay for $23,000.
Did Leo Fender see one of Tutmarc's creations when he invented the first truly mass-market electric bass guitar? Perhaps, but it hardly matters. It was Fender's instrument that would catch on — for good — fifteen years after the Audiovox 736, and it was Tutmarc's fate to be largely forgotten by musical history, "destined to remain obscure," Blecha writes, "to the extent that, in the wake of Leo Fender's Precision Bass… the very existence of a previous electric fretted bass (played horizontally) was effectively forgotten." See an introduction and demonstration of the first bass guitar just above.
Related Content: 
Behold the First Electric Guitar: The 1931 "Frying Pan"
The Neuroscience of Bass: New Study Explains Why Bass Instruments Are Fundamental to Music
Visualizing the Bass Playing Style of Motown's Iconic Bassist James Jamerson: "Ain't No Mountain High Enough," "For Once in My Life" & More
Legendary Studio Musician Carol Kaye Presents 150 Free Tips for Practicing & Playing the Bass
Josh Jones is a writer and musician based in Durham, NC. Follow him at @jdmagness