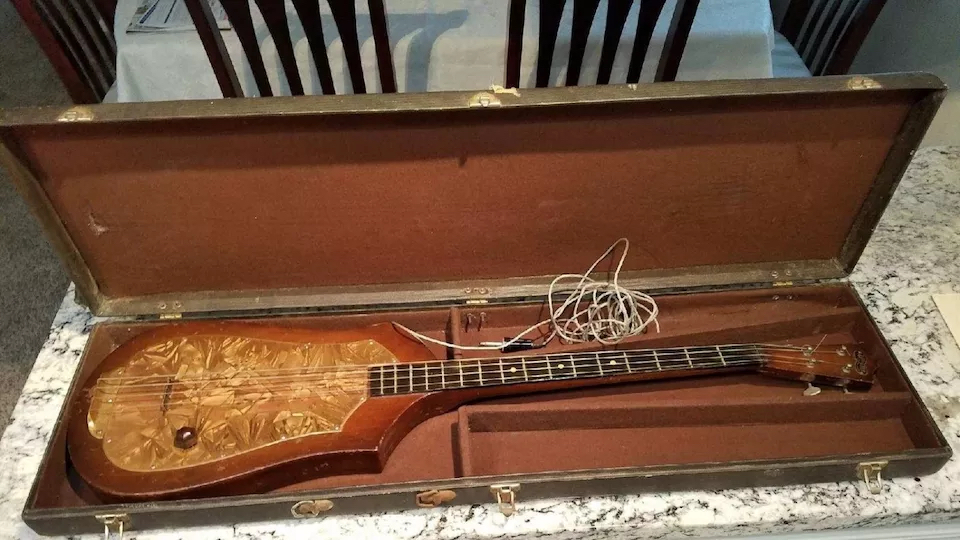 Image via Ebay
The big, stand-up dou­ble bass or "bull fid­dle," as it's been called, dates to the 15th cen­tu­ry. The design has evolved, but its four strings and EADG tun­ing have remained stan­dard fea­tures of bass­es for sev­er­al hun­dred years of clas­si­cal and, lat­er, jazz, coun­try, and ear­ly rock and roll. Its boom­ing tone and unwieldy size notwith­stand­ing, the ven­er­a­ble instru­ment is a mem­ber of the vio­lin fam­i­ly. So, when did the four-string bass become a bass gui­tar?
Leo Fender's 1951 Pre­ci­sion Bass is fre­quent­ly cit­ed as the first — "such a spe­cial instru­ment," writes the Fend­er com­pa­ny, that "if Clarence Leo Fend­er were to be remem­bered for noth­ing else, sure­ly it would be the Pre­ci­sion — an instru­ment — indeed a whole new kind of instru­ment — that sim­ply did­n't exist before he invent­ed it."
Pri­or to Fender's inno­va­tion, it was thought that the ear­li­est exam­ples of elec­tric bass­es were stand-up mod­els like Regal's Elec­tri­fied Dou­ble Bass and Rickenbacker's Elec­tro-Bass-Viol, both dat­ing from 1936.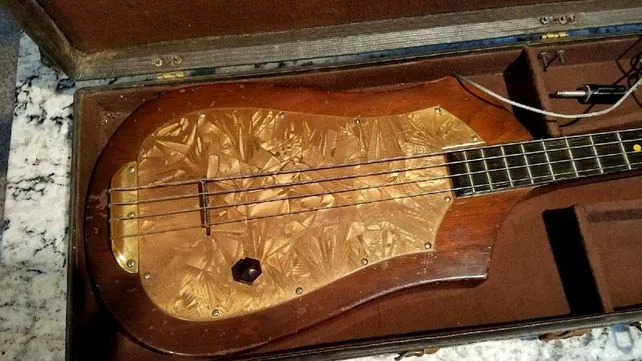 Image via Ebay
But as his­to­ri­an and writer Peter Blecha found out, the first elec­tric bass gui­tar actu­al­ly appeared that same year, invent­ed in '36 by "musician/instructor/basement tin­ker­er" Paul H. Tut­marc, "a pio­neer in elec­tric pick­up design who mar­ket­ed a line of elec­tric lap­steel gui­tars under the Audiovox brand out of the unlike­ly town of Seat­tle." Through­out the thir­ties and for­ties, notes Gui­tar World, Tut­marc "made a num­ber of gui­tars and ampli­fiers under the Audiovox brand." In 1935, he invent­ed a "New Type Bull Fid­dle," an elec­tric stand-up bass. The Seat­tle Post-Intel­li­gencer announced it at the time as good news for the "poor bass-fid­dler… who has to lug his big bull-fid­dle home" at the end of the night.
The fol­low­ing year, Tut­marc com­bined his instru­ment-mak­ing skills into the world's first bass gui­tar, the Audiovox 736 Elec­tric Bass Fid­dle, a true orig­i­nal and a "rad­i­cal design break­through," Blecha writes. Tutmarc's instru­ment solved the bassist's prob­lems of being inaudi­ble in a big band set­ting and being bare­ly able to car­ry one's instru­ment to and from a gig. The 736 did not catch on out­side Seat­tle, but it did get out a lot around the city.
Tut­marc "gave the bass to his wife Lor­raine, who used it while per­form­ing with the Tut­marc fam­i­ly band. [He] also sold copies to var­i­ous gospel, Hawai­ian, and coun­try play­ers." (The bass cost around $65, or $1,150 today, with a sep­a­rate amp that sold for $95.) Now, there are only three known Audiovox 736s in exis­tence: one held by a pri­vate col­lec­tor, anoth­er at Seattle's Muse­um of Pop Cul­ture, and a third auc­tioned a few years ago on Ebay for $23,000.
Did Leo Fend­er see one of Tut­mar­c's cre­ations when he invent­ed the first tru­ly mass-mar­ket elec­tric bass gui­tar? Per­haps, but it hard­ly mat­ters. It was Fender's instru­ment that would catch on — for good — fif­teen years after the Audiovox 736, and it was Tutmarc's fate to be large­ly for­got­ten by musi­cal his­to­ry, "des­tined to remain obscure," Blecha writes, "to the extent that, in the wake of Leo Fender's Pre­ci­sion Bass… the very exis­tence of a pre­vi­ous elec­tric fret­ted bass (played hor­i­zon­tal­ly) was effec­tive­ly for­got­ten." See an intro­duc­tion and demon­stra­tion of the first bass gui­tar just above.
Relat­ed Con­tent:
Behold the First Elec­tric Gui­tar: The 1931 "Fry­ing Pan"
The Neu­ro­science of Bass: New Study Explains Why Bass Instru­ments Are Fun­da­men­tal to Music
Visu­al­iz­ing the Bass Play­ing Style of Motown's Icon­ic Bassist James Jamer­son: "Ain't No Moun­tain High Enough," "For Once in My Life" & More
Leg­endary Stu­dio Musi­cian Car­ol Kaye Presents 150 Free Tips for Prac­tic­ing & Play­ing the Bass
Josh Jones is a writer and musi­cian based in Durham, NC. Fol­low him at @jdmagness