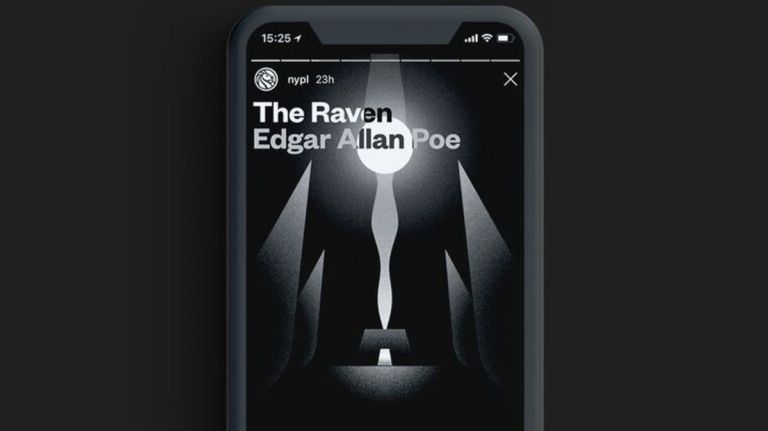 Back in August, we highlighted a new initiative by the New York Public Library. An institution that's hip with our times, the NYPL released on Instagram a digital version of Lewis Carroll's Alice's Adventures in Wonderland. Now, in the Halloween spirit, comes a digital adaptation of Edgar Allan Poe's classic tale, "The Raven." They write:
"The Raven" includes a unique series of animations produced by Psyop and Studio AKA that takes readers on an ominous procession through a stark psychological landscape where the differing perspectives of both the Raven and Poe's protagonist are depicted. The viewpoints steadily intercut and converge as the animation builds to its disquieting climax, as the door creaks open revealing "darkness there and nothing more."
Read "The Raven" on Instagram here. And keep an eye out for NYPL's upcoming adaptation of "The Metamorphosis" by Franz Kafka. It's due out by the end of the year.
If you would like to sign up for Open Culture's free email newsletter, please find it here.
If you would like to support the mission of Open Culture, consider making a donation to our site. It's hard to rely 100% on ads, and your contributions will help us continue providing the best free cultural and educational materials to learners everywhere. You can contribute through PayPal, Patreon, and Venmo (@openculture). Thanks!
Related Content:
900 Free Audio Books: Download Great Books for Free
Hear Classic Readings of Poe's "The Raven" by Vincent Price, James Earl Jones, Christopher Walken, Neil Gaiman, Stan Lee & More
Edgar Allan Poe's the Raven: Watch an Award-Winning Short Film That Modernizes Poe's Classic Tale
The Raven: a Pop-up Book Brings Edgar Allan Poe's Classic Supernatural Poem to 3D Paper Life
Gustave Doré's Splendid Illustrations of Edgar Allan Poe's "The Raven" (1884)
A Reading of Edgar Allan Poe's "The Raven" in 100 Celebrity Voices
The Grateful Dead Pays Tribute to Edgar Allan Poe's "The Raven" in a 1982 Concert: Hear "Raven Space"