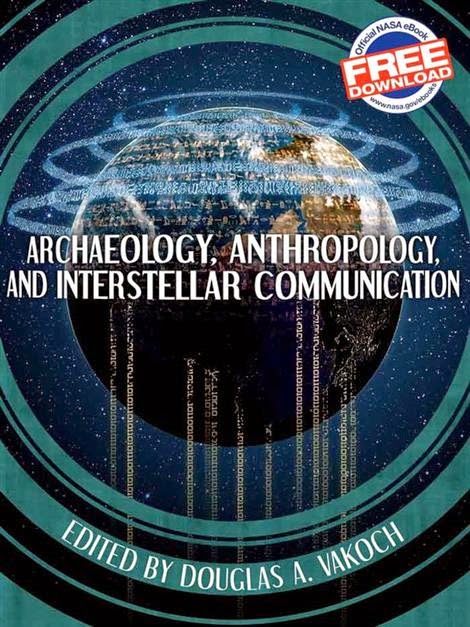 During the past few years, NASA has released a series of free ebooks, including NASA Earth As Art and various interactive texts focusing on the Webb and Hubble space telescopes. Last week, they added a new, curious book to the collection, Archaeology, Anthropology, and Interstellar Communication. Edited by Douglas A. Vakoch (the Director of Interstellar Message Composition at the SETI Institute), the text contemplates how we'll go about "establishing meaningful communication with an extraterrestrial intelligence." The scholars contributing to the volume "grappl[e] with some of the enormous challenges that will face humanity if an information-rich signal emanating from another world is detected." And to make sure that we're "prepared for contact with an extraterrestrial civilization, should that day ever come," they draw on "issues at the core of contemporary archaeology and anthropology." Why archaeology and anthropology? Because, says Vackoch, communication with intelligent life probably won't be through sound, but through images. We will need to read/understand the civilization we encounter based on what we observe. Vakoch says:
[D]on't think of "sound worlds" or music or speech as the domains, vehicles, or contents of ETI [extra terrestrial intelligence] messages. Regardless of semiotic concerns, the accessibility of acoustic messaging must remain doubtful. Furthermore, there will be intended and unintended aspects of performance, which elaborate the difficulties of using sound. In my view avoidance of the sound world need not be controversial.

On the other hand, vision and the use of images would appear to be at least plausible. Although spectral details cannot be considered universal, the physical arrangement of objects on a habitable planet's surface will be shaped in part by gravity (the notion of a horizon might well be universal) and thus multispectral images might plausibly be considered worthwhile for messages. More generally, the implications for considering SETI/CETI as some sort of anthropological challenge need teasing out.
The 300-page book, Archaeology, Anthropology, and Interstellar Communication, has been made available in three formats, and added to our own collection, 800 Free eBooks for iPad, Kindle & Other Devices:
› Kindle readers: MOBI [2.8 MB]
› All other eBook readers: EPUB [3.8 MB]
› Fixed layout: PDF [1.7 MB]
Below you can watch Vakoch give a TEDX talk called,"What Would You Say to an Extraterrestrial?"
via Gizmodo/Kim Komand0