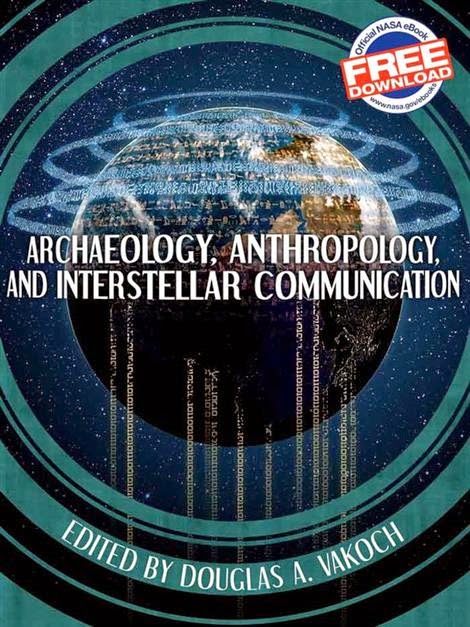 Dur­ing the past few years, NASA has released a series of free ebooks, includ­ing NASA Earth As Art and var­i­ous inter­ac­tive texts focus­ing on the Webb and Hub­ble space tele­scopes. Last week, they added a new, curi­ous book to the col­lec­tion, Archae­ol­o­gy, Anthro­pol­o­gy, and Inter­stel­lar Com­mu­ni­ca­tion. Edit­ed by Dou­glas A. Vakoch (the Direc­tor of Inter­stel­lar Mes­sage Com­po­si­tion at the SETI Insti­tute), the text con­tem­plates how we'll go about "estab­lish­ing mean­ing­ful com­mu­ni­ca­tion with an extrater­res­tri­al intel­li­gence." The schol­ars con­tribut­ing to the vol­ume "grappl[e] with some of the enor­mous chal­lenges that will face human­i­ty if an infor­ma­tion-rich sig­nal ema­nat­ing from anoth­er world is detect­ed." And to make sure that we're "pre­pared for con­tact with an extrater­res­tri­al civ­i­liza­tion, should that day ever come," they draw on "issues at the core of con­tem­po­rary archae­ol­o­gy and anthro­pol­o­gy." Why archae­ol­o­gy and anthro­pol­o­gy? Because, says Vack­och, com­mu­ni­ca­tion with intel­li­gent life prob­a­bly won't be through sound, but through images. We will need to read/understand the civ­i­liza­tion we encounter based on what we observe. Vakoch says:
[D]on't think of "sound worlds" or music or speech as the domains, vehi­cles, or con­tents of ETI [extra ter­res­tri­al intel­li­gence] mes­sages. Regard­less of semi­otic con­cerns, the acces­si­bil­i­ty of acoustic mes­sag­ing must remain doubt­ful. Fur­ther­more, there will be intend­ed and unin­tend­ed aspects of per­for­mance, which elab­o­rate the dif­fi­cul­ties of using sound. In my view avoid­ance of the sound world need not be con­tro­ver­sial.

On the oth­er hand, vision and the use of images would appear to be at least plau­si­ble. Although spec­tral details can­not be con­sid­ered uni­ver­sal, the phys­i­cal arrange­ment of objects on a hab­it­able plan­et's sur­face will be shaped in part by grav­i­ty (the notion of a hori­zon might well be uni­ver­sal) and thus mul­ti­spec­tral images might plau­si­bly be con­sid­ered worth­while for mes­sages. More gen­er­al­ly, the impli­ca­tions for con­sid­er­ing SETI/CETI as some sort of anthro­po­log­i­cal chal­lenge need teas­ing out.
The 300-page book, Archae­ol­o­gy, Anthro­pol­o­gy, and Inter­stel­lar Com­mu­ni­ca­tion, has been made avail­able in three for­mats, and added to our own col­lec­tion, 800 Free eBooks for iPad, Kin­dle & Oth­er Devices:
› Kin­dle read­ers: MOBI [2.8 MB]
› All oth­er eBook read­ers: EPUB [3.8 MB]
› Fixed lay­out: PDF [1.7 MB]
Below you can watch Vakoch give a TEDX talk called,"What Would You Say to an Extrater­res­tri­al?"
via Giz­mo­do/Kim Komand0