I'm sure you've heard by now: wealthy, suc­cess­ful film direc­tor Spike Lee hopes to fund his next film via a Kick­starter cam­paign. Yes, that's right, he wants you to pay for his art. His cam­paign, per­haps need­less to say, is hard­ly pop­u­lar with the aver­age film fan, many of whom find it hard enough to scrounge up the sky­rock­et­ing prices of tick­ets these days. Lee has respond­ed to his crit­ics, but some­how I doubt his rea­son­ing will go over well.
But we're not here to talk about alleged crowd­fund­ing abus­es (have at it in the com­ments if you must). Instead, today we have for you—in the tra­di­tion of our many posts on famous teach­ers' syl­labi—one of Lee's teach­ing tools in his role as an NYU pro­fes­sor. Where all of our pre­vi­ous posts have fea­tured read­ing lists, Lee's is a list of films, which he hands out to all of the stu­dents who take his grad­u­ate class–not required view­ing, but rec­om­mend­ed as "essen­tial" for every aspir­ing direc­tor.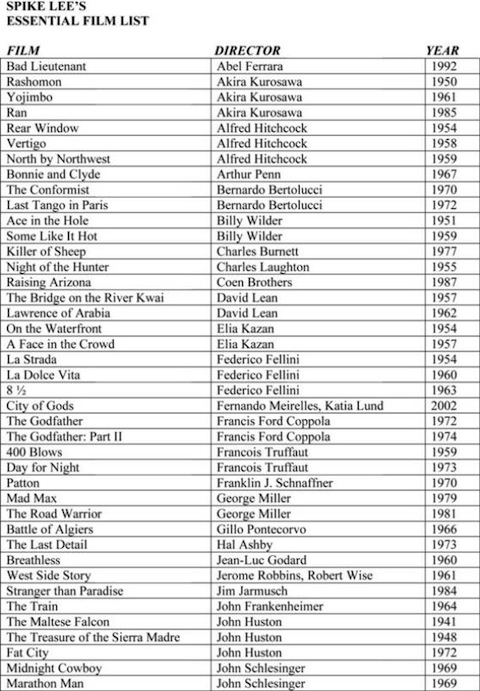 In the video at the top of the post, see Lee intro­duce the list of what he con­sid­ers, "the great­est films ever made." "If you want to be a film­mak­er," he says, "you should see these films." The list, above and con­tin­ued below, includes some of the usu­al crit­i­cal favorites—Rashomon, Ver­ti­go, On the Water­front—and some pret­ty left field choic­es, like Mel Gibson's Apoc­a­lyp­to.
Slate, which first pub­lished the list, notes the omis­sion of usu­al­ly revered direc­tors like Howard Hawks, John Ford, Fritz Lang, and Yasu­jirō Ozu as well as the paucity—or near non-existence—of female direc­tors (only one makes the list, the co-direc­tor of City of God). In addi­tion to pos­si­bly rant­i­ng about, or defend­ing, Lee's use of Kick­starter, many of you may find your­selves quib­bling over, or defend­ing, his def­i­n­i­tion of "essen­tial." And so, I say again, have at it, read­ers!
Note: When Spike orig­i­nal­ly released this list, many not­ed the lack of female film­mak­ers. Lee accept­ed that cri­tique and released an updat­ed list. Find it here.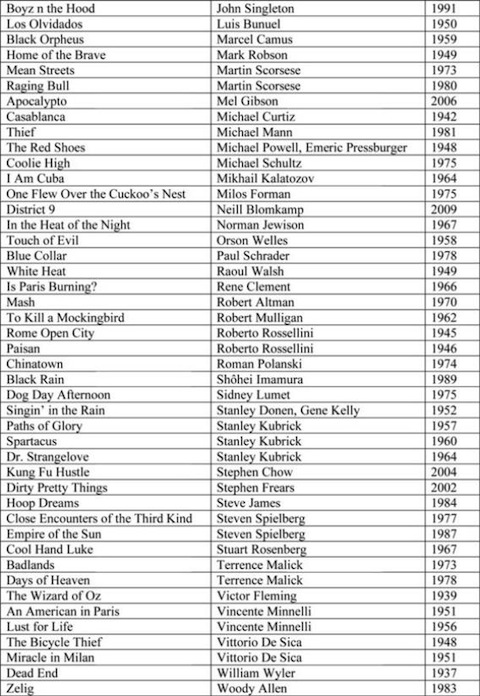 Relat­ed Con­tent:
How Spike Lee Got His First Big Break: From She's Got­ta Have It to That Icon­ic Air Jor­dan Ad
David Fos­ter Wallace's 1994 Syl­labus: How to Teach Seri­ous Lit­er­a­ture with Light­weight Books
W.H. Auden's 1941 Lit­er­a­ture Syl­labus Asks Stu­dents to Read 32 Great Works, Cov­er­ing 6000 Pages
Allen Ginsberg's "Celes­tial Home­work": A Read­ing List for His Class "Lit­er­ary His­to­ry of the Beats"
Josh Jones is a writer and musi­cian based in Wash­ing­ton, DC. Fol­low him at @jdmagness