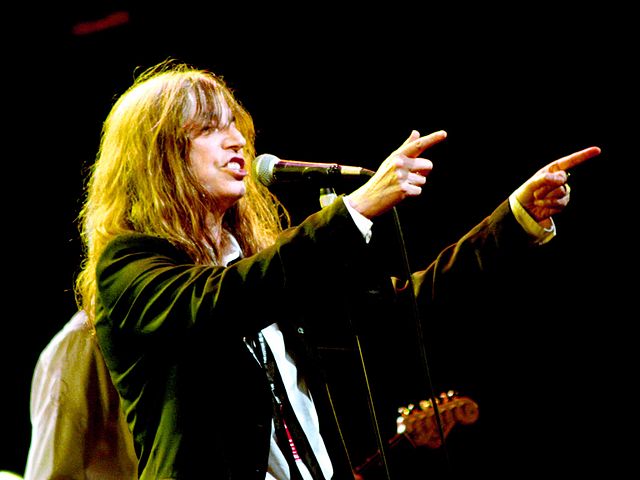 Image of Pat­ti Smith per­form­ing in Rio de Janeiro by Dai­go Oli­va
As a lit­tle girl, Pat­ti Smith found lib­er­a­tion in words — first through the bed­time prayers she made up her­self, and lat­er in books. "I was com­plete­ly smit­ten by the book," she writes in her mem­oir, Just Kids. "I longed to read them all, and the things I read of pro­duced new yearn­ings."
Smith found a role mod­el in Jo, the tomboy writer in Louisa May Alcot­t's Lit­tle Women. "She gave me the courage of a new goal," writes Smith, "and soon I was craft­ing lit­tle sto­ries and spin­ning long yarns for my broth­er and sis­ter." As a teenag­er she dis­cov­ered the French Sym­bol­ist poets Charles Baude­laire and espe­cial­ly Arthur Rim­baud, who inspired her and helped shape her own artis­tic per­sona as a poet and punk rock­er.

Despite her fame as a rock 'n' roll musi­cian, Smith has always described her­self as essen­tial­ly a book­ish per­son. It was around the time of Smith's appear­ance at the 2008 Mel­bourne Inter­na­tion­al Arts Fes­ti­val, accord­ing to Ver­ti­go, that Smith released this list of her favorite books. Not sur­pris­ing­ly, it's an eclec­tic and fas­ci­nat­ing group of books:
Smith's read­ing rec­om­men­da­tions have no doubt evolved since the list was giv­en. Ear­li­er this year a writer for Elle asked what books she would sug­gest. "I could rec­om­mend a mil­lion," Smith respond­ed. "I would just say read any­thing by [Rober­to] Bolaño. Re-read all the great clas­sics. Read The Scar­let Let­ter, read Moby Dick, read [Haru­ki] Muraka­mi. But Rober­to Bolaño's 2666 is the first mas­ter­piece of the 21st cen­tu­ry."
You can find a num­ber of the texts list­ed above in our col­lec­tion, 800 Free eBooks for iPad, Kin­dle & Oth­er Devices.
via Ver­ti­go
Relat­ed Con­tent:
Pat­ti Smith's Cov­er of Nirvana's "Smells Like Teen Spir­it" Strips the Song Down to its Heart
Watch Pat­ti Smith Read from Vir­ginia Woolf, and Hear the Only Sur­viv­ing Record­ing of Woolf's Voice
Pat­ti Smith Reads Her Final Words to Robert Map­plethor­pe