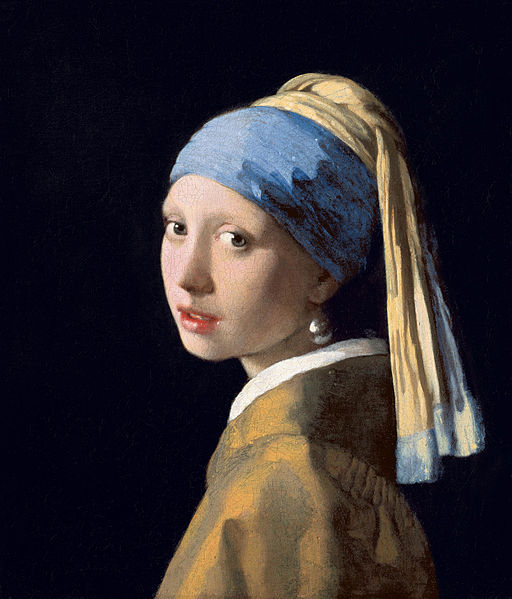 Imag­ine the scene: you uncov­er a paint­ing stored away in the clos­et of an elder­ly rel­a­tive's home, coat­ed in a blan­ket of dust so thick you can hard­ly make out any­thing but more dust under­neath. You slide it out, begin to care­ful­ly brush it off, and find two pierc­ing eyes peer­ing out at you. You brush away more dust, you are cov­ered in it, and the image slow­ly reveals itself: a stun­ning oil paint­ing of a young woman in a blue head­dress and gold tunic, her red lips part­ed slight­ly in an enig­mat­ic, over the shoul­der glance.
You have just dis­cov­ered Johannes (or Jan) Ver­meer's Girl with a Pearl Ear­ring, the so-called "Dutch Mona Lisa." The year is 1881, and the painting—in poor condition—will sell at auc­tion for two guilders and thir­ty cents, the equiv­a­lent of about twen­ty-six U.S. dol­lars in today's cur­ren­cy.
This most­ly fic­tion­al anec­dote is meant to illus­trate just how much Ver­meer's fortunes—or rather those of the own­ers of his paintings—have risen since the late 19th cen­tu­ry. (The paint­ing was indeed sold in 1881—to an army offi­cer and collector—for that tiny sum.)
Though Ver­meer him­self achieved mod­est fame dur­ing his own life­time in his home­town of Delft and in The Hague, he died in debt in 1675, and was sub­se­quent­ly for­got­ten. Since then, of course, he has become one of the most famous Euro­pean painters in his­to­ry, with as much name recog­ni­tion as fel­low Dutch stars, Rem­brandt and Van Gogh.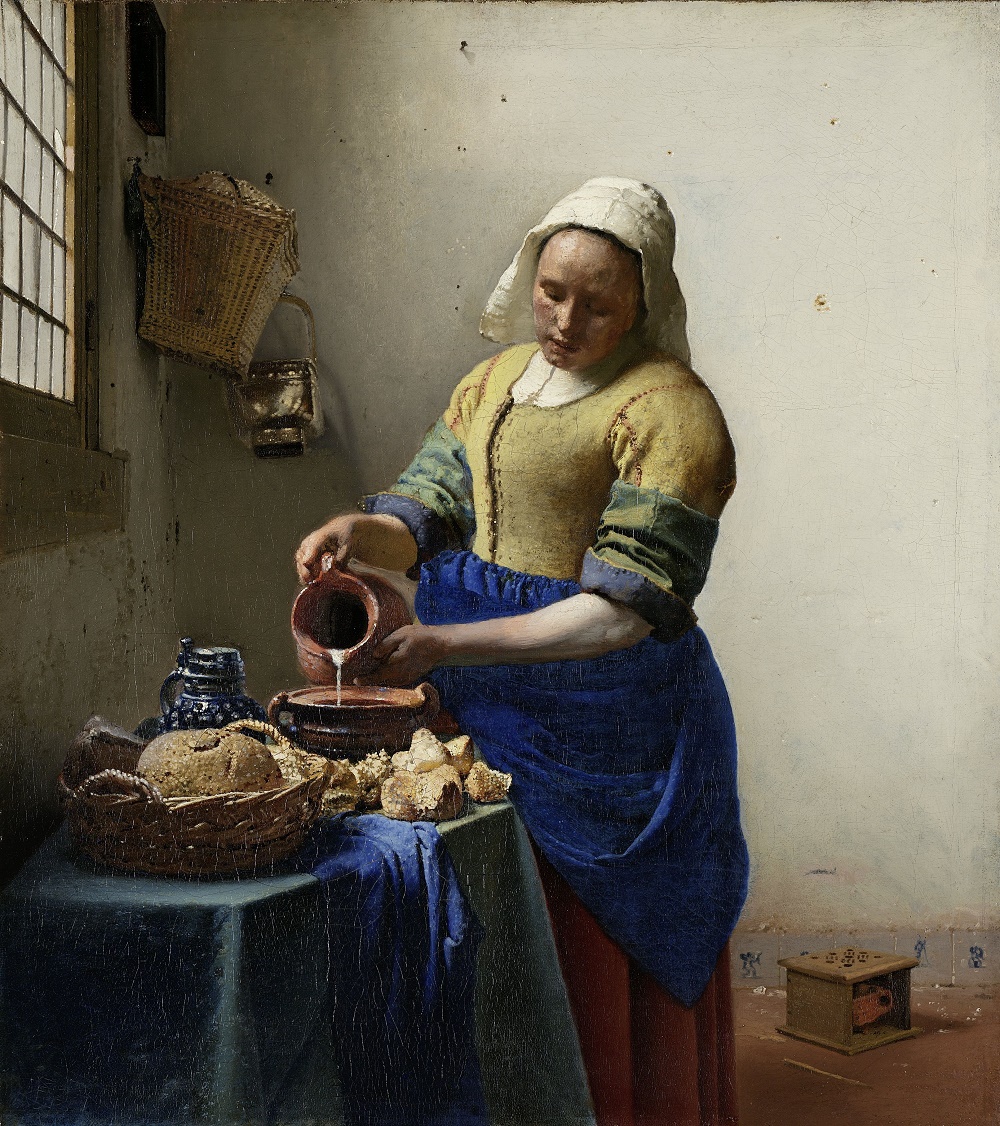 With the excep­tion of the rare Bib­li­cal or mytho­log­i­cal scene and two paint­ings of gen­tle­man schol­ars, Ver­meer's few paintings—portraits and tran­quil domes­tic scenes of almost preter­nat­ur­al still­ness and poise—depict mid­dle class women and their ser­vants at work and at leisure. The Girl with a Pearl Ear­ring is unusu­al: not a portrait—though the best-sell­ing nov­el and award-win­ning film recre­ate its fic­tion­al referent—but what is called a "tron­ie," depict­ing, writes The Hague's Mau­rit­shuis muse­um (who own the paint­ing), "a cer­tain type or char­ac­ter; in this case a girl in exot­ic dress, wear­ing an ori­en­tal tur­ban and an improb­a­bly large pearl in her ear."
Part of the rea­son for Ver­meer's obscu­ri­ty is also the rea­son for his works' pre­cious rar­i­ty today—his rel­a­tive­ly mea­ger out­put com­pared to oth­er Dutch painters of the peri­od. "Most Dutch painters turned out hun­dreds of pic­tures for a much broad­er mar­ket," writes the Met­ro­pol­i­tan Muse­um of Art. Ver­meer pro­duced "per­haps about forty-five (of which thir­ty-six are known today)." To learn many fas­ci­nat­ing details about the com­po­si­tion, tech­nique, his­to­ry, and influ­ence of those thir­ty-six paint­ings, you should vis­it Essen­tial Ver­meer 2.0, a thor­ough­ly com­pre­hen­sive site with an inter­ac­tive cat­a­logue, bib­li­ogra­phies, research links, inter­views, essays on tech­nique, list of Ver­meer events and online resources, and much, much more.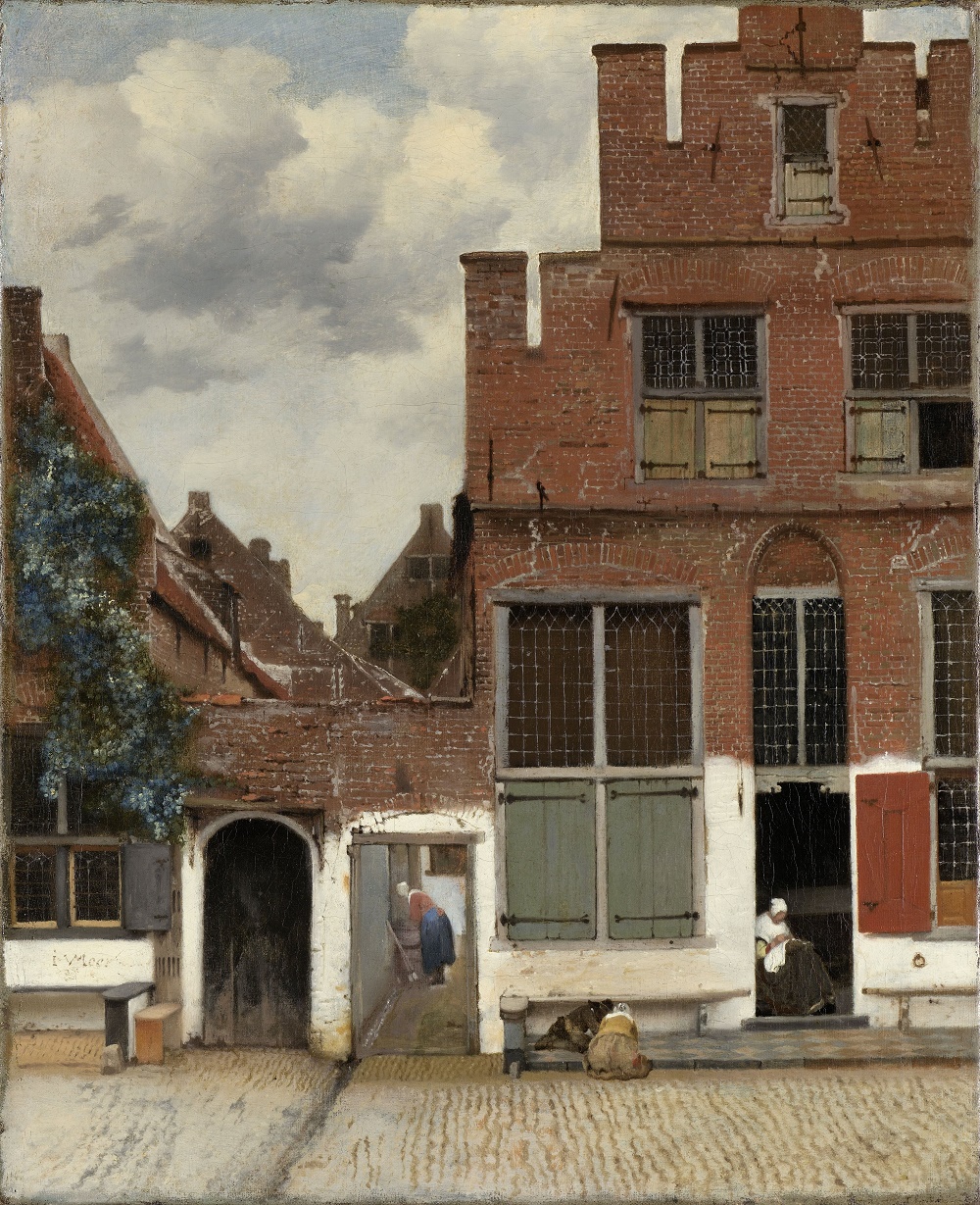 In one of the most recent post­ings on the site, emer­i­tus pro­fes­sor of archi­tec­ture Philip Stead­man writes an intri­cate­ly illus­trat­ed essay on the most prob­a­ble loca­tion of the rare exte­ri­or paint­ing, The Lit­tle Street (c.1658), which, the Rijksmu­se­um tells us, "occu­pies an excep­tion­al place in Ver­meer's oeu­vre." The Rijksmu­se­um also allows you to download—with a free account—a very high res­o­lu­tion scan of the paint­ing, as well as oth­ers like The Milk­maid (fur­ther up), Woman in Blue Read­ing a Let­ter, and more. Oth­er gal­leries, phys­i­cal and online, offer sim­i­lar­ly high res Ver­meer down­loads, and stu­dents and devo­tees of his work can col­lect all thir­ty-six known paintings—digitally—by vis­it­ing the links below. As for the real thing… well… you'd need to cough up more than a cou­ple dozen bucks for one these days.
Note: Although most images list­ed below are in high res, sev­er­al aren't, and they tend to appear toward the bot­tom of the list. If any­one knows where we can find bet­ter ver­sions, please drop us a line.
Relat­ed Con­tent:
300+ Etch­ings by Rem­brandt Now Free Online, Thanks to the Mor­gan Library & Muse­um
Rijksmu­se­um Dig­i­tizes & Makes Free Online 210,000 Works of Art, Mas­ter­pieces Includ­ed!
Down­load Hun­dreds of Van Gogh Paint­ings, Sketch­es & Let­ters in High Res­o­lu­tion
Josh Jones is a writer and musi­cian based in Durham, NC. Fol­low him at @jdmagness