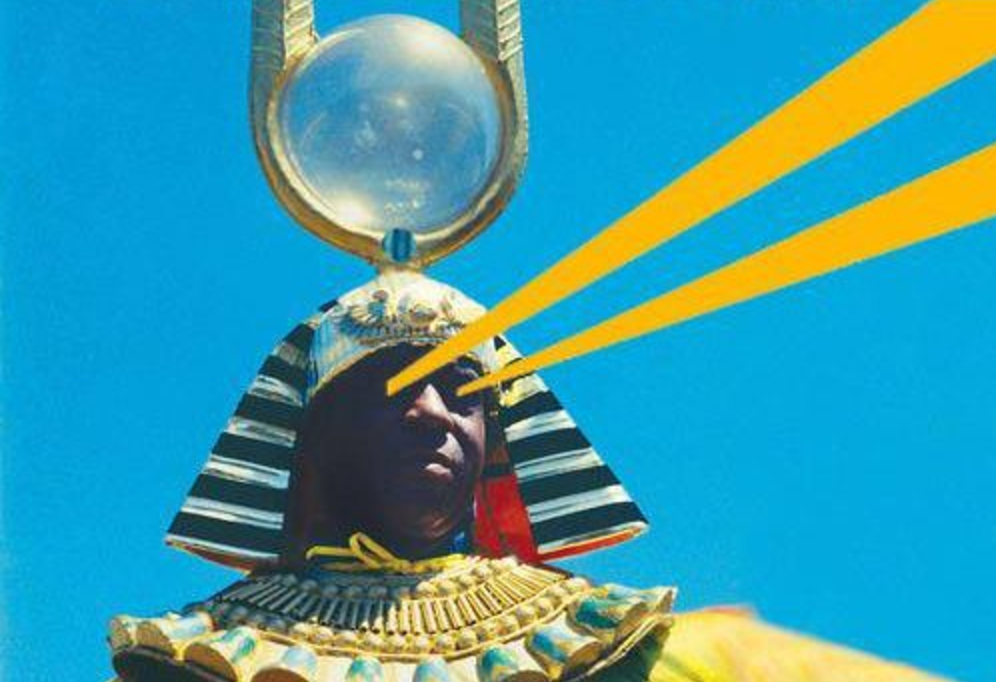 A pio­neer of "Afro­fu­tur­ism," band­leader Sun Ra emerged from a tra­di­tion­al swing scene in Alaba­ma, tour­ing the coun­try in his teens as a mem­ber of his high school biol­o­gy teacher's big band. While attend­ing Alaba­ma Agri­cul­tur­al and Mechan­i­cal Uni­ver­si­ty, he had an out-of-body expe­ri­ence dur­ing which he was trans­port­ed into out­er space. As biog­ra­ph­er John Szwed records him say­ing, "my whole body changed into some­thing else. I land­ed on a plan­et that I iden­ti­fied as Sat­urn." While there, aliens with "lit­tle anten­na on each ear. A lit­tle anten­na on each eye" instruct­ed him to drop out of col­lege and speak through his music. And that's just what he did, chang­ing his name from Her­man Blount and nev­er look­ing back.
Whether you believe that sto­ry, whether Sun Ra believes it, or whether his entire per­sona is a the­atri­cal put-on should make no dif­fer­ence. Because Sun Ra would be a vision­ary either way. Com­bin­ing Afro­cen­tric sci­ence fic­tion, eso­teric and occult phi­los­o­phy, Egyp­tol­ogy, and, with his "Arkestra," his own brand of free jazz-futur­ism that has no equal on earth, the man is tru­ly sui gener­is. In 1971, he served as artist-in-res­i­dence at UC Berke­ley and offered a spring semes­ter lec­ture, African-Amer­i­can Stud­ies 198, also known as "Sun Ra 171," "The Black Man in the Uni­verse," or "The Black man in the Cos­mos." The course fea­tured read­ings from—to name just a few—theosophist Madame Blavatsky, French philoso­pher Con­stan­tin Fran­cois de Chas­se­boeuf, black Amer­i­can writer and poet Hen­ry Dumas, and "God," whom the cos­mic jazz the­o­rist report­ed­ly list­ed as the author of The Source Book of Man's Life and Death (oth­er­wise known as the King James Bible).
Now we have the rare oppor­tu­ni­ty to hear a full lec­ture from that class, thanks to Ubu.com. Lis­ten to Sun Ra spin his intri­cate, bizarrely oth­er­world­ly the­o­ries, drawn from his per­son­al phi­los­o­phy, pecu­liar ety­molo­gies, and idio­syn­crat­ic read­ings of reli­gious texts. Hear­ing him speak is a lit­tle like hear­ing him play, so be pre­pared for a lot of free asso­ci­a­tion and jar­ring, unex­pect­ed jux­ta­po­si­tions. Szwed describes a "typ­i­cal lec­ture" below:
Sun Ra wrote bib­li­cal quotes on the board and then 'per­mu­tat­ed' them—rewrote and trans­formed their let­ters and syn­tax into new equa­tions of mean­ing, while mem­bers of the Arkestra passed through the room, pre­vent­ing any­one from tap­ing the class. His lec­ture sub­jects includ­ed Neo­pla­ton­ic doc­trines; the appli­ca­tion of ancient his­to­ry and reli­gious texts to racial prob­lems; pol­lu­tion and war; and a rad­i­cal rein­ter­pre­ta­tion of the Bible in light of Egyp­tol­ogy.
Luck­i­ly for us, some sly stu­dent cap­tured one of those lec­tures on tape.
For more of Pro­fes­sor Ra's spaced out pre­sen­ta­tion, see the Helsin­ki inter­view above, also from 1971. And if you decide you need your own edu­ca­tion in "Sun Ra 171," see the full read­ing list from his Berke­ley course below, cour­tesy of the blog New Day.
The Egypt­ian Book of the Dead

Radix

Alexan­der His­lop: Two Baby­lons

The Theo­soph­i­cal works of Madame Blavatsky

The Book of Oah­spe

Hen­ry Dumas: Ark of Bones

Hen­ry Dumas: Poet­ry for My Peo­ple eds. Hale Charfield & Eugene Red­mond, Car­bon­dale: South­ern Illi­nois Uni­ver­si­ty Press 1971

Black Fire: An Anthol­o­gy of Afro-Amer­i­can Writ­ing, eds. Leroi Jones & Lar­ry Neal, New York: William Mor­row 1968

David Liv­ingston: Mis­sion­ary Trav­els

Theodore P. Ford: God Wills the Negro

Rut­ledge: God's Chil­dren

Sty­lus, vol. 13, no. 1 (Spring 1971), Tem­ple Uni­ver­si­ty

John S. Wil­son: Jazz. Where It Came From, Where It's At, Unit­ed States Infor­ma­tion Agency

Yosef A. A. Ben-Jochan­nan: Black Man of the Nile and His Fam­i­ly, Alk­ibu Ian Books 1972

Con­stan­tin Fran­cois de Chas­se­boeuf, Comte de Vol­ney: The Ruins, or, Med­i­ta­tion on the Rev­o­lu­tions of Empires, and the Law of Nature, Lon­don: Pio­neer Press 1921

The Source Book of Man's Life and Death (Ra's descrip­tion; = The King James Bible)

Pjotr Demi­anovitch Ous­pen­sky: A New Mod­el of the Uni­verse. Prin­ci­ples of the Psy­cho­log­i­cal Method in Its Appli­ca­tion to Prob­lems of Sci­ence, Reli­gion and Art, New York: Knopf 1956

Fred­er­ick Bod­mer: The Loom of Lan­guage. An Approach to the Mas­tery of Many Lan­guages, ed. Lancelot Hog­ben, New York: Nor­ton & Co. 1944

Black­ie's Ety­mol­o­gy
Count­less oth­er free cours­es from UC Berke­ley can be found in our col­lec­tion, 1,700 Free Online Cours­es from Top Uni­ver­si­ties.
via Dan­ger­ous Minds and audio cour­tesy of Sen­si­tive Skin Mag­a­zine
Relat­ed Con­tent:
Her­bie Han­cock Presents the Pres­ti­gious Nor­ton Lec­tures at Har­vard Uni­ver­si­ty: Watch Online
Son­ic Youth Gui­tarist Thurston Moore Teach­es a Poet­ry Work­shop at Naropa Uni­ver­si­ty: See His Class Notes (2011)
Space Jazz, a Son­ic Sci-Fi Opera by L. Ron Hub­bard, Fea­tur­ing Chick Corea (1983)
Josh Jones is a writer and musi­cian based in Durham, NC. Fol­low him at @jdmagness