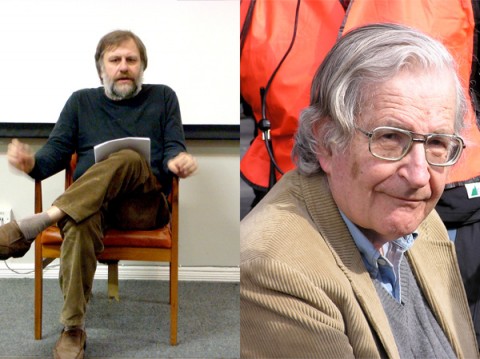 In 2013, we published 1300+ posts on a wide range of cultural subjects. Looking back through our logs we were able to identify the 15 posts that resonated most widely with our readers. We hope you enjoy this recap, and share some of the items with friends. And we look forward to seeing you in 2014. Happy New Year to you all.
Noam Chomsky Slams Žižek and Lacan: Empty 'Posturing': A little spat broke out between Chomsky and Žižek this summer. Chomsky got the debate going after he accused Jacques Lacan of being a "total charlatan" and Slavoj Žižek of posturing rather than offering real intellectual substance. Žižek replied sharply. Chomsky rebutted. Žižek countered again. Some scored it a draw.
The 10 Greatest Films of All Time According to 846 Film Critics: Throughout the year, our resident film scholar Colin Marshall revisited the favorite films of some of the greatest filmmakers — Stanley Kubrick, Martin Scorsese, Woody Allen, and Quentin Tarantino, to name a few. But it also made sense to take a more global view of things, to survey the films loved by 800+ directors and film critics. That's what you can find here.
Listen to Freddie Mercury and David Bowie on the Isolated Vocal Track for the Queen Hit 'Under Pressure,' 1981: In 2013, we featured a series of isolated tracks that offer unique insights into classic songs. You might recall Kurt Cobain's Vocals From 'Smells Like Teen Spirit,' Eric Clapton's Isolated Guitar Track From 'While My Guitar Gently Weeps', and Merry Clayton's Haunting Background Vocals on the Rolling Stones' 'Gimme Shelter'. But your favorite was Freddie Mercury and David Bowie's unforgettable performance on Queen's Under Pressure. You have good taste. Bowie fans should also check his list of his Top 100 Books.
Read 18 Short Stories From Nobel Prize-Winning Writer Alice Munro Free Online: When Alice Munro won the Nobel Prize on the strength of her many short stories, Josh Jones gathered for you 18 free short stories written by the now 82-year-old author. They're all free to read online. During the year, we also put together collections of 10 Free Stories by George Saunders, 10 Free Articles by Hunter S. Thompson, Four Stories by Jennifer Egan, and 30 Free Essays & Stories by David Foster Wallace. Be sure to enjoy them as well.
Free: The Metropolitan Museum of Art and the Guggenheim Offer 474 Free Art Books Online: Art catalogues from museums can be downright expensive. That's why we were excited when The Met and the Guggenheim put an archive of art catalogues online for free. For no cost, you can read highly visual introductions to the work of Alexander Calder, Edvard Munch, Francis Bacon, Gustav Klimt & Egon Schiele, Wassily Kandinsky, Georgia O'Keeffe, Frank Lloyd Wright and many other influential artists.
The British Library Puts 1,000,000 Images into the Public Domain, Making Them Free to Reuse & Remix: Some of the world's great libraries are also opening access to our cultural heritage. Take for example the British Library, which announced this month that it has released over a million images onto Flickr Commons for anyone to use, remix and repurpose. Culled from the pages of 17th, 18th and 19th century books, the images include a dizzying array of "maps, geological diagrams, beautiful illustrations, comical satire, illuminated and decorative letters, colorful illustrations, landscapes, wall-paintings" and more.
John Coltrane's Handwritten Outline for His Masterpiece A Love Supreme: To celebrate Trane's birthday, we featured a rare document from the Smithsonian's National Museum of American History: Coltrane's handwritten outline of his groundbreaking jazz composition A Love Supreme. In terms of popularity, this post was just about tied with another great (but very different) jazz document: Thelonious Monk's List of Tips for Playing a Gig.
The Genius of J.S. Bach's "Crab Canon" Visualized on a Möbius Strip: Bach wrote his "Crab Canon" in such a way that it could be played backwards as well as forwards. But prepare yourself for the mind-blowing coup de grâce when mathematical image-maker Jos Ley lays the piece out on a Möbius strip.
Seven Tips From Ernest Hemingway on How to Write Fiction: Hemingway never wrote a treatise on the art of writing fiction. He did, however, leave behind a great many passages in letters, articles and books with opinions and advice on writing. Some of the best of those were assembled in 1984 by Larry W. Phillips into a book, Ernest Hemingway on Writing. We've selected seven of our favorite quotations from the book and placed them, along with our own commentary, on this page. Readers will also want to peruse these related posts: 18 (Free) Books Ernest Hemingway Wished He Could Read Again for the First Time and Hemingway Creates a Reading List for a Young Writer, 1934, plus F. Scott Fitzgerald Creates a List of 22 Essential Books, 1936.
Pink Floyd's David Gilmour Sings Shakespeare's Sonnet 18: In the early 2000s, Pink Floyd guitarist and singer David Gilmour recorded a musical interpretation of William Shakespeare's "Sonnet 18″ at his home studio aboard the historic, 90-foot houseboat the Astoria. This video of Gilmour singing the sonnet was released as an extra on the 2002 DVD David Gilmour in Concert, and it's pretty sublime.
Learn to Code with Harvard's Intro to Computer Science Course And Other Free Tech Classes: These days, it could never hurt to make sure you have some good tech chops. Many of you understand that, and that's why you jumped on Harvard's free, introductory computer science course. Taught by David Malan, the introductory course covers "abstraction, algorithms, encapsulation, data structures, databases, memory management, security, software development, virtualization, and websites. Languages include C, PHP, and JavaScript plus SQL, CSS, and HTML." You can always find the course listed in the Computer Science section of our collection of 800 Free Courses Online.
Michelangelo's Illustrated 16th-Century Grocery List: Very few of Michelangelo's papers survive today, but we do oddly have the grocery lists that he had his servant bring to the food market. "Because the servant he was sending to market was illiterate," writes the Oregonian's Steve Duin, "Michelangelo illustrated the shopping lists — a herring, tortelli, two fennel soups, four anchovies and 'a small quarter of a rough wine' — with rushed … caricatures in pen and ink." It's a unique historical item, certainly worth checking out.
Prize-Winning Animation Lets You Fly Through 17th Century London: Six students from De Montfort University created a stellar 3D representation of 17th century London, as it existed before The Great Fire of 1666. The three-minute video provides a realistic animation of Tudor London, and particularly a section called Pudding Lane where the fire started. Grab a small handful of popcorn, and sit back and enjoy.
Hermann Rorschach's Original Rorschach Test: What Do You See?: In honor of Hermann Rorschach's birthday in November, we highlighted the original images used in his famous psychology test back in 1921. And we invited you to say what you saw in these images. The answers were often amusing, sometimes perplexing.
Simone de Beauvoir Explains "Why I'm a Feminist" in a Rare TV Interview (1975): In a 1975 interview, Simone de Beauvoir picked up on ideas she explored in The Second Sex. This revealing clip can be watched alongside other 2013 posts featuring de Beauvoir and her partner Jean-Paul Sartre. See Lovers and Philosophers — Jean-Paul Sartre & Simone de Beauvoir Together in 1967 and Philosophy's Power Couple, Jean-Paul Sartre and Simone de Beauvoir, Featured in 1967 TV Interview.
Bonus: Fill Your New Kindle, iPad, iPhone, eReader with Free eBooks, Movies, Audio Books, Online Courses & More: Just last week, we told you where to load up your new iPads, Kindles, and other devices with free intelligent media. If you missed it the first time around, it's not too late to circle back.
Don't miss anything from Open Culture in 2014. Sign up for our Daily Email or RSS Feed. And we'll send cultural curiosities your way, every day.