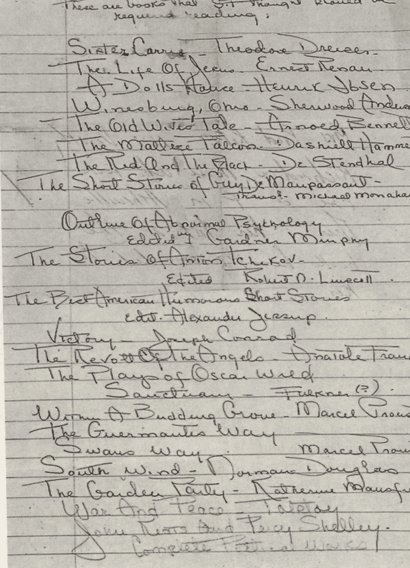 In 1936 — perhaps the darkest year of his life — F. Scott Fitzgerald was convalescing in a hotel in Asheville, North Carolina, when he offered his nurse a list of 22 books he thought were essential reading. The list, above, is written in the nurse's hand.
Fitzgerald had moved into Asheville's Grove Park Inn that April after transferring his wife Zelda, a psychiatric patient, to nearby Highland Hospital. It was the same month that Esquire published his essay "The Crack Up", in which he confessed to a growing awareness that "my life had been a drawing on resources that I did not possess, that I had been mortgaging myself physically and spiritually up to the hilt."
Fitzgerald's financial and drinking problems had reached a critical stage. That summer he fractured his shoulder while diving into the hotel swimming pool, and sometime later, according to Michael Cody at the University of South Carolina's Fitzgerald Web site, "he fired a revolver in a suicide threat, after which the hotel refused to let him stay without a nurse. He was attended thereafter by Dorothy Richardson, whose chief duties were to provide him company and try to keep him from drinking too much. In typical Fitzgerald fashion, he developed a friendship with Miss Richardson and attempted to educate her by providing her with a reading list."
It's an curious list. Shakespeare is omitted. So is James Joyce. But Norman Douglas and Arnold Bennett make the cut. Fitzgerald appears to have restricted his selections to books that were available at that time in Modern Library editions. At the top of the page, Richardson writes "These are books that Scott thought should be required reading."
Sister Carrie, by Theodore Dreiser
The Life of Jesus, by Ernest Renan
A Doll's House, by Henrik Ibsen
Winesburg, Ohio, by Sherwood Anderson
The Old Wives' Tale, by Arnold Bennett
The Maltese Falcon, by Dashiel Hammett
The Red and the Black, by Stendahl
The Short Stories of Guy De Maupassant, translated by Michael Monahan
An Outline of Abnormal Psychology, edited by Gardner Murphy
The Stories of Anton Chekhov, edited by Robert N. Linscott
The Best American Humorous Short Stories, edited by Alexander Jessup
Victory, by Joseph Conrad
The Revolt of the Angels, by Anatole France
Sanctuary, by William Faulkner
Within a Budding Grove, by Marcel Proust
The Guermantes Way, by Marcel Proust
Swann's Way, by Marcel Proust
South Wind, by Norman Douglas
The Garden Party, by Katherine Mansfield
War and Peace, by Leo Tolstoy
John Keats and Percy Bysshe Shelley: Complete Poetical Works
Note: We have provided links to texts available online. Most appear in our collection, 600 Free eBooks: Download to Kindle, iPad/iPhone & Nook. Courses on Fitzgerald and contemporaries can be found in the Literature section of our Free Online Courses collection.
via The University of South Carolina
Related Content:
Ernest Hemingway Creates a Reading List for a Young Writer, 1934
Seven Tips From F. Scott Fitzgerald on How to Write Fiction
Rare Footage of Scott and Zelda Fitzgerald From the 1920s