Bugs Bunny is a quick-thinking, fast-talking, wascally force of nature, and a preternaturally gifted physical comedian, too.
But unlike such lasting greats as Charlie Chapin and Buster Keaton, it took him a while to find his iconic look.
His first appearance, as "Happy Rabbit" in the 1938 black and white theatrical short, Porky's Hare Hunt, might remind you of those yearbook photos of celebrities before they were famous.
In a video essay considering how Bugs Bunny's look has evolved over his eight-decade career, animation fan Dave Lee of the popular YouTube series Dave Lee Down Under breaks down some early characteristics, from an undefined, small body and oval-shaped head to white fur and a fluffy cotton ball of a tail.
His voice was also a work in progress, more Woody Woodpecker than the hybrid Brooklyn-Bronx patois that would make him, and voice actor Mel Blanc, famous.
The following year, the rabbit who would become Bugs Bunny returned in Prest-o Change-o, a Merry Melodies Technicolor short directed by Chuck Jones.
A few months later character designer (and former Disney animator) Charlie Thorson subjected him to a pretty noticeable makeover for Hare-um Scare-um, another rabbit hunting-themed romp.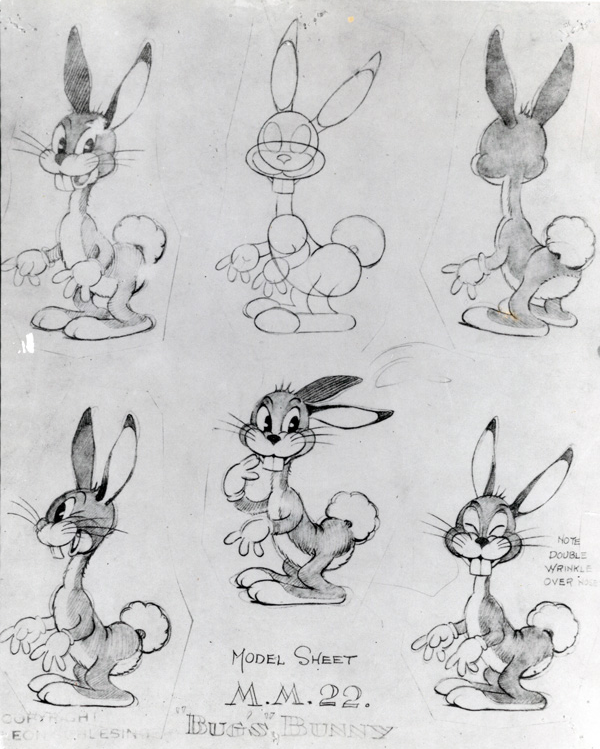 The two-toned grey and white coat, oval muzzle, and mischievous buck-toothed grin are much more aligned with the Bugs most of us grew up watching.  
His pear-shaped bod', long neck, high-rumped stance, and pontoon feet allowed for a much greater range of motion.
A notation on the model sheet alluding to director Ben Hardaway's nickname – "Bugs" – gives some hint as to how the world's most popular cartoon character came by his stage name.
For 1940's Elmer's Candid Camera, the pink-muzzled Bugs dropped the yellow gloves Thorsen had given him and affected some black ear tips.
Tex Avery, who was in line to direct the pair in the Academy Award-nominated short A Wild Hare, found this look objectionably cute.
He tasked animator Bob Givens with giving the rabbit, now officially known as Bugs Bunny, an edgier appearance.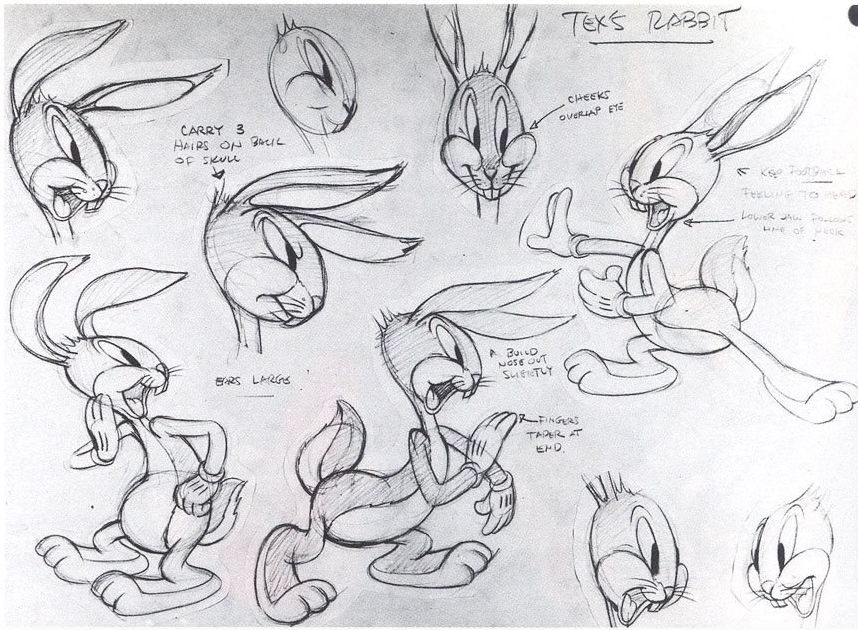 Animation historian Michael Barrier writes:

In the Givens design, Bugs was no longer defined by Thorson's tangle of curves. His head was now oval, rather than round. In that respect, Bugs recalled the white rabbit in Porky's Hare Hunt, but Givens's design preserved so many of Thorson's refinements—whiskers, a more naturalistic nose—and introduced so many others—cheek ruffs, less prominent teeth—that there was very little similarity between the new version of Bugs and the Hare Hunt rabbit. 
Barrier also details a number of similarities between the titular rabbit character from Disney's 1935 Silly Symphonies short, The Tortoise and the Hare, and former Disney employee Givens' design.  
While Avery boasted to cartoon historian Milt Gray in 1977 that "the construction was almost identical", adding, "It's a wonder I wasn't sued," Givens insisted in an interview with the Animation Guild's oral history project that Bugs wasn't a Max Hare rip off. ( "I was there. I ought to know.")
Whatever parallels may exist between Givens' Bugs and Disney's Hare, YouTuber Lee sees A Wild Hare as the moment when Bugs Bunny's character coalesced as "more of a lovable prankster than a malicious deviant," nonchalantly chomping a carrot like Clark Gable in It Happened One Night, and turning a bit of regional Texas teen slang – "What's up, Doc?"- into one of the most immortal catch phrases in entertainment history.
A star was born, so much so that four directors – Jones, Avery, Friz Freleng and Bob Clampett – were enlisted to keep up with the demand for Bugs Bunny vehicles. 
This multi-pronged approach led to some visual inconsistencies, that were eventually checked by the creation of definitive model sheets, drawn by Bob McKimson, who animated the Clampett-directed shorts.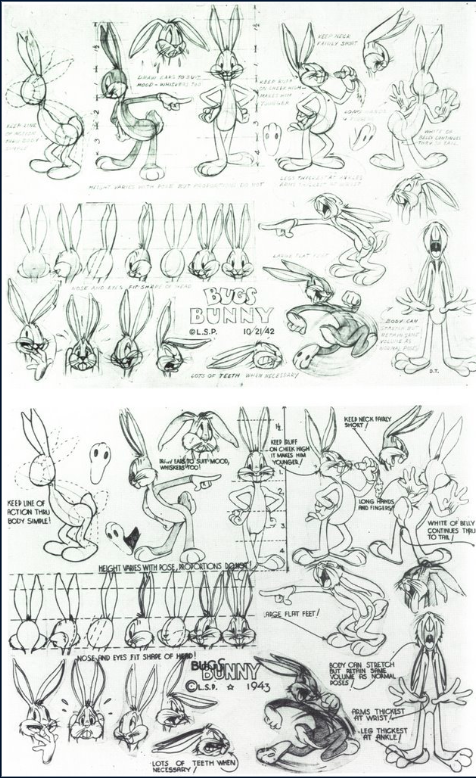 Historian Barrier takes stock:
Bugs's cheeks were broader, his chin stronger, his teeth a little more prominent, his eyes larger and slanted a little outward instead of in. The most expressive elements of the rabbit's face had all been strengthened …but because the triangular shape of Bugs's head had been subtly accentuated, Bugs was, if anything, futher removed from cuteness than ever before. McKimson's model sheet must be given some of the credit for the marked improvement in Bugs's looks in all the directors' cartoons starting in 1943. Not that everyone drew Bugs to match the model sheet, but the awkwardness and uncertainty of the early forties were gone; it was if everyone had suddenly figured out what Bugs really looked like.
Now one of the most recognizable stars on earth, Bugs remained unmistakably himself while spoofing Charles Dickens, Alfred Hitchcock and Wagner; held his own in live action appearances with such heavy hitters as Doris Day and Michael Jordan; and had a memorable cameo in the 1988 feature Who Framed Roger Rabbit, after producers agreed to a deal that guaranteed him the same amount of screen time as his far squarer rival, Mickey Mouse. 
This millennium got off to a rockier start, owing to an over-reliance on low budget, simplified flash animation, and the truly execrable trend of shows that reimagine classic characters as cloying toddlers. 
In 2011, on the strength of her 2-minute animated short I Like Pandas, an initially reluctant 24-year-old Jessica Borutski was asked to "freshen up" Bugs' look for The Looney Tunes Show, a series of longer format cartoons which required its cast to perform such 21st-century activities as texting:

I made their heads a bit bigger because I didn't like [how] in the '60s, '70s Bugs Bunny's head started to get really small and his body really long. He started to look like a weird guy in a bunny suit.
Lee's Evolution of Bugs Bunny- 80 Years Explained was released in 2019. 
He hasn't stopped evolving. Gizmodo's Sabina Graves "sat down with the creative teams shepherding Warner Bros.' classic Looney Tunes characters into new and reimagined cartoons" at San Diego Comic-Con 2022: 
In a push led by Looney Tunes Cartoons' Alex Kirwan—who spearheads the franchise's current slate of shorts on HBO Max—the beloved animation icons will soon expand into even more content. There's the upcoming Tiny Toons Loooniversity revival, a Halloween special, Cartoonito's Bugs Bunny Builders for kids, and two feature-length animated movies on the way—and we have a feeling that's not all, folks!
…to quote Bugs, "I knew I shoulda taken that left turn at Albuquerque!"
Related Content
How to Draw Bugs Bunny: A Primer by Legendary Animator Chuck Jones
The Strange Day When Bugs Bunny Saved the Life of Mel Blanc
The Proof That Mel Blanc–the Voice Behind Bugs Bunny, Daffy Duck & Porky Pig–Was a Genius
Kill the Wabbit!: How the 1957 Bugs Bunny Cartoon, "What's Opera, Doc?," Inspired Today's Opera Singers to First Get Into Opera
– Ayun Halliday is the Chief Primatologist of the East Village Inky zine and author, most recently, of Creative, Not Famous: The Small Potato Manifesto.  Follow her @AyunHalliday.