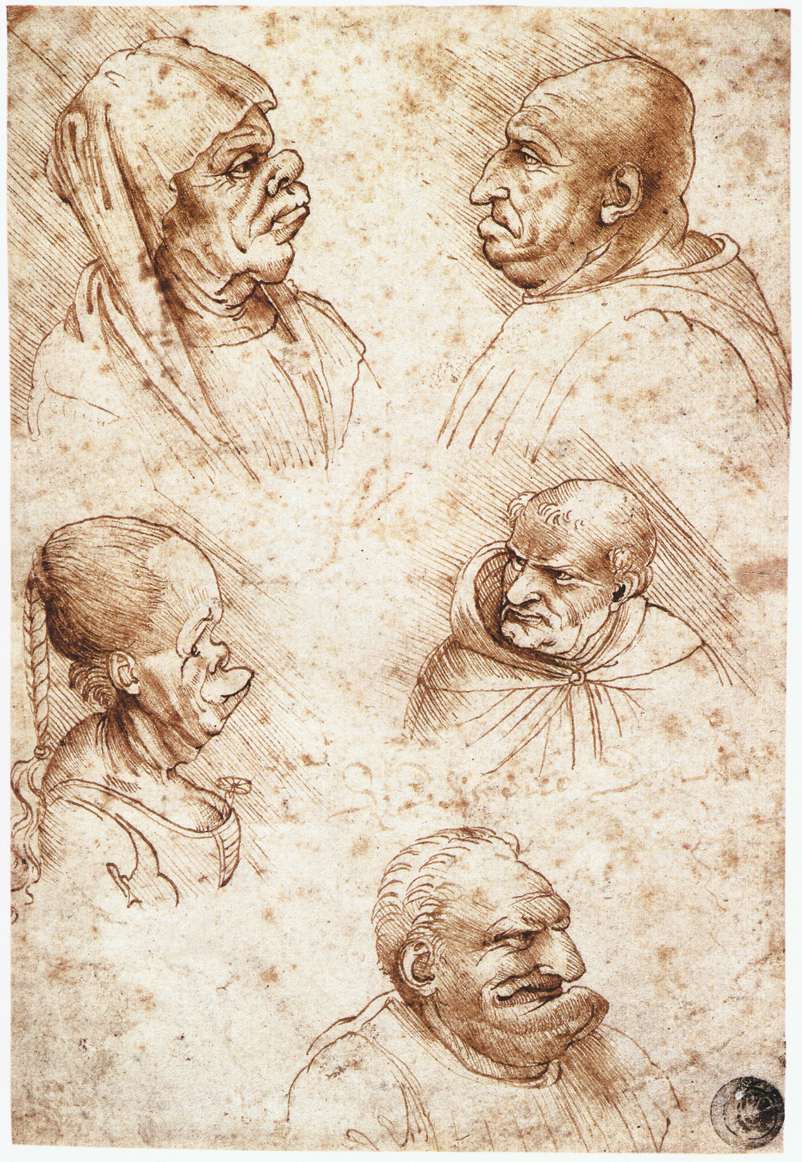 The caricature was once a highly-regarded art form, before it was cornered on the upper end by the New York Review of Books and on the more pedestrian side by boardwalk and street fair artists. During the European Renaissance and the ensuing centuries of artistic development, nearly every artist had a caricature side project—if only in the margins of their sketchbooks—and some, like Leonardo da Vinci, were widely known and appreciated for their skill in the art.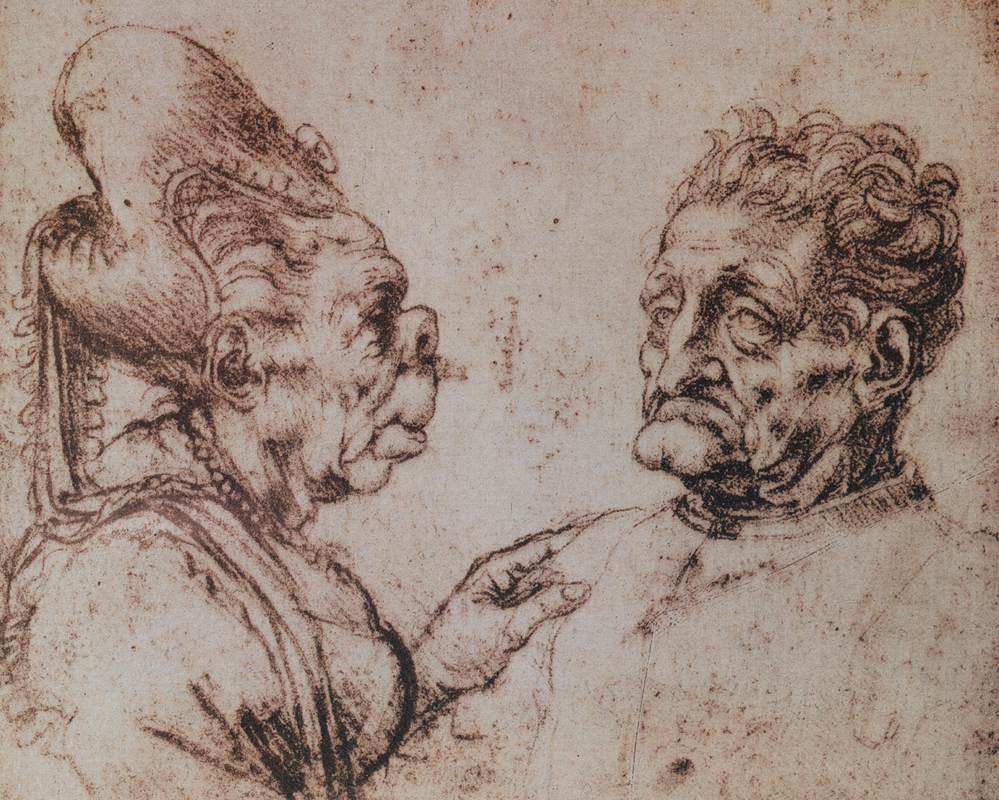 Generally renowned these days for the high seriousness of his Mona Lisa, Last Supper, and Vitruvian Man, Leonardo does not tend to be associated with grotesque humor. Yet the caricatures "were some of his most popular and influential works," writes Jonathan Jones at The Guardian, "from the 16th century up to the time of [William] Hogarth," the hugely popular 18th century English visual satirist.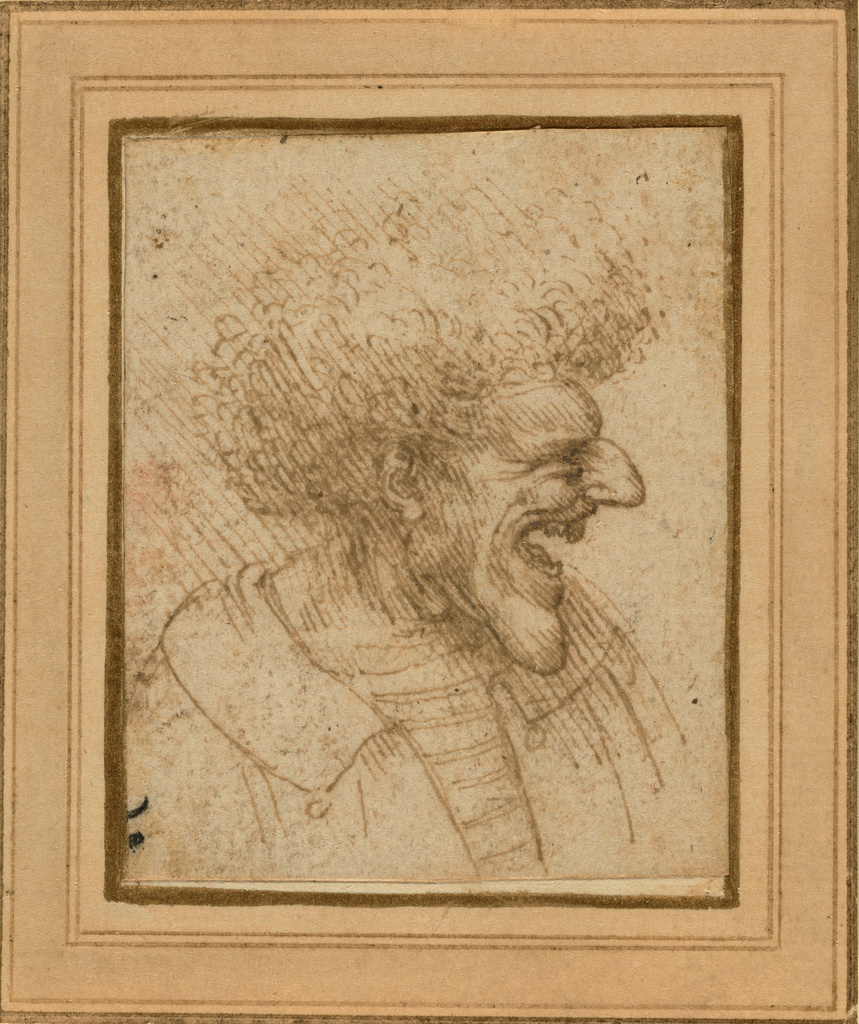 These caricatures connect Leonardo not only to graphic art of the future but to an earlier, Medieval world—the "hellish visions of Bosch and Bruegel." They are "Gargoyles," wrote critic Kenneth Clark, "the complement to saints; Leonardo's caricatures were complementary to his untiring search for ideal beauty.
And gargoyles were the expression of all the passions, the animal forces, the Caliban gruntings and groanings which are left in human nature when the divine has been poured away." Clark tempers this characterization by noting that these drawings "in their expression of passionate energy, merge imperceptibly into the heroic."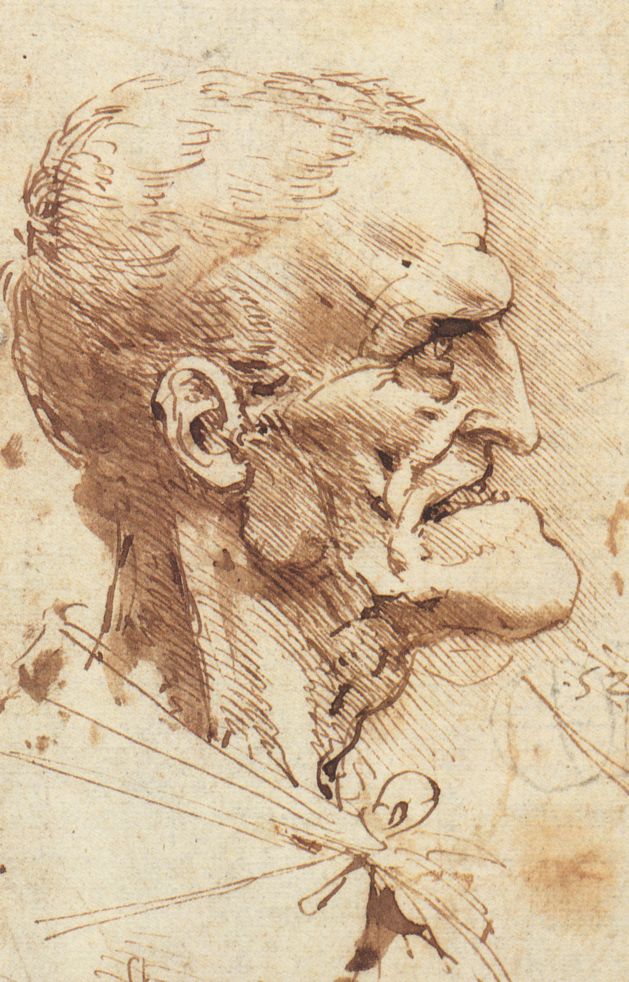 Indeed, Leonardo loved unusual faces and heads—he found odd-looking people of all kinds fascinating, and turned them into tragicomic figures fit for the stage. Giorgio Vasari, the 16th century biographer of Renaissance artists, wrote that Leonardo was "so delighted when he saw curious heads, whether bearded or hairy, that he would follow anyone who had thus attracted his attention for a whole day, acquiring such a clear idea of him that when he went home he would draw the head as well as if the man had been present."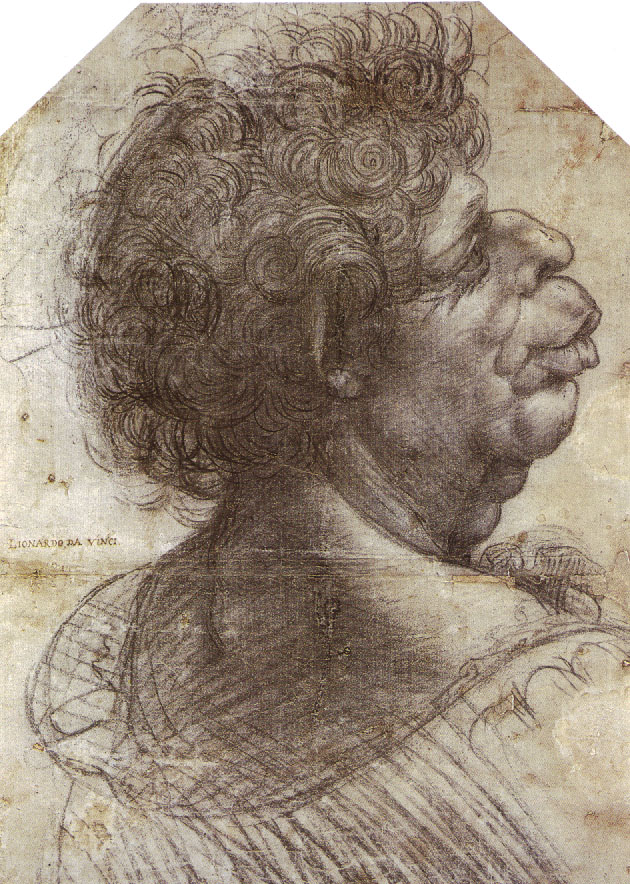 We can't say that stalking exhibits much respect for the kinds of boundaries most people would prefer to maintain, but Leonardo's behavior does display a reverence for interesting human physiognomy, both a source and a foil for his idealizations of the human form. Leonardo's caricatures resonate into the late 20th century in the work of Ralph Steadman, the gonzo illustrator and political cartoonist.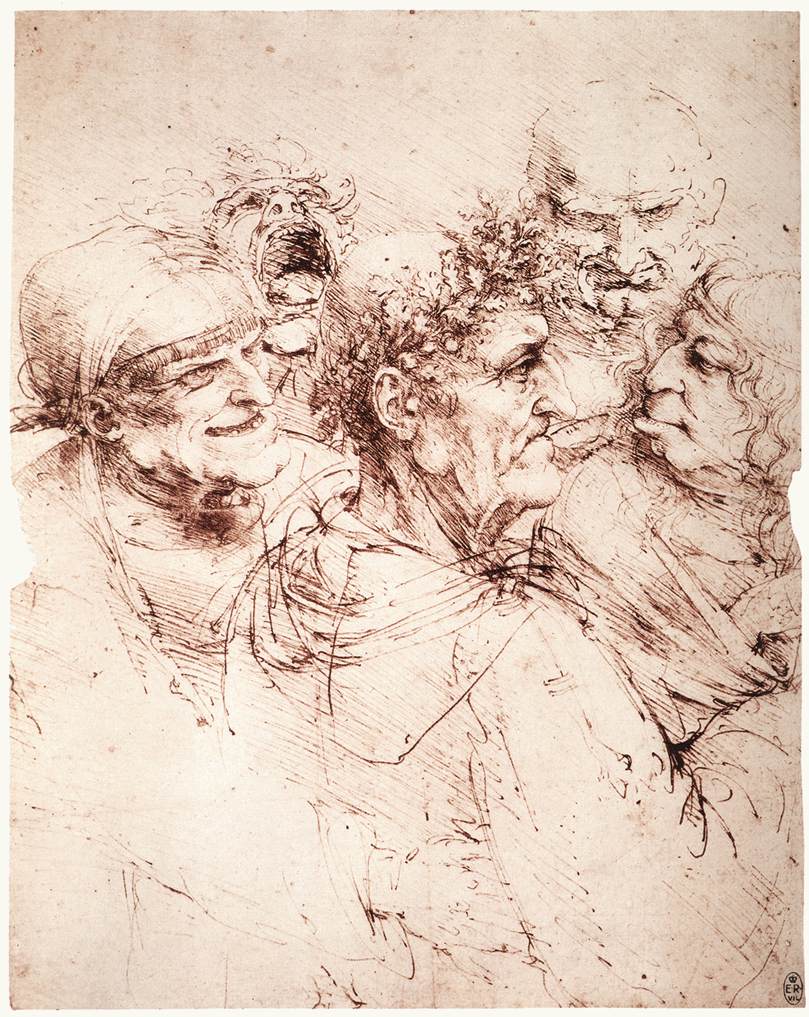 In his satirical illustrated biography of Leonardo, Steadman remarked that the Renaissance artist who ennobled the human form also found "that man was not what he appeared to be, despite the prevailing atmosphere of fine thoughts and high aspirations." Steadman quotes a passage from Leonardo's notebooks that sounds much more Swiftian or Rabelaisian than high-minded Renaissance humanist:
His Holiness the Pope surrounded himself with none but craven guzzlers, gross pretenders and a host of fawning dignitaries who grimaced through their days at court with no more grace than beggars I had entertained in days gone by — though they had neither choice nor wit to rise above themselves and in that they had a reason.

Oh that I had ways to surely serve their putrid masquerades and twittery to make a dragon from the very menagerie within the Vatican itself.

If I could take for its head that of a mastiff or setter, for its eyes those of a cat, for its ears those of a greyhound, with the eyebrows of a lion, the temples of an old cock and the neck of a water tortoise. 

O vile monster! How much better it for men that thou shouldst go back to hell! For this the vast forests shall be stripped of their trees; for this an infinite number of creatures shall lose their lives.
Though the caricatures may not go as far as the horrifying hodgepodge in this description, they do portray human beings with rather less classical equanimity than the serene Mona Lisa or the very composed Christ. But due to Leonardo's skill and seemingly irrepressible love for the human form—even if he had a jaundiced view of human nature—the caricatures continue to be inspiring pieces of work.
Related Content:
Leonardo da Vinci's Visionary Notebooks Now Online: Browse 570 Digitized Pages
Ralph Steadman's Wildly Illustrated Biography of Leonardo da Vinci (1983)
What Leonardo da Vinci Really Looked Like
Josh Jones is a writer and musician based in Durham, NC. Follow him at @jdmagness