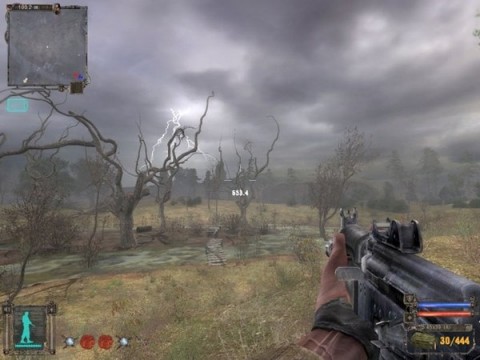 Of all the movies out there, Andrei Tarkovsky's maddeningly oblique masterpiece Stalker (1979) doesn't seem like a likely choice to be adapted into a video game. Yet it was.
The movie, Tarkovsky's last in the USSR, is dense and enigmatic with none of the narrative pay-offs that you see in most films. The story centers on a region called the Zone, which after some unnamed disaster, has the power to fulfill your greatest wish. Naturally, the area has been ringed off by the authorities with razor wire and armed guards. At the film's opening, a guide, called a Stalker, takes two clients, a writer and a scientist, into the Zone. And yet after nearly three hours of meandering and philosophical monologues, none of the characters make a wish nor are any wishes granted. The end. But the reason the movie has such a fervent, cultish following is not for its dramatics. Instead, the film's power is found in the cumulative effect of its hypnotically slow pacing, its spiritual longing and its gorgeous imagery. You can watch the film online here. Find more Tarkovsky films here.
And there's the uncanny fact that Stalker seemed to prefigure a global disaster that struck seven years after the movie premiered. It is just about impossible to look at those eerie photos of irradiated ghost towns within Chernobyl's 30 square kilometer exclusion zone and not think about Stalker.
Enter Ukrainian game developer GSC Game World, which explicitly connected the disaster with Tarkovsky's movie when, in 2007, it released S.T.A.L.K.E.R.: Shadow of Chernobyl, the first in a whole series of games. (The title might just feature the most tortured acronym this side of the USAPATRIOT Act, standing for Scavenger, Trespasser, Adventurer, Loner, Killer, Explorer, Robber.) On first blush, the game and the movie seem to have little in common aside from the name. There are relatively few machine gun battles or zombified mutants in the film. Yet Gabriel Winslow-Yost argues in The New York Review of Books that there are more similarities than might be first apparent.
As games, the S.T.A.L.K.E.R. series are remarkable…. While they all have the elements of a standard action game—guns, monsters, missions, traps, loot—much of the player's activity is oddly in keeping with Stalker's spirit, sometimes even managing to expand upon it. […] Watching Stalker, one is occasionally brought up short by remembering that it was not filmed in Chernobyl, so perfect an analogue does that event seem for the film's images of technology and nature, beauty and danger in strange alliance. The games, at their best, can seem like a sort of miracle: a dead man's masterpiece, come home at last.
Stalker was based on a novella called Roadside Picnic by Arkady and Boris Strugatsky. Winslow-Yost points out the games are actually more in keeping with the source material than Tarkovsky's film. "The stalkers are numerous and mercenary. The elements of the Zone are many, and named, if not quite explained—there's 'Mosquito Mange' and 'Burning Fluff,' 'Full Empties' and 'Black Sprays.' In the film most of these are not present—Tarkovsky leaves in only one, the 'meatgrinder,' though his Stalker is clearly terrified of many more."
The games proved to be so successful, especially in Russia, that they were turned into novels. No word if anyone has bothered to buy the film rights to those books. If you want to see what the game looks like, there's a video of it above.
But the real question is what other art house landmarks are going to get remade into video games? A version of Second Life inspired by Yasujiro Ozu's Tokyo Story? A mash up of Grand Theft Auto and Jean-Luc Godard's Weekend? Last Year at Marienbad as a first-person shooter?
Related Content:
Tarkovsky Films Now Free Online
Watch Stalker, Andrei Tarkovsky's Mind-Bending Masterpiece Free Online
The Masterful Polaroid Pictures Taken by Filmmaker Andrei Tarkovsky
Tarkovsky's Advice to Young Filmmakers: Sacrifice Yourself for Cinema
A Poet in Cinema: Andrei Tarkovsky Reveals the Director's Deep Thoughts on Filmmaking and Life
Jonathan Crow is a Los Angeles-based writer and filmmaker whose work has appeared in Yahoo!, The Hollywood Reporter, and other publications. You can follow him at @jonccrow. And check out his blog Veeptopus, featuring lots of pictures of badgers and even more pictures of vice presidents with octopuses on their heads.  The Veeptopus store is here.