Most every dweller of a city with a robust pub­lic tran­sit sys­tem comes to iden­ti­fy their bound­aries with the lines, angles, and col­ors of its sub­way map. This is true of my home­town, Wash­ing­ton, DC, at least since the pop­u­lar adop­tion of its Metro sys­tem in the 80s. It's many times truer of my adopt­ed city for ten years, New York, whose more than 100-year-old sub­way sys­tem has giv­en urban his­to­ri­ans enough mate­r­i­al for life­long study. The his­to­ry of the NYC sub­way maps offers a spe­cial­ized area for stu­dents of design, who must sure­ly know the name Mas­si­mo Vignel­li, the mod­ernist design­er who named the DC Metro and cre­at­ed the noto­ri­ous 1972 NYC Tran­sit map that, writes the MTA (Metro Tran­sit Author­i­ty), "reimag­ined the MTA New York City Tran­sit sub­way sys­tem as a neat grid of col­ored lines sur­round­ed by a beige ocean." The map will be famil­iar, and per­haps even a token of nos­tal­gia, to New York­ers from the era, who may also recall the com­plaints the MTA received for the map's "geo­graph­ic inac­cu­ra­cies" and "aes­thet­ic con­fu­sion." Nonethe­less, "design fans […] cel­e­brat­ed the map and made it a cov­et­ed sou­venir of trips to New York. It lat­er became part of the post­war design col­lec­tion at the Muse­um of Mod­ern Art." In the video above, excerpt­ed from the 2007 design doc­u­men­tary Hel­veti­ca, Vignel­li revis­its his tran­sit map design (below), which he adopt­ed from the Lon­don Under­ground map.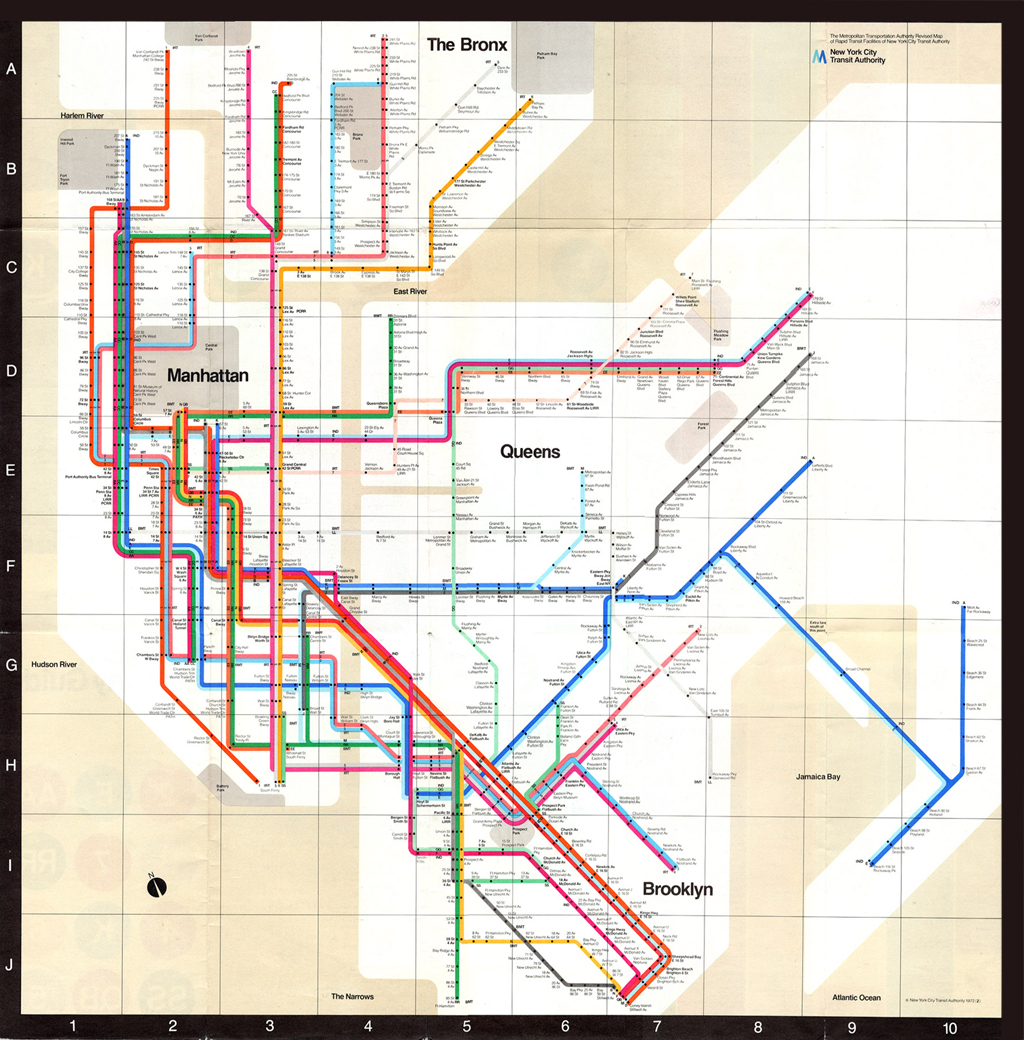 Click here to view in a larg­er for­mat.
Vignel­li, who passed away Tues­day at the age of 83, worked close­ly with his wife Leila on a wide range of design projects—his mot­to, "if you can design one thing, you can design every­thing." A great many of those sub­way rid­ers in 1972 may have dis­agreed. While pre­vi­ous and sub­se­quent maps, includ­ing the cur­rent design, pro­vide a geo­graph­i­cal­ly pre­cise ren­der­ing of the five bor­oughs, with details of major avenues and parks and water­ways in sim­ple greens and blues, Vignelli's map is for­mal and abstract, more art object than guide­post. As a new­com­er to the city, I used my pock­et-sized MTA map to guide me around on foot as well as by train (this was before smart­phones, mind you), but this would be quite dif­fi­cult if not impos­si­ble with the '72 ver­sion. Yet in his reassess­ment of the design, Vignel­li says that he should have stripped away even the few geo­graph­i­cal ref­er­ences he did include because "the peo­ple couldn't relate the geog­ra­phy with the sta­tions." For Vignel­li, "there is no rea­son why this geog­ra­phy has to be lit­er­al, it could be com­plete­ly abstract." How this would bet­ter help rid­ers nav­i­gate the huge­ly exten­sive sys­tem isn't at all clear, but what is appar­ent is Vignelli's com­mit­ment to form over util­i­tar­i­an func­tion. It's a com­mit­ment that served him very well as a design­er, though not, it seems, as a car­tog­ra­ph­er. For more on Vignelli's design phi­los­o­phy, see his 2012 inter­view with Big Think.
Relat­ed Con­tent:
Under­ci­ty: Explor­ing the Under­bel­ly of New York City
Vin­tage Video: A New York City Sub­way Train Trav­els From 14th St. to 42nd Street (1905)
Bauhaus, Mod­ernism & Oth­er Design Move­ments Explained by New Ani­mat­ed Video Series
Josh Jones is a writer and musi­cian based in Durham, NC. Fol­low him at @jdmagness.