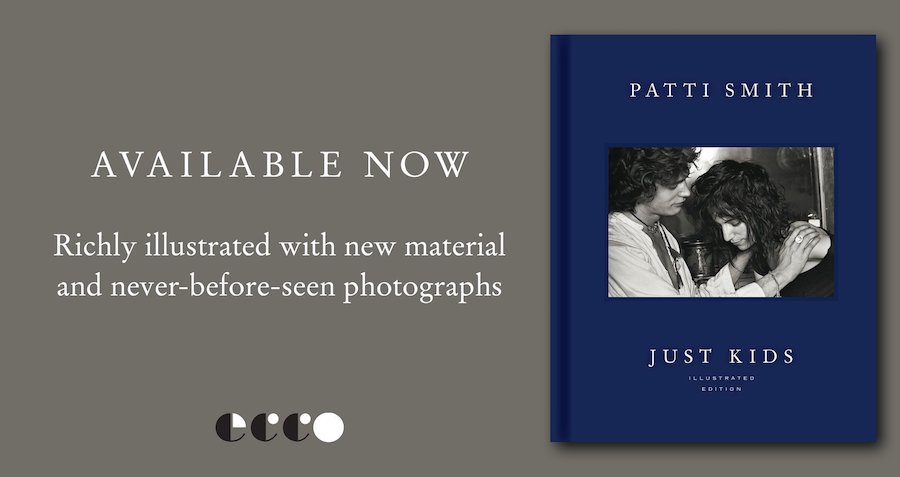 Hard to believe it's almost a decade ago now since Patti Smith's Just Kids took over Barnes & Noble displays, topped bestseller lists, won the National Book Award, and sent Wikipedia searches for "Patti Smith" into the stratosphere. A memoir of her gritty New York salad days with roommate/lover/best friend/soulmate/photographer Robert Mapplethorpe, the book immediately entered "that golden canon of classic New York stories about young people coming to the city to find out who they were meant to be," as NPR's Maureen Corrigan writes.
Indeed, Just Kids should be considered representative, its full text now a locus classicus of bohemian finding-yourself-in-New-York stories. (The embittered converse of the genre is forever crowned by Joan Didion's "Goodbye to All That.") But Smith didn't rest on the many laurels the book garnered her. She released a widely-acclaimed album two years later, with a bonus track on the deluxe edition called "Just Kids," then collaborated with Colombian artist José Antonio Suárez Londoño on the (sadly out-of-print) Hecatomb.
In 2015, Smith followed Just Kids with another memoir, M Train, a travelogue of sorts—of her literary pilgrimages and journeys through the city that embraced her. But as her work ethic shows, and as Just Kids documents in detail, she didn't just luck out in the big city but fought her way to creative freedom and independence with zeal and real self-confidence, believing in the power of poetry and rock and roll, and of her place among the sixties royalty she encountered while "still a gangly twenty-two-year-old book clerk, struggling simultaneously with several unfinished poems."
"I felt an inexplicable sense of kinship with these people," she wrote, for example, of her run-ins with Janis Joplin, Grace Slick, and Jimi Hendrix ahead of Woodstock, a "feeling of prescience" that she might "one day walk in their path." She saw "infinite possibilities" in the Chelsea Hotel's plaster ceiling, "the mandala of my life." You may call it faith, hubris, or delusion, but she sure showed us, and keeps showing us, that she earned her cred. Just Kids will inspire young artists for generations, not only through its first, explosive printing, but through a possible series on Showtime, who acquired the rights in 2015, and, now, in an illustrated edition just released last week.
The book resonates for its depictions of a bygone, decayed New York, when free spirits could scrape together their artistic selves with next to nothing, without having to craft their every move for social media. Smith's vividly expressive writing brings that lost world alive in a wildly successful experiment, as she told KCRW in a 2010 interview, to "infuse truth with magic and love."
She announced the book's new edition on her Instagram, a forum she has taken to with aplomb, as anticipating the "30th year since Robert Mapplethorpe's passing." A poignant reminder, especially since she wrote the book, she once revealed, as a deathbed promise to her friend.
The full-color illustrated edition of Just Kids features never-before published photos, drawings, and other ephemera depicting major figures in Smith's young life, like Sam Shepard, William Burroughs, and Allen Ginsberg, as well as her and Mapplethorpe's first Brooklyn apartment, the iconic Max's Kansas City, and the fire escape of the Chelsea Hotel. Order a copy here.
Related Content:
Patti Smith's 40 Favorite Books
Patti Smith, The Godmother of Punk, Is Now Putting Her Pictures on Instagram
Hear a Complete Chronological Discography of Patti Smith's Fiercely Poetic Rock and Roll: 13 Hours and 142 Tracks
Patti Smith Reads Oscar Wilde's 1897 Love Letter De Profundis: See the Full Three-Hour Performance
Josh Jones is a writer and musician based in Durham, NC. Follow him at @jdmagness