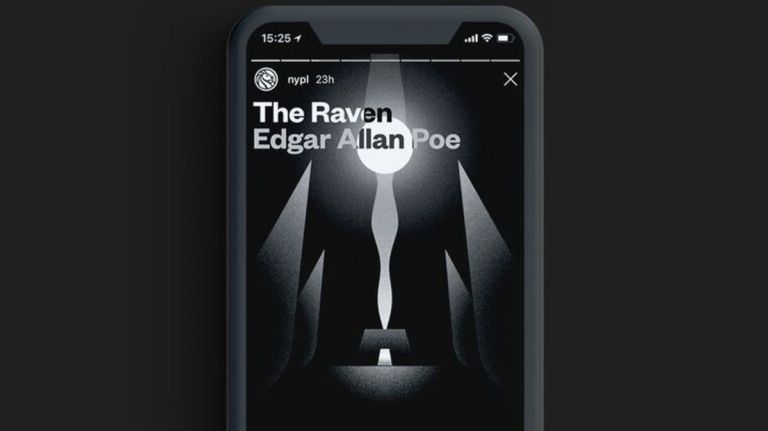 Back in August, we high­light­ed a new ini­tia­tive by the New York Pub­lic Library. An insti­tu­tion that's hip with our times, the NYPL released on Insta­gram a dig­i­tal ver­sion of Lewis Carroll's Alice's Adven­tures in Won­der­land. Now, in the Hal­loween spir­it, comes a dig­i­tal adap­ta­tion of Edgar Allan Poe's clas­sic tale, "The Raven." They write:
"The Raven" includes a unique series of ani­ma­tions pro­duced by Psy­op and Stu­dio AKA that takes read­ers on an omi­nous pro­ces­sion through a stark psy­cho­log­i­cal land­scape where the dif­fer­ing per­spec­tives of both the Raven and Poe's pro­tag­o­nist are depict­ed. The view­points steadi­ly inter­cut and con­verge as the ani­ma­tion builds to its dis­qui­et­ing cli­max, as the door creaks open reveal­ing "dark­ness there and noth­ing more."
Read "The Raven" on Insta­gram here. And keep an eye out for NYPL's upcom­ing adap­ta­tion of "The Meta­mor­pho­sis" by Franz Kaf­ka. It's due out by the end of the year.
If you would like to sign up for Open Culture's free email newslet­ter, please find it here.
If you would like to sup­port the mis­sion of Open Cul­ture, con­sid­er mak­ing a dona­tion to our site. It's hard to rely 100% on ads, and your con­tri­bu­tions will help us con­tin­ue pro­vid­ing the best free cul­tur­al and edu­ca­tion­al mate­ri­als to learn­ers every­where. You can con­tribute through Pay­Pal, Patre­on, and Ven­mo (@openculture). Thanks!
Relat­ed Con­tent:
900 Free Audio Books: Down­load Great Books for Free
Hear Clas­sic Read­ings of Poe's "The Raven" by Vin­cent Price, James Earl Jones, Christo­pher Walken, Neil Gaiman, Stan Lee & More
Edgar Allan Poe's the Raven: Watch an Award-Win­ning Short Film That Mod­ern­izes Poe's Clas­sic Tale
The Raven: a Pop-up Book Brings Edgar Allan Poe's Clas­sic Super­nat­ur­al Poem to 3D Paper Life
Gus­tave Doré's Splen­did Illus­tra­tions of Edgar Allan Poe's "The Raven" (1884)
A Read­ing of Edgar Allan Poe's "The Raven" in 100 Celebri­ty Voic­es
The Grate­ful Dead Pays Trib­ute to Edgar Allan Poe's "The Raven" in a 1982 Con­cert: Hear "Raven Space"