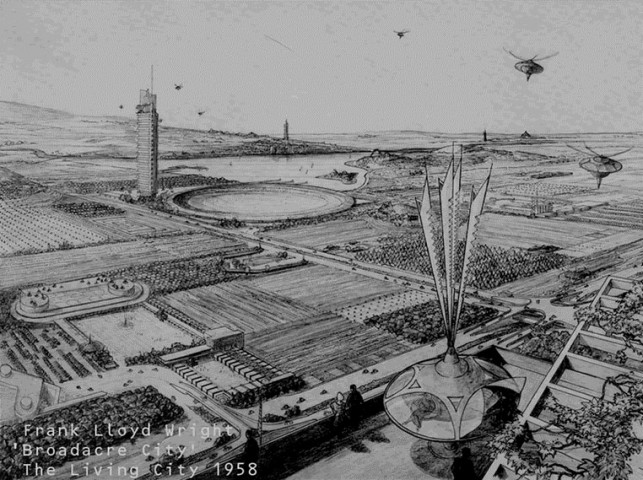 As much as we admire build­ings designed by genius archi­tects, we have to admit that — some­times, just some­times — those genius archi­tects them­selves can be con­trol freaks. These ten­den­cies man­i­fest with a spe­cial clar­i­ty when a mak­er of indi­vid­ual struc­tures turns his mind toward build­ing, or knock­ing down and re-build­ing, the city as a whole. The Carte­sian grid of looka­like tow­ers on the green of Le Cor­busier's Radi­ant City stand (or rather, the project hav­ing gone unbuilt, don't stand) as per­haps the best-known image of urban­ism re-envi­sioned to suit a sin­gle archi­tec­t's desires. In response, Frank Lloyd Wright came up with an urban Utopia of his own: Broad­acre City.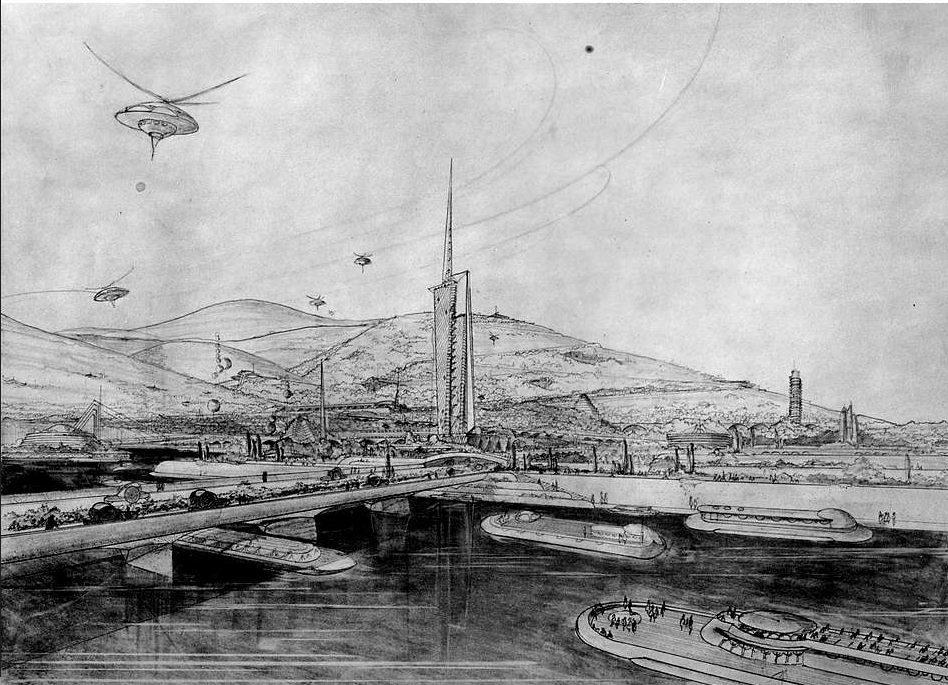 "Imag­ine spa­cious land­scaped high­ways," Wright wrote in 1932, "giant roads, them­selves great archi­tec­ture, pass pub­lic ser­vice sta­tions, no longer eye­sores, expand­ed to include all kinds of ser­vice and com­fort. They unite and sep­a­rate — sep­a­rate and unite the series of diver­si­fied units, the farm units, the fac­to­ry units, the road­side mar­kets, the gar­den schools, the dwelling places (each on its acre of indi­vid­u­al­ly adorned and cul­ti­vat­ed ground), the places for plea­sure and leisure.
All of these units so arranged and so inte­grat­ed that each cit­i­zen of the future will have all forms of pro­duc­tion, dis­tri­b­u­tion, self improve­ment, enjoy­ment, with­in a radius of a hun­dred and fifty miles of his home now eas­i­ly and speed­i­ly avail­able by means of his car or plane."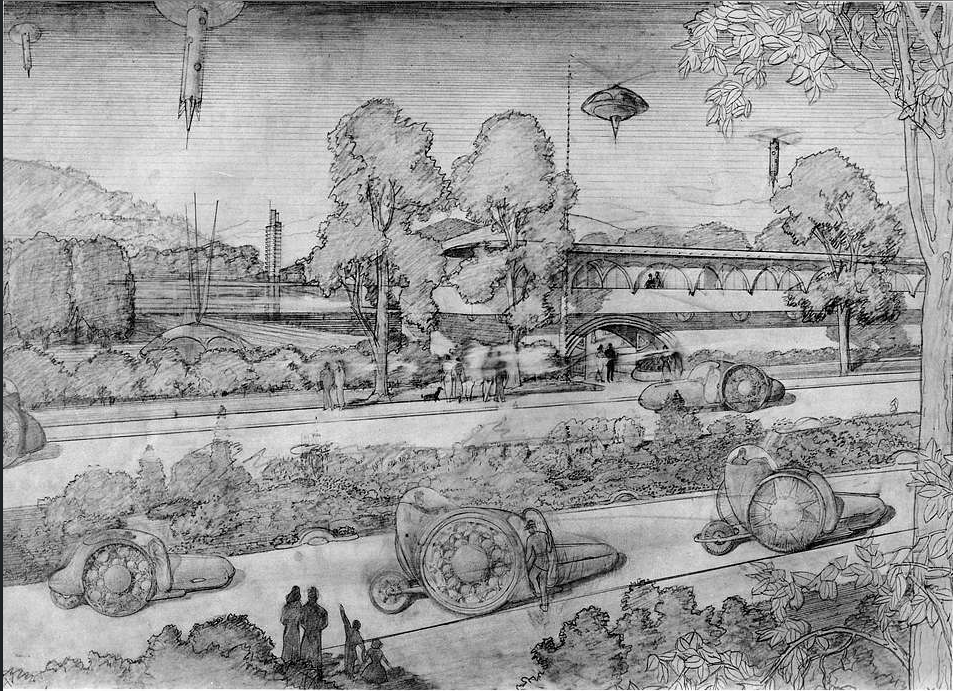 Those words appeared in The Dis­ap­pear­ing City, a sort of man­i­festo about Wright's hope for the indus­tri­al metrop­o­lis of the ear­ly 20th cen­tu­ry: that it would go away. He "hat­ed cities," writes The New York­er's Mor­gan Meis. "He thought that they were cramped and crowd­ed, stu­pid­ly designed, or, more often, built with­out any sense of design at all." Vis­i­tors to 2014's Muse­um of Mod­ern Art exhi­bi­tion Frank Lloyd Wright and the City could behold not just Wright's sketch­es of Broad­acre City but a twelve-foot-by-twelve-foot mod­el of the (to the archi­tect) ide­al place, a re-think­ing of the urban with the sen­si­bil­i­ties of the rur­al. Almost eighty years before, 40,000 vis­i­tors to Rock­e­feller Cen­ter who first saw the mod­el saw it embla­zoned with such straight­for­ward dec­la­ra­tions as "No slum," "No Scum," and "No traf­fic prob­lems."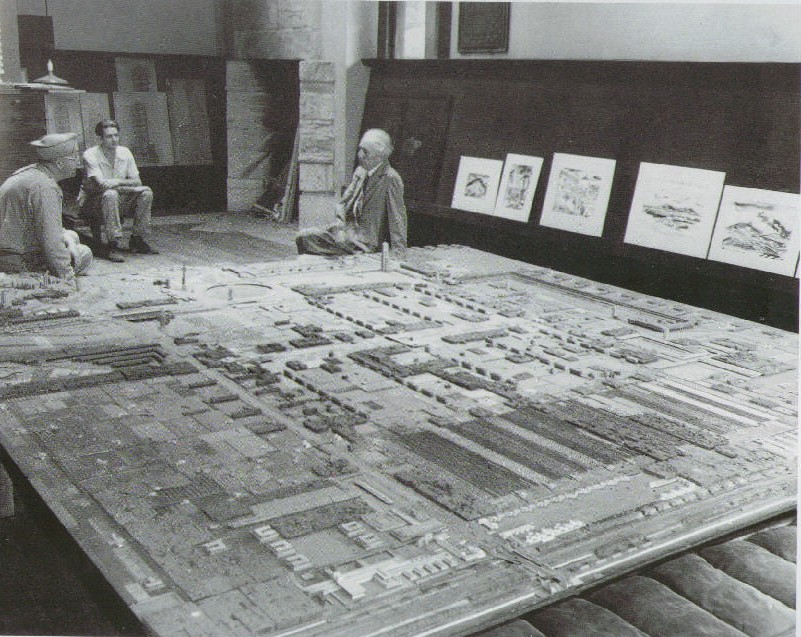 Nel­son Rock­e­feller sup­port­ed the idea of Broad­acre city, as did Albert Ein­stein and John Dewey, all of whom signed a peti­tion Wright passed around in its favor in 1943. But "even in the 1930s, urban plan­ners were dis­gust­ed by Broad­acre," writes Next City's Kather­ine Don. "Its phi­los­o­phy was deeply indi­vid­u­al­is­tic; its lay­out was con­spic­u­ous­ly waste­ful. Lib­er­als of the time who emu­lat­ed the social­ist spir­it of Europe clas­si­fied Wright as an anti-gov­ern­ment eccen­tric, which indeed he was." Matt Novak at Pale­o­fu­ture describes Wright's utopia as "ulti­mate­ly an exten­sion of the things that made him per­son­al­ly com­fort­able: open spaces, the auto­mo­bile, and not sur­pris­ing­ly, the archi­tect as mas­ter con­troller."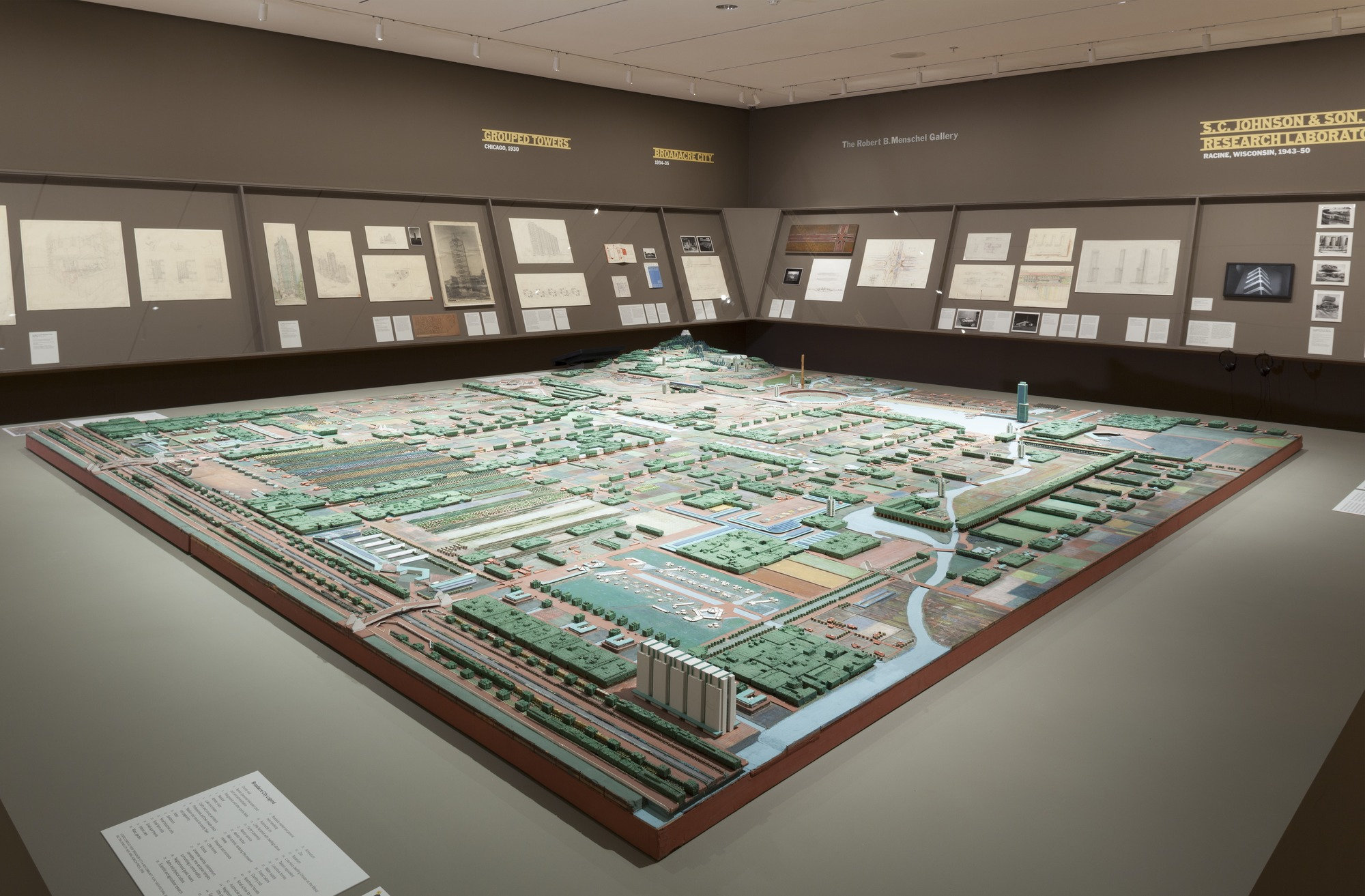 Though Wright and Le Cor­busier "shared an inter­est in dis­man­tling the rec­og­niz­able urban fab­ric, they had dif­fer­ent ideas about what should replace it," writes City Jour­nal's Antho­ny Palet­ta. The archi­tect of Falling­wa­ter thought it best for the city "not to be ratio­nal­ized but to be pas­tor­al­ized. Urban ills were to be dilut­ed by ample help­ings of prairie soil." By the time he died in 1958, a sprawl­ing post­war Amer­i­ca had whole­heart­ed­ly adopt­ed his "new stan­dard of space mea­sure­ment — the man seat­ed in his auto­mo­bile." But noth­ing as tech­no-pas­toral par­a­disi­a­cal as a Broad­acre ever came into being, and indeed, the sub­urbs turned out to grow in a fash­ion even more hap­haz­ard and irra­tional than the one that so dis­gust­ed him in tra­di­tion­al cities. Then again, a true per­fec­tion­ist — and a true artist — must grow accus­tomed to such dis­ap­point­ments.
Relat­ed Con­tent:
Take a 360° Vir­tu­al Tour of Tal­iesin, Frank Lloyd Wright's Per­son­al Home & Stu­dio
Frank Lloyd Wright Reflects on Cre­ativ­i­ty, Nature and Reli­gion in Rare 1957 Audio
The Mod­ernist Gas Sta­tions of Frank Lloyd Wright and Mies van der Rohe
Frank Lloyd Wright's Falling­wa­ter Ani­mat­ed
Based in Seoul, Col­in Mar­shall writes and broad­casts on cities and cul­ture. He's at work on a book about Los Ange­les, A Los Ange­les Primer, the video series The City in Cin­e­ma, the crowd­fund­ed jour­nal­ism project Where Is the City of the Future?, and the Los Ange­les Review of Books' Korea Blog. Fol­low him on Twit­ter at @colinmarshall or on Face­book.