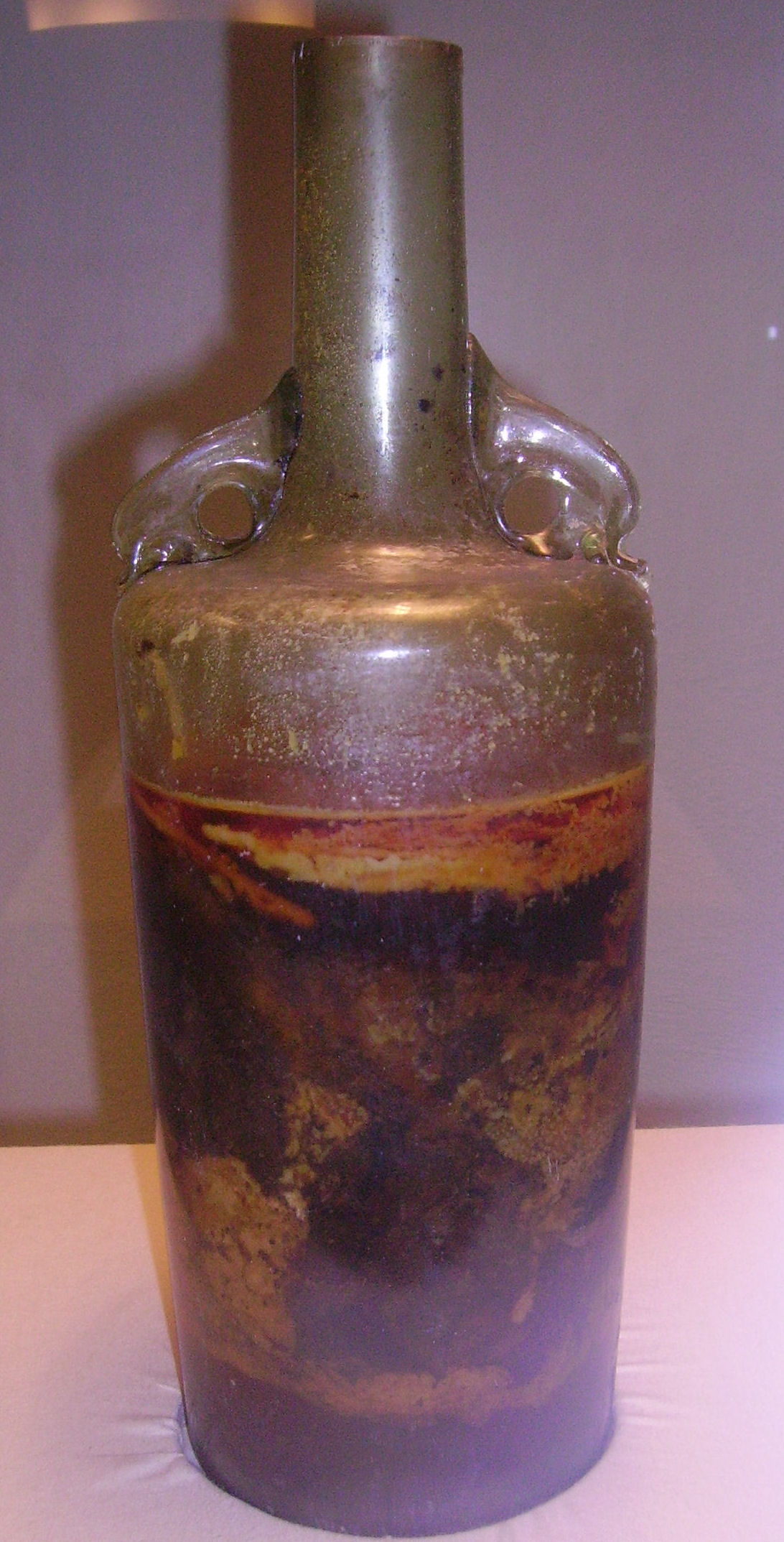 Image by Immanuel Giel, via Wikimedia Commons
It's an old TV and movie trope: the man of wealth and taste, often but not always a supervillain, offers his distinguished guest a bottle of wine, his finest, an ancient vintage from one of the most venerable vineyards. We might follow the motif back at least to Edgar Allan Poe, whose "Cask of Amontillado" puts an especially devious spin on the treasured bottle's sinister connotations.
If our suave and possibly deadly host were to offer us the bottle you see here, we might hardly believe it, and would hardly be keen to drink it, though not for fear of being murdered afterward. The Römerwein, or Speyer wine bottle—so called after the German region where it was discovered in the excavation of a 4th century AD Roman nobleman's tomb—dates "back to between 325 and 359 AD," writes Abandoned Spaces, and has the distinction of being "the oldest known wine bottle which remains unopened."
A 1.5 liter "glass vessel with amphora-like sturdy shoulders" in the shape of dolphins, the bottle is of no use to its owner, but no one is certain what would happen to the liquid if it were exposed to air, so it stays sealed, its thick stopper of wax and olive oil maintaining an impressively hermetic environment. Scientists can only speculate that the liquid inside has probably lost most of its ethanol content. But the bottle still contains a good amount of wine, "diluted with a mix of various herbs."
The Römerwein resides at the Historical Museum of the Palatinate in Speyer, which seems like an incredibly fascinating place if you happen to be passing through. You won't get to taste ancient Roman wine there, but you may, perhaps, if you travel to the University of Catania in Sicily where in 2013, scientists recreated ancient wine-making techniques, set up a vineyard, and followed the old ways to the letter, using wooden tools and strips of cane to tie their vines.
They proceeded, writes Tom Kingston at The Guardian, "without mechanization, pesticides or fertilizers." Only the organic stuff for Roman vintners.
The team has faithfully followed tips on wine growing given by Virgil in the Georgics, his poem about agriculture, as well as by Columella, a first century AD grower, whose detailed guide to winemaking was relied on until the 17th century.
Those ancient winemakers added honey and water to their wine, as well as herbs, to sweeten and spice things up. And unlike most Italians today who "drink moderately with meals," ancient Romans "were more given to drunken carousing." Maybe that's what the gentleman in the Speyer tomb hoped to be doing in his Roman afterlife.
Related Content:
How to Bake Ancient Roman Bread Dating Back to 79 AD: A Video Primer
How Did the Romans Make Concrete That Lasts Longer Than Modern Concrete? The Mystery Finally Solved
Rome Reborn: Take a Virtual Tour of Ancient Rome, Circa 320 C.E.
Josh Jones is a writer and musician based in Durham, NC. Follow him at @jdmagness