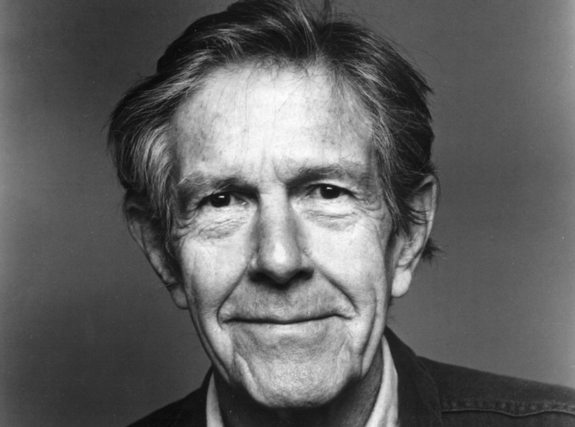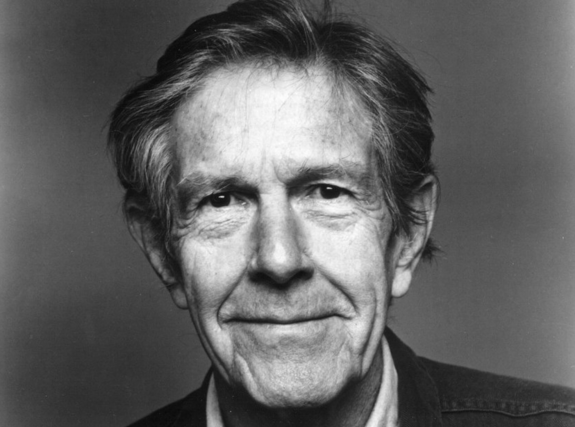 Cre­ative Com­mons image via Wiki Art
We might as well get the self-writ­ing joke about a 65-hour John Cage playlist out of the way up front: that's a whole lot of silence! But of course, such a joke about the work of John Cage inevitably ends up as a joke about how lit­tle so many of us know about the work of John Cage. Most of us learn, at one time or anoth­er, of "4'33"," his famous 1952 com­po­si­tion — or per­haps anti-com­po­si­tion — which instructs its play­ers to, for the length of time reflect­ed by its title, play noth­ing at all. But dig a lit­tle deep­er into Cage's moti­va­tions, and you find that he want­ed the audi­ence of "4'33"" to lis­ten not to the silence, but to what­ev­er sounds hap­pen to remain in the absence of music — so that those inci­den­tal nois­es, in effect, become the music.
Many more such uncon­ven­tion­al com­po­si­tion­al ideas and result­ing lis­ten­ing expe­ri­ences await you in John Cage: A Chrono­log­i­cal Col­lec­tion, this decid­ed­ly non-silent Spo­ti­fy playlist above (and if you don't have Spo­ti­fy's free soft­ware yet, down­load it here) by Ulysses Clas­si­cal, author of sev­er­al of our favorite playlists, includ­ing this 50-hour clas­si­cal com­pi­la­tion we fea­tured in August.
If you find your­self still in need of more of Cage's salu­tary effect on your per­cep­tion of not just music and art but of the world itself, you can hear Ulysses Clas­si­cal's playlist of only Cage's "Num­ber Pieces" below, which "has a cleans­ing effect on the mind, as if it paints the walls of the room I'm sit­ting in with sooth­ing col­ors."
Ulysses Clas­si­cal's back­ground post on the big chrono­log­i­cal playlist opens with a quote from Cage that neat­ly incap­su­lates what we might call his phi­los­o­phy of com­po­si­tion, or maybe of life itself: "What I'm propos­ing, to myself and oth­er peo­ple, is what I often call the tourist atti­tude — that you act as though you've nev­er been there before. So that you're not sup­posed to know any­thing about it. If you real­ly get down to brass tacks, we have nev­er been any­where before." This playlist, which spans Cage's six-decade career from 1932 to 1992, show­cas­es just what rich musi­cal places Cage found when he act­ed as though he'd nev­er been there before. Lis­ten­ing to it will cer­tain­ly take you to musi­cal places you've nev­er been before — and, assum­ing you've been to "4'33"," it does­n't take you there, but I sup­pose you can go to that par­tic­u­lar patch of musi­cal ter­ri­to­ry any time you like.
Relat­ed Con­tent:
The Music of Avant-Garde Com­pos­er John Cage Now Avail­able in a Free Online Archive
John Cage Per­forms Water Walk on US Game Show I've Got a Secret (1960)
10 Rules for Stu­dents and Teach­ers Pop­u­lar­ized by John Cage
Lis­ten to John Cage's 5 Hour Art Piece: Diary: How To Improve The World (You Will Only Make Mat­ters Worse)
Hear Joey Ramone Sing a Piece by John Cage Adapt­ed from James Joyce's Finnegans Wake
Watch a Sur­pris­ing­ly Mov­ing Per­for­mance of John Cage's 1948 "Suite for Toy Piano"
10 Rules for Stu­dents and Teach­ers Pop­u­lar­ized by John Cage
See the Curi­ous Score for John Cage's "Silent" Zen Com­po­si­tion 4'33"
Based in Seoul, Col­in Mar­shall writes and broad­casts on cities and cul­ture. He's at work on a book about Los Ange­les, A Los Ange­les Primer, the video series The City in Cin­e­ma, and the crowd­fund­ed jour­nal­ism project Where Is the City of the Future? Fol­low him on Twit­ter at @colinmarshall or on Face­book.