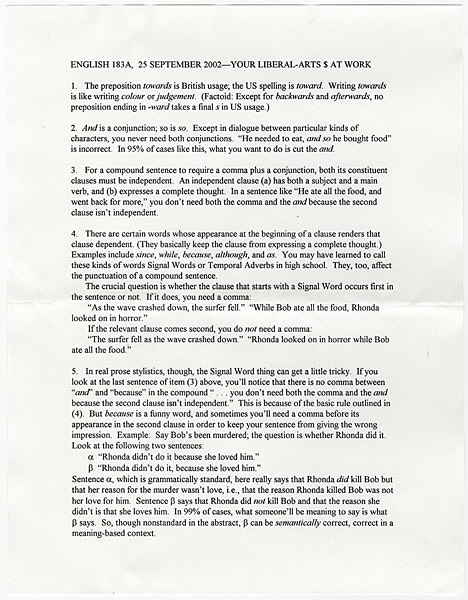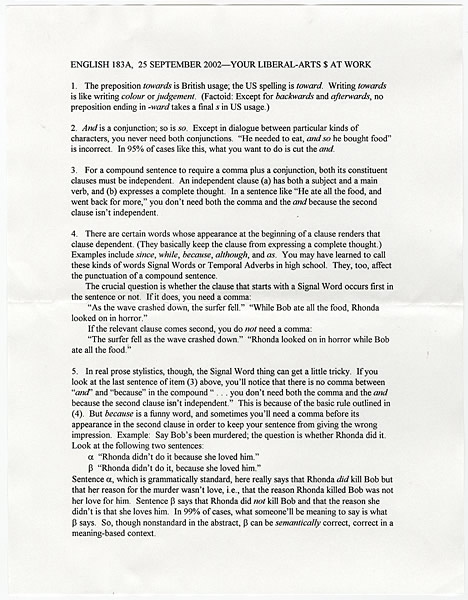 What advantage, I recently asked a trilingual writer, could you possibly find in using such an improvised, confusing, irregular patchwork of a language as English? She replied that this very improvisation, irregularity, and even confusion comes from the vast freedom of expression (and of invention of new expressions) that English offers over other European tongues. This goes even more so for American English, the variant with whose combination of carefully shaded nuances and smashing colloquialisms David Foster Wallace so dazzled his readers. Like many writers, Wallace also taught writing, but those of us not lucky enough to receive his direct instruction can still behold his teaching materials, archived online at the University of Texas at Austin's Harry Ransom Center.
See, for instance, Wallace's handout on five common usage mistakes, from his Fall 2002 section of English 183A at Pomona College (an advanced fiction writing class, taught last Spring by Jonathan Lethem). "The preposition towards is British usage; the US spelling is toward." Fair enough. "And is a conjunction; so is so," he continues. "Except in dialogue between particular kinds of characters, you never need both conjunctions." Handy to know! Then, things get more technical: "For a compound sentence to require a comma plus a conjunction, both its constituent clauses must be independent." As Wallace goes deeper, I feel even more sympathy for those who learn English as a second language, as I did when I read "Tense Present," his Harper's review of Bryan A. Garner's A Dictionary of Modern American Usage. If the hardcore grammar talk tires you, feel free to peruse the Ransom Center's other artifacts of Wallace's time in the classroom—which we covered in a post last week—such as his syllabus for English 102: Literary Analysis, his guidelines for papers, and the marginalia in his copy of Carrie.
Related Content:
30 Free Essays & Stories by David Foster Wallace on the Web
David Foster Wallace: The Big, Uncut Interview (2003)
David Foster Wallace's 1994 Syllabus
Colin Marshall hosts and produces Notebook on Cities and Culture and writes essays on literature, film, cities, Asia, and aesthetics. He's at work on a book about Los Angeles, A Los Angeles Primer. Follow him on Twitter at @colinmarshall.