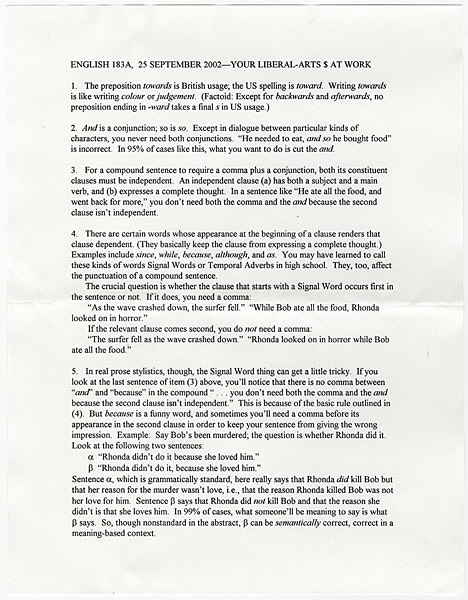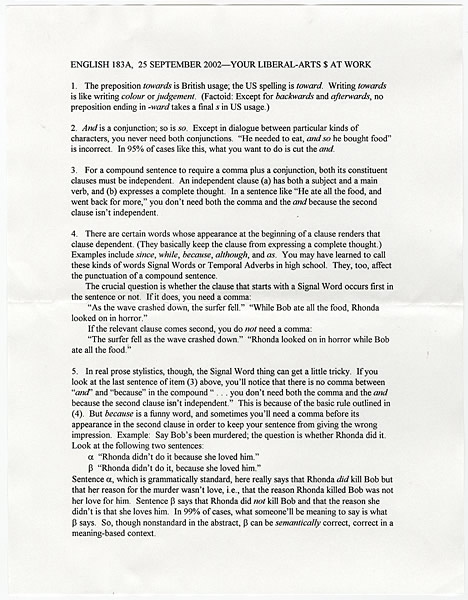 What advan­tage, I recent­ly asked a trilin­gual writer, could you pos­si­bly find in using such an impro­vised, con­fus­ing, irreg­u­lar patch­work of a lan­guage as Eng­lish? She replied that this very impro­vi­sa­tion, irreg­u­lar­i­ty, and even con­fu­sion comes from the vast free­dom of expres­sion (and of inven­tion of new expres­sions) that Eng­lish offers over oth­er Euro­pean tongues. This goes even more so for Amer­i­can Eng­lish, the vari­ant with whose com­bi­na­tion of care­ful­ly shad­ed nuances and smash­ing col­lo­qui­alisms David Fos­ter Wal­lace so daz­zled his read­ers. Like many writ­ers, Wal­lace also taught writ­ing, but those of us not lucky enough to receive his direct instruc­tion can still behold his teach­ing mate­ri­als, archived online at the Uni­ver­si­ty of Texas at Austin's Har­ry Ran­som Cen­ter.
See, for instance, Wal­lace's hand­out on five com­mon usage mis­takes, from his Fall 2002 sec­tion of Eng­lish 183A at Pomona Col­lege (an advanced fic­tion writ­ing class, taught last Spring by Jonathan Lethem). "The prepo­si­tion towards is British usage; the US spelling is toward." Fair enough. "And is a con­junc­tion; so is so," he con­tin­ues. "Except in dia­logue between par­tic­u­lar kinds of char­ac­ters, you nev­er need both con­junc­tions." Handy to know! Then, things get more tech­ni­cal: "For a com­pound sen­tence to require a com­ma plus a con­junc­tion, both its con­stituent claus­es must be inde­pen­dent." As Wal­lace goes deep­er, I feel even more sym­pa­thy for those who learn Eng­lish as a sec­ond lan­guage, as I did when I read "Tense Present," his Harper's review of Bryan A. Gar­ner's A Dic­tio­nary of Mod­ern Amer­i­can Usage. If the hard­core gram­mar talk tires you, feel free to peruse the Ran­som Cen­ter's oth­er arti­facts of Wal­lace's time in the class­room—which we cov­ered in a post last week—such as his syl­labus for Eng­lish 102: Lit­er­ary Analy­sis, his guide­lines for papers, and the mar­gin­a­lia in his copy of Car­rie.
Relat­ed Con­tent:
30 Free Essays & Sto­ries by David Fos­ter Wal­lace on the Web
David Fos­ter Wal­lace: The Big, Uncut Inter­view (2003)
David Fos­ter Wal­lace's 1994 Syl­labus
Col­in Mar­shall hosts and pro­duces Note­book on Cities and Cul­ture and writes essays on lit­er­a­ture, film, cities, Asia, and aes­thet­ics. He's at work on a book about Los Ange­les, A Los Ange­les Primer. Fol­low him on Twit­ter at @colinmarshall.