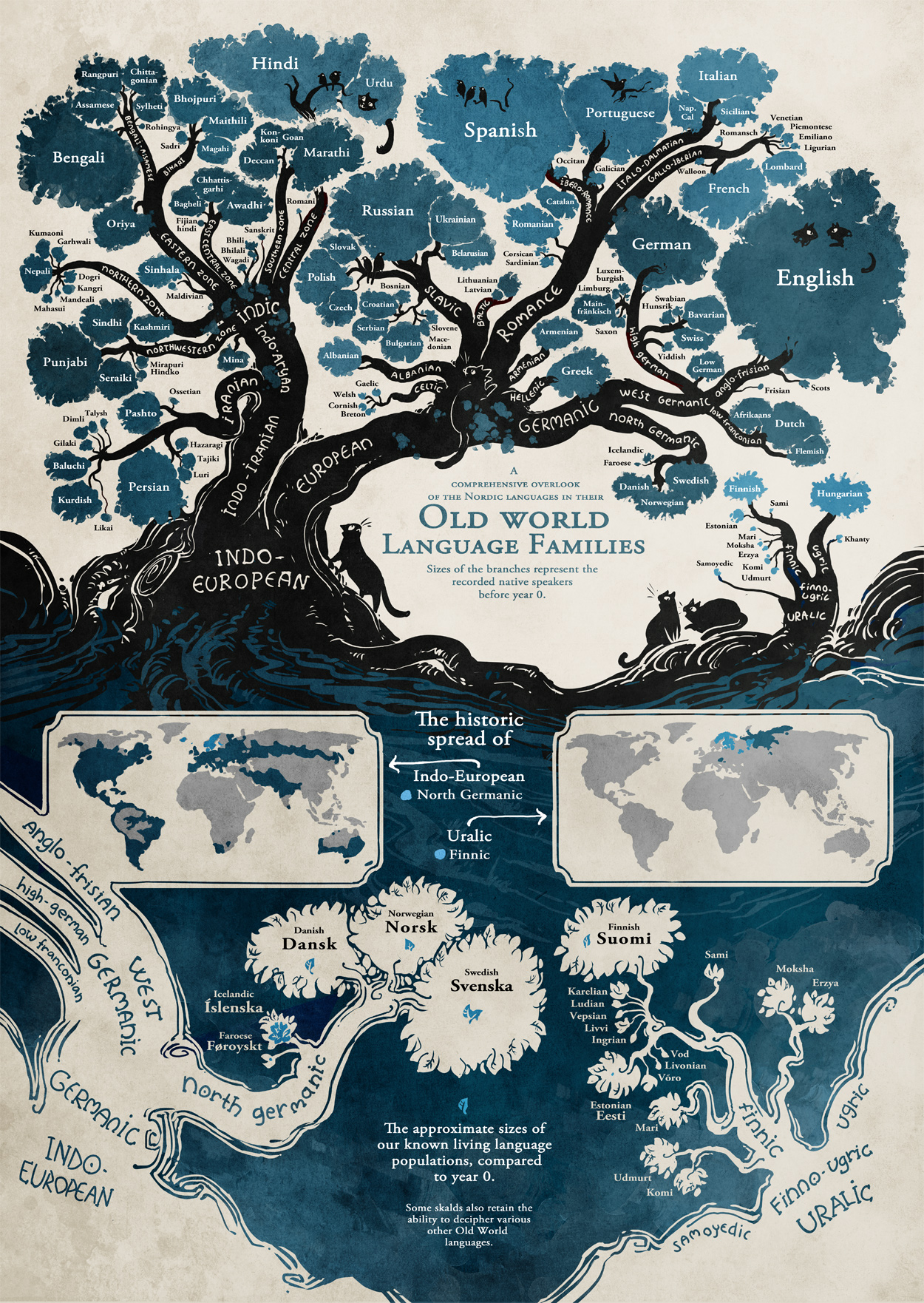 Click image, then click again, to enlarge
Call it counterintuitive clickbait if you must, but Forbes' Pascal-Emmanuel Gobry made an intriguing argument when he granted the title of "Language of the Future" to French, of all tongues. "French isn't mostly spoken by French people and hasn't been for a long time now," he admits," but "the language is growing fast, and growing in the fastest-growing areas of the world, particularly sub-Saharan Africa. The latest projection is that French will be spoken by 750 million people by 2050. One study "even suggests that by that time, French could be the most-spoken language in the world, ahead of English and even Mandarin."
I don't know about you, but I can never believe in any wave of the future without a traceable past. But the French language has one, of course, and a long and storied one at that. You see it visualized in the information graphic above (also available in suitable-for-framing prints!) created by Minna Sundberg, author of the webcomic Stand Still. Stay Silent. "When linguists talk about the historical relationship between languages, they use a tree metaphor," writes Mental Floss' Arika Okrent. "An ancient source (say, Indo-European) has various branches (e.g., Romance, Germanic), which themselves have branches (West Germanic, North Germanic), which feed into specific languages (Swedish, Danish, Norwegian)."
Sundberg takes this tree metaphor to a delightfully lavish extreme, tracing, say, how Indo-European linguistic roots sprouted a variety of modern-day living languages including Hindi, Portuguese, Russian, Italian — and, of course, our Language of the Future. The size of the branches and bunches of leaves represent the number of speakers of each language at different times: the likes of English and Spanish have sprouted into mighty vegetative clusters, while others, like, Swedish, Dutch, and Punjabi, assert a more local dominance over their own, separately grown regional branches. Will French's now-modest leaves one day cast a shadow over the whole tree? Perhaps — but I'm not canceling my plans to attend Spanish practice group tonight.
via Mental Floss
Related Content:
Learn 48 Languages Online for Free: Spanish, Chinese, English & More
The History of the English Language in Ten Animated Minutes
How Languages Evolve: Explained in a Winning TED-Ed Animation
Noam Chomsky Talks About How Kids Acquire Language & Ideas in an Animated Video by Michel Gondry
Stephen Fry Gets Animated about Language
Colin Marshall writes on cities, language, Asia, and men's style. He's at work on a book about Los Angeles, A Los Angeles Primer, and the video series The City in Cinema. Follow him on Twitter at @colinmarshall or on Facebook.