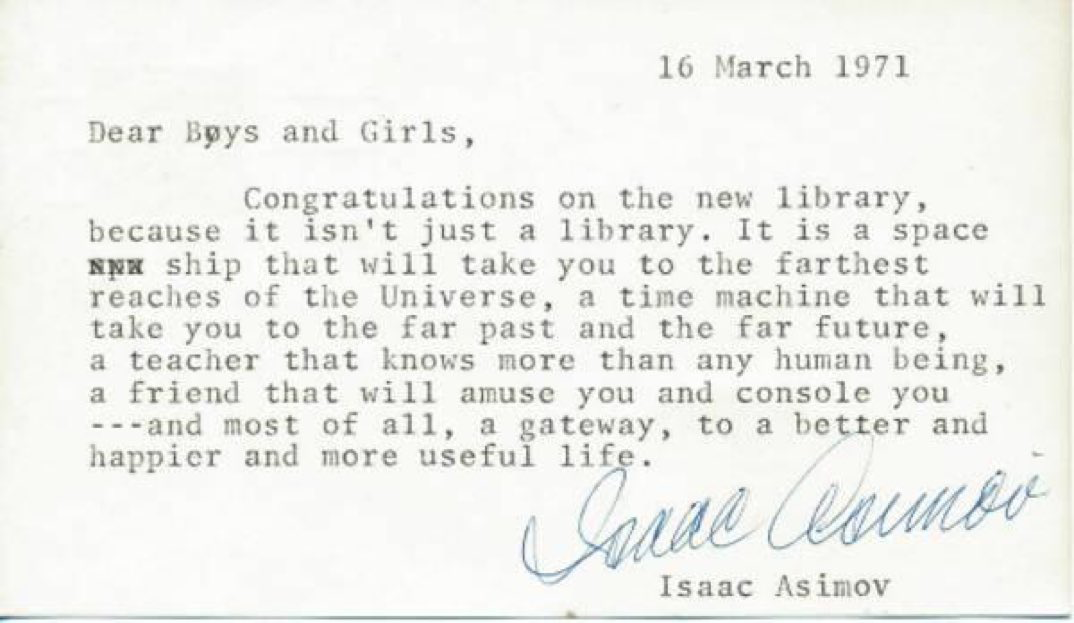 Back in 1971, Isaac Asimov sent a letter to celebrate the opening of a new library in Troy, Michigan. Thoughtful as always, his letter addressed the children of the Troy community as follows: "Congratulations on the new library, because it isn't just a library. It is a space ship that will take you to the farthest reaches of the Universe, a time machine that will take you to the far past and the far future, a teacher that knows more than any human being, a friend that will amuse you and console you—and most of all, a gateway, to a better and happier and more useful life."
In total, 97 writers (including Dr. Spock, Dr. Seuss and E.B. White) sent letters to mark the occasion. You can read through them in the Troy Library Flickr stream here.
If you would like to sign up for Open Culture's free email newsletter, please find it here.
If you would like to support the mission of Open Culture, consider making a donation to our site. It's hard to rely 100% on ads, and your contributions will help us continue providing the best free cultural and educational materials to learners everywhere. You can contribute through PayPal, Patreon, and Venmo (@openculture). Thanks!
Related Content
Isaac Asimov Laments the "Cult of Ignorance" in the United States (1980)
Isaac Asimov's Guide to the Bible: A Witty, Erudite Atheist's Guide to the World's Most Famous Book
Isaac Asimov Predicts the Future of Civilization–and Recommends Ways to Ensure That It Survives (1978)
How Isaac Asimov Went from Star Trek Critic to Star Trek Fan & Advisor